Hey peeps, how fast Wednesday has come around! Thanks to Jenn for hosting the party!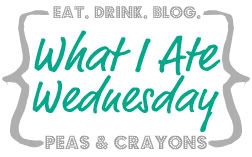 So this is my what I ate, for Monday (my first day back at work).
Breakfast was delicious – an alpro peach yoghurt (I decided to try these again as the last time I had them was a fair few years ago and I wasn't keen, this time I love them!), with a pear, nectarine and some rude health muesli. Very summery 🙂
Snacks all ready! Cocoa mint nakd bar for morning break, and a clif z bar for before my run. I LOVE these kids clif bars, so chewy and yummy!
Lunch was delish- a salad with chopped apple, beetroot, peppers, spinach and sabra hummus, plus a sandwich thin with hummus and spinach.
For my post run Dinner I made some seedy bread- I added some food doctor seeds to my normal bread recipe.
And served it with veggie and cannelini bean bake, plus nutritional yeast flakes (still off the cheese). Don't you just love the platter all over the plate haha!
Plus some cherries for dessert.
Later in the evening I had a little snack with some mint tea.
Dark chocolate alpro with some plain alpro mixed in (mainly because I wanted to see if I liked the plain stuff- I do), Lizi's original granola and a spoonful of white chocolate wonderful. The pb granola combo was pretty amaze!
So back to school (work!) was pretty good, and made better by yummy food. Do you like to pack yourself something to look forward to? I was looking forward to my Clif kids bar all day!
Bye!
On a side note, the lovely Rachel from Rachel's delicious journey is doing a sponsored walk and is raising money for a fantastic charity. She has also gathered together some amazing goodies for a giveaway, which you get entered into if you sponsor her. So check out her post all about it here, and let's help her raise some money. 🙂