Hey all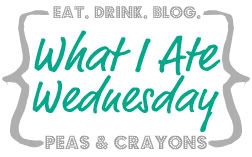 It is that time of the week already! Thanks to Jenn for hosting the party as usual.
This week I chose Thursday, which meant I felt super organised!
Breakfast;
Chopped apple, rude health muesli and some almond milk. I got the almond milk from Ocado, but I have seen it in other shops (Holland and Barrett I think). Also you can like them on facebook and they tell you where to buy it from too. 😉
Lunch and snacks;
Lunch was a lovely hummus and roasted pepper sandwich, chopped pear and chopped nectarine. Nakd bar mid morning, and a mini eat natural bar after work.
Dinner:
Wholewheat pasta with peppers, courgette and green pesto. This would be nice with cheese but at the moment I am not having much cheese.
Post body pump snack (boy I needed this- that class is hard and I went up with the squats and back weights).
A slice of apple crumble bar, and alpro vanilla dessert. Yum.
Health (?) update- I took the antibiotics all weekend, but did not really make much difference, so I was off work Monday and Tuesday. I went back to the doctors Tuesday, and was given "the better ones" this time (same ones that I had twice before this year) and they are already working! So back to work today, but no run after work as I am not 100% yet. I am hoping I will be well enough for body pump tomorrow. Fingers crossed.
Random question- those people that make their own almond milk- what do you use to strain it? I have been looking on Lakeland but can't find anything that jumps out at me (cheese cloth? Muslin squares?). Cheers.