Hey all
I saw that Jenn is not very well today, but I already took the photos, so I am still joining in with WIAW. Get well soon Jenn. But first, I walked up to the shops yesterday (was glad to get some fresh air) and got myself a little bargain:
Whittards had lots of tea for £1- Andy got himself some Assam teabags and loose tea, I got myself a box of peppermint teabags, and this cute set of syrups (for coffee, but I think they could go in lattes, baking? etc)- I was looking at them online and they were £10 but out of stock- when I asked the guy told me they were £8, but they then took another 30% off so they were actually £5-something. Bargain!
Hazelnut, caramel, vanilla, cinnamon, and the best sounding one of all; gingerbread.
Right, on to WIAW.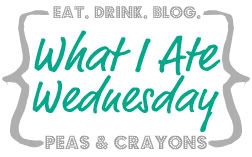 I chose one day last week- I am not sure what day as they all blend into one!
Breakfast:
Yes I know it looks like some kind of potato gratin- it is actually baked oatmeal (used gingerbread porridge for the oats) with sliced pear. Was much nicer than it looks!
Snack:
Dark chocolate with caramel. I prefer their coconut one, but this is nice.
Lunch:
A small tortilla with cheese and picalilli, baked for a bit, plus cucumber and hummus and clementines.
Post-walk afternoon snack:
Blurry photo!
Smoothie with frozen banana, frozen cherries, coconut milk, cocoa powder and topped with some chocolate chilli and ginger munchy seeds (which are really yummy).
Dinner:
I made a version of the mexican casserole I saw on Oh She Glows– I used quinoa instead of pasta and probably subbed a few spices. With spinach. And topped with half a chopped avocado mashed with a little lemon juice (it looks like scrambled eggs or something in the picture but it is not!).
Plus some gingerbread tea and a few leibkuchen.
I could have chosen Christmas day but I think Andy's family would have wondered about me taking photos all day! The picalilli is something I only have at this time of year- I know you can get it all the year round but for some reason I don't fancy it the rest of the year. My Mum always used to get mixed nuts and dates for Christmas, but they are something I have year round, when I fancy them, now. What festive (or not) things do you treat yourself to at this time of year?