Monday morning was very frosty indeed.
On Sunday afternoon the pond was still frozen solid, so it was clear it would be a heavy frost- I think everything looks so pretty when it is covered in white- even the cars!
Anyway, welcome to another WIAW and head over to Peas and Crayons if you fancy having a nose at what other people are eating.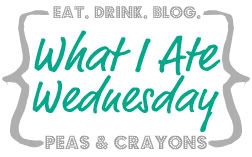 So I went for a massive mug of peppermint tea to warm me up.
Breakfast– muesli, apple, soya milk, peppermint tea.
I did brave a little walk outside, and was hungry for my lunch after that- partly from the cold I think.
Lunch:
Toasted sourdough with mixed nut butter and blackcurrant spread, grapes, and satsumas. That sourdough was sooooooo good- we had some at the weekend but I think it was even better toasted. If I lived in San Francisco I would visit Boudins every day.
Snack:
A few chocolate pecans and a tea-pigs latte.
Can you see the heart shape? I will get better! Love the Aerolatte for the froth!
Dinner:
Not sure what it was! It was from the freezer and it was not labelled (I normally label everything)- it seemed to be giant cous cous, black eye beans, carrots, sweet potato, peppers, tomatoes… It was tasty anyway. With rocket and nutritional yeast.
Dessert:
A provamel caramel pot that tastes just like those little tubs of creme caramel you can get with all the yoghurts. Yum. 🙂
And look what picture got emailed to me today:
From here. I do find the actual video rather funny (especially when he phones the girl), plus I love silly puns, and I love tea!
I think I had about 5 cups of tea that day- peppermint, vanilla rooibos, raspberry, peach, spiced winter…. I needed it to stay warm.
What is your favourite warm drink?