Hello all. This week I remembered to take photos yesterday (Tuesday) and this morning I had my hospital appointment, so I spent all of yesterday (and all last night) feeling very nervous. More on that later- onto the food.
Breakfast:
Muesli, apple, oat milk.
Plus mint tea.
Lunch:
Tomato soup, ryvita chilli crackers, caramelised onion hummus, clementines.
Afternoon warm-up:
Rooibos tea from Storm teas.
I had a little walk in the afternoon, then made some more mexican casserole for dinner.
Dinner:
Mexican casserole topped with cheese, rocket, mashed avocado with lemon juice and some salsa.
Dessert:
Some mandarin and ginger tea (yum) and a mint slice.
I made these on Monday as Andy's family were coming around to watch the football. They are from Sweet Vegan (the recipe on the front cover- look here ) and they are amazing! Basically a brownie base, topped with a minty filling and then topped with melted chocolate.
Covering the brownie in the mint filling. I was very impressed with how the brownie turned out- not sure if I have ever made vegan brownies before (I had no eggs so had to make a vegan recipe) but the brownies were still moist and very rich and I think would be lovely on their own.
Then covered in melted chocolate (it was meant to be dark chocolate but I had none!).
Plus I got to use my cake stand 🙂 The recipe made loads so we sent his parents and brother home with a tub each too! It was very popular and I would make it again for sure- I love mint and chocolate together.
If you fancy having a peep at other people's food, then be sure to check out Jenn's blog.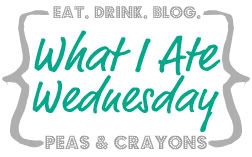 So onto my hospital appointment. I was very nervous (I get very nervous before any appointments and have had to have my blood pressure monitored several times because it gets so high when I go to the doctors) and somehow convinced myself I would be having more of the horrible examinations- plus Andy was going to work from home and take me, but he had to go in for a meeting so I had to drive myself (which is fine) -finding where the parking was just added to my general panic. I did not even have breakfast before I went- just a mint tea as I was feeling very nervous indeed, so I packed a clif bar but never ended up having it. Anyway, my appointment was for 8.30am, with the consultant. I got there with time to spare but it turned out the consultant was not there, and they could not get hold of him either. Blah blah in the end after waiting ages I saw a different doctor/ registrar (I really am not sure what the titles mean), as well as a nurse. At least I am on the waiting list now (no date yet), but the bad news is that they will probably not be able to do the keyhole surgery as the cyst is just too big. They will try (and I have signed to say that is OK) but he thought it more than likely that I would need the open surgery. Pants. I only just got back to my car before the 2 hour pay and display limit ran out (seriously- why on earth do hospitals still have pay and display???) and I did feel very teary (I think a combination of the nervous energy, being hungry, having to sign forms about possibly needing blood transfusions and my general panic about the thought of being cut open). But I just have to get on with it. I came home (and suddenly felt really hungry) so made some pancakes as it was brunch time, and chatted to Andy on the phone which made me feel much better. Thanks for all your comments too- they of course make me feel better, and don't worry, I am not getting down- I just want to be back to normal.
How are you with things like doctors appointments? I just get so nervous, even if they are just routine appointments, and I don't really know why.