Hey everyone! So I braved the weather on Saturday morning and went for my first parkrun. My Dad and brother have been going to it quite regularly, so I picked them up and we all went together.
I loved it!
I had to register on-line first, and they emailed me a barcode, which I kept in a sandwich bag in my running top as it needed to be waterproof. It really was pouring down. The run started on the edge of the park, right by the car park, so we stayed in the car until about 5 to 9. There were loads of people (131 to be exact)! I saw a few people from the Sweatshop run, so we had a chat before it started (right on the bells of the church- I like a run that starts on time).
I thought my Dad would run ahead, as he is faster, but he stayed with me which was fab- we had a nice chat. We had to run along a path into the wind and rain, down to the lake, 3 laps of the lake, then back up to the path. At least the wind would be behind us on the final stretch, we thought. The wind was tough, and I felt like I was going slow, but each time I glanced at my watch I could see 8- something for the mile pace- very fast for me!  At least with the laps of the lake we had the wind behind us for a bit, and could catch our breath before heading back into the wind again.
The whole system is so clever- at the end my Dad went a bit ahead, and you had to run through a little chute (well basically 2 mini temporary fences) and you were handed a little plastic chip. I stopped my Garmin on 27.10, although I was not sure if I had started it as exactly the right time. I was super pleased with that, but wanted to find my official time. Then we joined another queue (and cheered home my brother who was only minutes behind)- then someone scanned your barcode and chip- it is just so clever.
Later I got an email with all sorts of stats- my time, age grading, position, gender position, number of parkruns completed etc. I was 82nd, but only the 16th female. My official time was 27.12, which is a new pb for me. For Jantastic the March part was to choose a distance and predict your time- you get 100% if you predict it exactly, and lose if you are too slow or too fast- it is all about predicting your fitness. Anyway, I rashly put down a 27 min 5k (although I just checked and actually I put down 27 hours!), as that was what I was hoping for, without really working it out. Pretty close indeed!
After we had a quite chat to the Sweatshop people, clapped home a few more runners, and then wimped out and went back to the car- it was raining hard, very windy, and we were all getting very cold once we had stopped.
My mum had offered to make us pancakes for breakfast (she came home from hospital in the week but is meant to be taking it easy!)- pancakes and Earl Grey tea was a welcome breakfast indeed.
I am hoping to go next week too. They ask you to volunteer 3 times a year (the volunteers were great- cheering runners on and honestly standing about in that weather must be worse than running in it) so I will have to make sure I do that at some point too. There was a huge range of people- there were club runners with their vests on (I think the winner did it in about 16 mins something), but there were people run/ walking, kids running, people with buggies- it seemed very inclusive.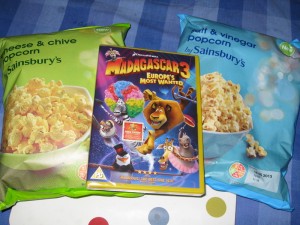 Onto the popcorn- a while ago Sainsbury's sent me some popcorn to trial. I have to say that salt and vinegar is my favourite crisp flavour (really the only flavour I like) and this popcorn did not disappoint. I loved it- the vinegar flavour was nice and strong- good to nibble on (or to top up the salt levels after a run). I was not such a fan of the cheese and chive- it was not too cheesy, but I just don't like that flavour so much. I did see that they do apple and cinnamon, which I think sounds amazing! Although I think it was maybe a festive flavour? Will have to have a look next time I am there.
This morning Andy and I had planned a run together- as the weather was awful, and I was a bit tired after yesterday, we chose a slightly shorter route. It was really enjoyable going out together again- nice to have time to chat (or gasp, as we were charging up hills)- it was strange as my legs were not that tired, but I was finding breathing harder than usual. Anyway, at the 10k point I looked at my watch, and it was on 58.58 (easy to remember)- woohoo a proper sub 60 min 10k! We did 7 miles, and just as we were coming to the roads by home it started raining lightly, and as we got in the front door it bucketed down- jammy with our timing!
I think Andy has decided that he wants to get me to do our next half in under 2 hours (I suppose that is the next time bracket to aim for) and he knows I run faster with him (or with anyone basically) so he is quite keen to plan the weekend runs in. After that I was starving, but we were going out for breakfast, so I had an apple and persimmon before we went to (where else?) The Waffle House (and again, it was not even my idea!). The trouble was, we ended up there over lunch time, so I think despite being awake since about 7am, running 7 miles, I didn't eat a meal until about 1pm. I paid for that later with a headache while we were out shopping- I didn't want to not be hungry for a waffle, but I think I could have eaten 2!
Ah well, overall it has been a fab weekend- 2 pb's to boot 🙂
How was your weekend? Anyone tempted to sign up for a parkrun?