Be warned, it's a long one!
Last Friday after work we flew up to Glasgow, stayed there overnight, had breakfast (Bill's, gotta love Bill's) and a wander around the town, before our flight to Iceland (it was cheaper to do this including the hotel, than to fly direct).
Because we weren't staying in the same place, we had hired a car, and then drove to our apartment. The lady at check in told us the first snow had fallen on the mountains that night, and to our surprise the following morning, it was snowing fairly heavily where we were!
We only had a little car (a VW Up, 2 wheel drive…) although all the rentals came with winter tyres and also they let some of the air out (which makes it sound like all the cars have punctures), but as a few cars drove on the roads tracks appeared, so we headed out to þingvellir national park for some snowy scenery.
On the drive there were plenty of scenic pull over stops (just look for the big info boards) so we stopped at a few.
There was a little visitors centre which we stopped at first (on the left if driving from Reykjavik)- this had free toilets (the bigger one, which we went to at the end, you had to pay 200 ISK for, which is about £1 I think)- and served warm drinks. We had a little look at the map, and then headed out to see the waterfall.
There were a few parking areas, each marked (I think we parked at P4) and then a mixture of paths and boardwalks led to the main sites.
It then started to snow quite heavily.
All the rocks were covered in snow, and the boards became quite slippery to walk on.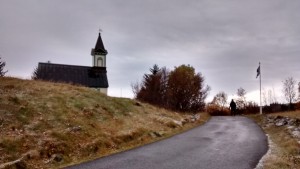 As it eased off, we walked around a bit more before heading back to the car.
It's not every day that you get to see continental plates!
From the bigger visitor's centre you could look down on the park, and see the church, and the paths we had walked on. Also, in the distance you could see plumes of steam rising from geothermal vents which looked very spooky.
The next morning we were heading south, so we checked out of our apartment and then drove to the other main Golden Circle highlights on the way there. We were so lucky to have the most gorgeous sunny day.
Still plenty of snow about, but most of the roads were cleared. Again there were a few scenic car parks so we stopped in a couple.
Our first stop was Geysir (around 100km from where we started), which is where all other geysers get their name from, although it doesn't erupt regularly any more, there is another one, Strokkur, which goes every 5-10 minutes. It was so cold here, and the road was still snow-covered, and the car park was really icy. None of the paths had been gritted either, so it was a bit treacherous in places.
It was strange to see all covered in ice, with pools bubbling and steaming away. It did remind me of Yellowstone, only on a much smaller scale- Yellowstone in winter must be amazing but I think Iceland is more accessible!
We got to see an eruption, and then it was so cold we headed back (carefully- don't slip!) to the cafe for a hot chocolate.
Then we drove the short distance (on more icy and snowy roads) to Gullfoss, an amazing waterfall. Again, here there was lots of ice and snow on the ground, but some of the boardwalks had been gritted. In the summer you can walk down to near the waterfall, but that was closed. There was still plenty of it that we could walk around, for plenty of amazing and different views.
Here you can see the path that was closed leading to the far edge of the waterfall.
There were some steps to walk down to get a different view, although it was so cold there as the spray was freezing (literally- it was sticking to all the grass, paths and railings as it came off the waterfall and then freezing). It was just stunning.
From there was had another 200km to drive to our next destination (Vik, on the south coast). We stopped off at one waterfall on the way, which I thought was called Skogafoss but I think is actually a different one.
The sun was getting low in the sky which meant we had this most amazing golden light.
We walked along a bit to see some other waterfalls (you could walk behind the main one, but people were getting soaked, and it was so slippery people were sliding down on their bottoms)- the little bridge was slick with ice so you had to hold the rail very firmly.
Then we finished the drive (another hour at least ahead of us)- the scenery was beautiful, and the snow ranged from barely there, to several feet deep.
We actually thought we had got lost for a bit, (even though we were on the main ring road) as it was so empty, but thankfully we arrived in the tiny town just after dark, dragging the case through the snow to get to our hotel. After being fairly frugal so far (we had breakfast in our apartment, lunch was a banana and a roll made up in the kitchenette, and dinner had been soup) we ate in the hotel restaurant as we could not face going out into the cold again! I was pleasantly surprised- they seem to cater for vegetarians and vegans much better than I had expected (I thought it would all be seafood)- but on the menu they had a vegetarian pasta, and then a vegan meal which I ended up having, which was thyme polenta (spell-check wants to change that to tadpole, but no, it was certainly not that!), poached pear and local mushrooms.
I shall save the other few days for another post as this one is already rather long!