So the timing of the 10K last week was a bit weird (however I would do it again, just probably have something smaller and plainer for lunch)- it did mean that there was no panic on Sunday morning about missing the alarm, getting up early, getting to the race start etc. We had decided to get a cinnamon roll for breakfast, but when we got to Starbucks too many people had already had that idea. Andy tried the chocolate swirl (which was good, but a patch on the cinnamon one) and I had a scrummy almond croissant.
We had a walk around the town, seeing lots of the half marathon runners wearing their medals (the half started at 8am), and wandered around the finish area gardens.
It was a gorgeous day (maybe a bit hot for running) and our check out time was near, so we decided to drive along the coast a bit, I can't remember the name, but it was opposite the Isle of Wight, and we had a lovely walk along the top of the cliffs. I didn't even need my coat- it was breezy but sunny enough to stay warm.
Not so clear in this picture but you could see the needles.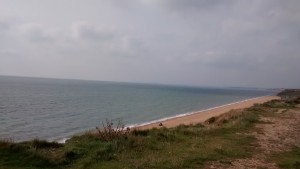 We had bought sandwiches in Bournemouth so we walked down some steps and sat on the beach for lunch.
Not bad for the first weekend in October!
After popping in to see Andy's grandparents (in Southampton- on our way home) we headed back. My legs were tired but not too bad, and it was quite nice to not have the really shattered feeling on Sunday night. The WR10K races used to be on a Saturday, and I really liked that, but they did a post race survey and most people preferred Sundays so they moved them. I don't think I would like every race on a Saturday (if the race is local, I could still do parkrun on the Saturday), but it is nice every now and then to have the Sunday to recover after a race. Some people who travelled by public transport said they preferred Saturdays too, and if you have travelled and have to be back at work on Monday, having the extra day to get back after makes things easier too.
Do you prefer a Saturday or Sunday race?
Also- tomorrow is my 50th parkrun!!! I am so excited and this week have already had two dreams about it:
1- I was running, I didn't know where to go, it was an "Indiana Jones" style parkrun according to someone and it involved climbing down rocks and into caves, and I kept getting lost and I had been running for 45 minutes and then my Garmin started ringing like a phone…
2- I was at another parkrun, because mine started later, but I realised that I only had 15 minutes to get home, pick up my costume, and drive to the other one, and tried to ring my mum to pick me up but I could not type in her phone number..
I mean, am I stressed about it at all? No! I am exited! So what is the deal here???? Perhaps I should set two alarms just in case!