I was having a bit of a sort out this week and came across two bits of paper that made me feel so nostalgic! One- the couch to 5k running plan that I followed back in 2008.
It was so much easier than other plans that I had looked at, as so many of them seemed to be complicated run 2 mins, walk 1, run 3, walk 2… hard to remember when you are out. This was so easy to remember the timings. You repeated each run three times per week, and I remember the first one was tough and I didn't think I would manage it, the second was OK, and the third I used to spend worrying about the jump the following week! But magically I managed it.
Following on from the 5K I started to increase the length of my weekend run, and these are my notes of what I did, and the miles in brackets as by then I had discovered mapometer!
After my club run on Tuesday evening I had a rest day on Wednesday- we went to The Waffle House for lunch and had a lovely walk around the lake after, even seeing lots of ducklings.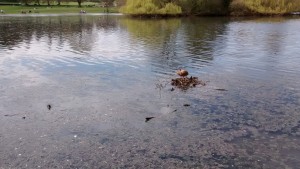 I then finished my reports (hooray!) and had another walk later on to top up my steps. In the evening we watched a film and my back started to feel a bit stiff, and then I had an awful night of just not being able to get comfortable at all. In the morning I could not put weight on my left leg as the pain going down from my back to the back of my leg was so sore. So I had a rather miserable day. Luckily Andy was working from home so he could help pass things to me- I managed to hobble to a chair in the living room, and after googling some stretches I had a go at doing some to ease the pain.
A few weeks ago I had bought three of these ice packs from Amazon, and luckily they were in the freezer, so I put them on every 90 minutes or so which does seem to help a lot.
I fell asleep on the sofa after finally finding a comfortable position, and then after that I felt a little better- we had a very slow walk so I could have some fresh air, and then I had a bath which also helped a lot. Andy found some of my old super strong painkillers from when I had my cyst removed, so I put them next to my bed in case it was bad again in the night, but it was much better. It's so weird- no idea what caused it, and none of the stretches seemed to immediately help, but it seems to go as quickly as it comes. On Friday I was able to walk fine- we walked around town as I had to pick up a present for my mum. I did a lot of sorting out of clothes, baking (I made Laura's banana bread which is really delicious), a 30 minute yoga video and then about a 35 minute walk before dinner.
I am being very sensible though. My dad was going to parkrun today, and of course I wanted to go with him, especially after all the stuff going on with it this week. But I thought that I should have one more day off running, just to be on the safe side, so I messaged the RD asking if I could do anything like take photos- that way I am still going along but I wouldn't be able to change my mind and run in the morning. Sensible! Andy even lent me his fancy camera and I took so many photos, but that's for another post!
So, onto parkrun. It was even talked about on Radio 4 this week, and seems to have been on all the TV channels. Back in January I heard on Marathon Talk that a council were wanting to charge the parkrun team (or runners- it seems they are changing their minds a bit as to how to do it) to run in their park, and I signed the petition, hoping that they would vote the other way. Well, in case you didn't hear, they voted to push on with their charge.
To me, it just does not make any sense. First of all, the council won't make money because what will actually happen is that the parkrun will be cancelled or moved elsewhere. I do understand that parks have to pay for the upkeep of their paths, and I know that budgets are being squeezed, but we all pay our council tax. Will they charge dog walkers for the cost of emptying the dog poo bins? Or parents the cost of a health and safety check for the swings? I liked this take on the story- particularly the coin operated swings! The council's argument seems to be that they charge other organised sports, such as football teams, for using the park (although I just heard a bit of this week's MT and apparently they are not going to charge the junior event that takes place each Sunday, even though it is the same organisation…). But that is different; if you book a football pitch, no-one else can play on it at the same time. They have more obvious items to maintain such as goals, nets, corner flags, lines being painted etc. Players will pay subs to their team, which will then go towards this sort of thing too. Each parkrun event brings their own signs, finish funnel and so on, so there is no upkeep needed, and at every run briefing I have been to we have been reminded to be considerate of other park users and give way to others.
This blog post sums up a lot of what is great about parkrun (and it was written before this happened), and this morning I read Chrissie Wellington's blog which I also very much agree with.
St Albans parkrun only started in 2012, a long time after I had started running, and it took my dad to persuade me to come along to it as I didn't see the point- I could just run a 5k on my own on the pavements around home. But I went, and loved it, and have not looked back. Our club now use it as a mile (5K?) stone for the new runners- they do their beginner runner course and then "graduate" by running a 5k parkrun, and other running clubs do the same. I think I would have loved to attend this sort of event instead of a race for my first official 5k as it is so much more friendly, and less scary than an actual race. But the point of it to me is the community. The fact that volunteering is huge part of it- yes you can just run if you want to, but when I first started they asked for everyone to volunteer 3 times a year. Not much, but so good to be putting something back. There is a lady at Panshanger who volunteers most weeks. She does not run, and no-one in her family does. But since retiring she wanted to be involved in the park (it was only recently opened to the public and the Friends of Panshanger had a lot to do with helping start the parkrun), and so she is one of the most familiar faces you will see there. If parkrun wasn't there, she could go to the park at the same time each week, but it would not be the same. She would not have met the people she knows now (she was given a special award at the one year birthday as she has volunteered so much and is such a huge part of the team).
Volunteering also helps people to develop a huge range of skills. We have had a few teenagers do the volunteering as part of their D of E award. Doing the new runners briefing has helped me to start to get over my fear of public speaking- the first time I did it my knees were shaking and I wished I could sit down, but I have done that role a few times now and each time it gets a bit easier.
It is such a feeling of community, and this morning even though I wasn't running, I chatted to some of my club mates, some of the event team, cheered on runners.
It also gives a boost to the local area. On my walk from my first photographing post to the start, I saw quite a few dog walkers carrying cups from the coffee van- the van is only there because of parkrun and there is always a huge queue- he must do a roaring trade but he's only there while the parkrun is going on. So yes one path is a bit congested for about five minutes (after the first bit everyone spreads out) but anyone else in the park can benefit from the coffee van. The car park at Panshanger is only small, so unless you are volunteering you are asked to park elsewhere (they have a marshal on the gate to check) so that dog walkers and other park users have priority. It is a considerate event, it promotes other local events; today there was free cake from a running club promoting their 10k and 10 mile race, they have sold calendars and had a photography competition to raise funds for the upkeep of the park, they promoted a free family Easter egg hunt- the list goes on.
I was glad to see so many of the parkruns posting on facebook about how their events will remain free, as the worst thing that could happen is that other councils follow suit, but it seems that most local councils are aware of the benefits that parkrun brings, and so continue to support them.
What was your take on the parkrun fiasco this week? 
For anyone interested in the benefits, they have created a temporary website, loveparkrun.com, showcasing their brilliant work.
And if you want a little giggle, check out these t-shirts.