So after a kayak on Moraine Lake, and a walk up to the top to take a few last pictures, we loaded up the car and headed off as we had a long drive (over 400km) to Kelowna. Annoyingly, as I have mentioned before, this was Saturday, and on that very Saturday, the inurural Canadian parkrun was starting, IN KELOWNA!!! But there was no way we were starting our drive at 3am to make it there on time. We stopped early on in our journey to pick up some bits for lunch (we got a nice picnic of hummus, ready sliced peppers, crackers and apples) but we didn't pass any proper looking rest stops, so we ended up powering through, arriving in the afternoon.
Kelowna is on a large lake and seemed the place that a lot of people had headed to on holiday- loads of trucks towing boats, and there were large parks where you could hire bikes and do some walking. In the end we spent a bit of time walking around near our hotel, going to a shopping mall, walking along by the lake (a lovely path from close to the town centre all along past beaches and marinas), in the old town, and we even came across a lovely Japanese garden.
Now I know about the parkrun, we can plan our next trip to make it work!
The Japanese garden
A cool bear sculpture by the water. It was fairly overcast here, but it was very hot indeed.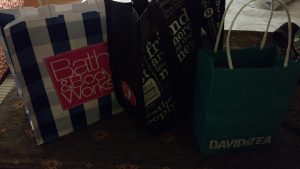 Some of my favourite Canadian shops were visited (plus Roots- not sure where the bag was for that)
We only stayed there for two nights, so on our final morning I was awake early so headed to the gym in the hotel for a run- I was conscious that we had an even longer car journey so I wanted to get moving for a bit that day. I had it all to myself at the start, and listened to a Marathon Talk podcast while I was running (I save them for running so I had a bit of a backlog).
I even managed a mid-run photo, although I realised afterwards that I could have just pretended by holding a running pose…
Anyway, the 500+km journey to Whistler loomed, so we didn't hang about after breakfast.
Again, we didn't really find anywhere to stop properly. We have been on a few US road trips and their roads seem to have frequent rest areas with benches and toilet blocks, but I think over this side of Canada it's more sparsely populated. In the end we stopped on a pullout for a bit of a stretch, before the final few hours.
We had the evening and next morning in Whistler- we have been there before (last time we got the cable car into the mountains and did some lovely walks up there), and this time just enjoyed wandering around the village.
I was still loving the Olympic spirit! Because of the time difference we had seen a lot of it (although if a Canadian athlete was doing something in another sport, they would cut away).
Then we drove to the ferry port north of Vancouver (Horseshoe Bay) and got the ferry to Nanaimo on Vancouver Island.
When we arrived we knew we had (another) drive to our hotel, so we wandered around the town for a bit, and found a place that made smoothies and vegan food- we both went for the hummus wrap (some sort of dehydrated wrap- they gave us water to have with it too as apparently we needed to) which was filled with lovely fresh veggies, although very hard to eat!
Of course we also had to have a nanaimo bar- when in Rome eh?
On the drive to our hotel, we both saw something dark run across the grass in the middle of the freeway- initially we both thought it was a dog but when we got closer we realised it was a bear! Crazy!
One of the things we both really wanted to do was go whale watching, so we had booked a trip from Telegraph Cove.
It was the tiniest place- winter population =4!
As I am sure you can imagine I took many photos- I wanted to look at them properly, and not on my phone screen, so I tried to point my phone in the general direction and then press the button whenever I saw anything.
They put up a special "whale watching" flag whenever we saw whales, to warn other boats.
Killer whale/ orca
We were so lucky- we ended up seeing several pods of killer whales (some ate mammals, others ate fish), two humpback whales, porpoises, seals, sealions and dolphins!
Humpback whale
The next day we were heading to the other side of the island, so that will wait for another post.
Have you ever seen whales?  The shop had t-shirts that said "I've seen Blackfish in the wild"- I have been to Seaworld a few times and then after seeing that film I have had a lot of guilt. Although to be fair the wildlife expert on our boat told us that they were seen as the enemy as they ate fish, so there used to be a machine gun (yes- you read that correctly) mounted at one inlet and people would just shoot the whales. When they were first captured and put in aquariums, they realised how intelligent and also how endangered they were, so the conservation work started there. Although those parks played their part, they should be in the wild now.