This time last year, it was Panshanger parkrun's first birthday, and my 50th parkrun. Last weekend was their second birthday, and my 80th parkrun! I am quite impressed that I managed 30 last year, as I also did quite a few weeks of marshalling where I could not run.
They were having a beach party theme, so I had ordered a grass shirt and flower lei to wear over my running kit. At first there were not many people dressed up, but thankfully as time got on, there were a few people dressed up. I got talking to one couple and asked them why they weren't dressed up- it turned out it was their first ever parkrun so I let them off! I did explain that it wasn't like this every week! They ended up asking a lot of questions so I basically gave them their own new run briefing before the official one! Hopefully they will be back.
It started to rain a bit as they were giving out the prizes and things, but luckily not too hard as it does take a while. Someone had ordered a giant beach ball and people were bouncing it around, although they were worried it would knock the cake over!
From their facebook page- that's me in the blue skirt and apricot top.
While I was running I met another club friend, and we ended up running the last 2 miles together. The finish has been different for a while (no longer a steep straight hill, but a zig zag)- she had not been for so long that she hadn't done the new endig yet- I think we both prefer the old one. As we ran up the timers were shouting "keep going for sub 30" and we both managed to come in at 29.53/54- a new pb for my friend! I really enjoyed that run too- yes Ellenbrook is easier as it's flat, but Panshanger is just so pretty.
I collected my jumper from the fence and then remembered the cake! I went back for a piece and it was very tasty as well as being a fantastic design.
I also had a look at the amazing bike rack that Tarmac (who look after the park) had given the parkrun for their birthday.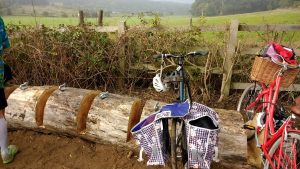 It's a large log with slots for the wheels, and metal buckles for chains or padlocks to be attached to. Brilliant.
I ended up chatting to a few people for a while, and had a hot chocolate as we had no heating or hot water at home and I needed to warm up for a bit! (We went around to Andy's parents after breakfast to use their shower).
This year I suppose the official milestone that I reached was the 25 volunteering sessions- I think next it will be 100 parkruns, and then after that 20 different venues. This weekend I am down in Brighton and I was looking at trying a different parkrun (as there are 3 there and I went to Hove Prom last time) but Hove Prom is a lot closer to the hotel, and I am running 10 miles on Sunday. Next time we go down it's for a 10K, so I could run further on the Saturday to get to a different one- possibly Preston Park.
Which milestones have you achieved, and which ones are you working towards next?