This weekend I was fully in the festive spirit. Friday was Christmas jumper day:

Thanks Not on the High Street- it was that or Mince Pies before Guys, which made me laugh so much, but the cute whale just won it for me.
On Friday night we had a team evening out with a meal at Pizza Express, and then a visit to The Pudding Stop.
On Saturday morning I drove to Ellenbrook parkrun- on the Tuesday a few of the girls from the club said they would be going, and when I looked at my results I realised I had only run there a handful of times- I've volunteered a lot but I have run a lot more at Panshanger. It's easy to do a run beforehand there as it's close to the business park- wide pavements, fairly flat, and as that was right where we used to live I know exactly how far a mile is and so on.
I got to the start line with about 10 minutes to go, so I ended up running up and down the runway (in the above picture) to keep warm. It was so foggy you couldn't even see the start line from the end of the runway. When I was getting out of my car, a guy drove past and rolled down his window and asked me if I knew where parkrun was. I explained it, telling him to go through the gap in the hedge (it is a real path) and then turn right, saying something like "you'll see all the high viz volunteers"- well, you couldn't see them as it was so foggy! I had't slept well and my hip was feeling sore, and as I changed into my trail shoes in the car park one side felt a bit too stretched, but I pulled my knee into my chest and that seemed to sort it- I ran fairly slowly and cautiously but everything seemed alright.
I'd said to some of the runners at the start that I wasn't going to go too fast, as my focus is miles and not time, and I didn't look at my watch at all. At one point I had to take my top layer off, although I was then too cold- can't get it right! Anyway, turns out I finished in position 39, first in my age category, with 27.37, which was my second fastest time there. It seems that a warm up is good for running- who knew?
I had been meaning to get my car washed for ages, and decided that as I drive past the big Tesco on the way home, I would see how busy it was. It was fairly quiet (I thought it would be manic with only a week until Christmas), so I left my car and wandered around the shops. I didn't see anything and there's a cafe there, so I went for a hot drink.
When I got home it was time for the Christmas bowl! I got this in Disney in September, but I was waiting until December to use it.
I had a whole list of things to do, and managed to get them all ticked off- making more Christmas pudding fudge for gifts for people at work, putting marzipan on the Christmas cakes, work (not festive but it had to be done). The tyre pressure light in my car has been on for a while, and last time I tried to sort it out myself I ran out of 20p's and managed to deflate my front tyre. Not good. Andy needed to collect some things from work, so I drove and then we stopped off to get that sorted on the way home.
Later we walked into town, in the fog- in fact the fog was worse on the way home- it was so grey and wintery.
On Sunday morning I was off on a long run- I decided to run to and from Ellenbrook parkrun, as on Christmas Eve I would quite like to do that, and also run parkrun. I went there and back slightly different ways, but each way is around 5 miles- I'll have to be organised that morning so I'm not late, but it should be doable.
Christmas leggings are being well used this month!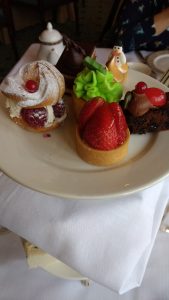 In the afternoon I went for afternoon tea with Andy's mum and my sister in laws- it was such a lovely afternoon, and I always approve of places where you can get more sandwiches (I didn't, but you can). The cakes were actually Christmassy ones- the fruit cake looked like Rudolph. There was a log fire burning, and a live singer. It was perfect. We took a lot home with us, as we were also given mini mince pies and chocolate covered cherries.
Later that evening I wrapped all the present for work, cut up and bagged the fudge and wrote cards. A very festive weekend indeed.
Do you have many Christmas jobs left? I have a bit of wrapping to do, and I need to ice and decorate the Christmas cakes. Did your work take part in the Christmas jumper day?