For the last few years we have headed to Europe for a weekend to visit a new Christmas market- we've been to Copenhagen, Bruges, Cologne, Vienna and Strasbourg. Last year our train to Strasbourg also went to a place called Colmar, and when looking into where it was, it turned out to be one of the top ten Christmas markets in Europe. We have flown to a few of the places, but getting the Eurostar is so much easier and less stressful (this was confirmed by our September trip to Paris where we flew out and got the train back)- the train from St Albans is 25 minutes and goes right to Kings Cross, and you only need to get to the Eurostar 30 minutes before, no worries about baggage limits or liquid restrictions. So a few Fridays ago we headed off, picked up a sandwich to eat in the train station and got the Eurostar- I had downloaded some things to watch on the Channel 4 app (Secret Life of the Zoo/ 4 and 5 year olds) but it hadn't worked so I listened to some podcasts which meant basically I slept most of the way. We stayed overnight in Paris, right by the station, and then in the morning got the train to Colmar. There is a Starbucks in the station so we got a hot drink to have on the train.
They can never get his name right – at least they got mine right though, often I am Marielle. The awful exchange rate means it's a very expensive treat now though. There were great views on the train of the pretty French countryside, all enjoyed whilst listening to Wittertainment. It was so cold though- all the lakes we passed were frozen solid.
We arrived around lunch time and luckily our hotel room was ready, so we dropped off our bags and had a wander around. It was such a pretty town, very similar to Strasbourg with all the buildings. It was beautifully decorated, and easily walkable.
It's a bit like Brugges, with canals running through the old town, and lots of buildings facing straight out onto the water. All of the bridges had lovely decorations on them.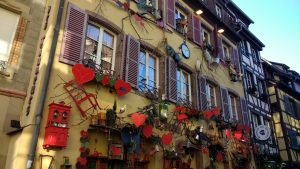 There were lots of different markets, all well signposted. We were given a map when we checked in to the hotel, with the markets marked on them, but we didn't use it as there were signs everywhere.
I loved this little village set by one of the canals.
There were some more unusual decorations too- I loved this tree made of skis!
Of course while we were there we sampled some of the drinks on offer- I had a lovely warm apple drink with spices and local honey, and of course Andy had some mulled wine.
We headed back to the hotel for a bit to warm up and have a picnic dinner of nice bread and cheese, before heading back out to see the decorations at night.
It was even prettier at night (but very cold). The markets were still busy- I think the European ones are so good as they get the local people out too, it's not all tourists. I had a proper hot chocolate while we wandered to keep my hands warm.
Argh! I washed my hair on Saturday night as we had to be up fairly early in the morning for the train- it was only after that I realised that this was the in-room hairdryer. I've only ever seen them in Italy before- it's the equivalent of someone blowing gently on your hair. Plus the tube gets so hot as you hold it, so you can't use it for very long. About as useful as a chocolate teapot. Not quite as bad as when we were in Yellowstone and the room didn't have a hairdryer (it was a lodge with no TV, but I thought it would still have a hairdryer as it had a shower)- it was freezing in the mornings and I remember sitting in the sun by Old Faithful hoping the sun would start to dry it a bit!
This was the park between our hotel and the train station. On Sunday morning we had to get a short train ride (15 mins) to a place called Mullhouse, as there were no direct trains back to Paris that day. We had a good hour there, so we wandered into the town and found a lovely bakery for our breakfast- chocolate almond croissant= winning at breakfast, oh yes.
There was a Christmas market there too, although it wasn't open at that time on a Sunday morning. I liked the display in the town centre.
After the main train journey, we had time to wander around Paris- we had a walk along the river, before heading to the underground to go to the Eurostar station.
The only thing we bought was this gingerbread man, which was very tasty indeed. It was another great place to visit and put us in a very festive mood.
Do you prefer trains or flights? Where is the best Christmas market you have visited? Any travel hair issues?