A few weekends ago was another busy time; marshaling at parkrun, going out for breakfast after, walking into town later before heading into London for the evening. We went to The Roundhouse to see Ash (a band I have loved since my teenage years) do a 20th anniversary tour for their first album (well, first proper length one), 1977. (Because they love Star Wars, if you realise that the maths doesn't work).
It was brilliant. They played the whole album, and then did a collection of songs including some I have not seen live before (Petrol, one of my favourites, from their first release), and even played a few Star Wars tunes as they were excited about the new film. I loved it, but it made me feel so old! I can't believe it was 20 years ago.
I had decided to run to and from the race the next morning, as it was about 2 miles away, parking might be busy, and I wanted as many miles as possible. I was very excited to add antlers to the Christmas leggings!
I ran there fairly gently, and after putting on my number I had about 10 minutes, so I ran up and down the road just to keep myself warm, as well as adding to the mileage.
It was a lovely day- blue skies but freezing cold, and I was glad of the long sleeves. I did this race last year too and really enjoyed it- there are lot of marshals out in festive gear, as well as plenty of runners dressed up.
It's a two lap route, and for the first lap I stuck behind a couple of girls and ran pretty much at their pace. One marshal told me he liked my antlers, and a few runners commented on my leggings- I think Tikaboo would have sold a few pairs that day!
On the second lap a lady overtook me, and I was feeling OK so I tried to keep up with her, going past the two I was following. The route is fairly flat- near the end of each loop it sloped up a bit, but then you had a nice downhill bit towards the half way point finish line. As I approached the finish line, one of the marshals was shouting "less than 200m to go, come on, sprint" so I sped up a bit. I went past the lady I had followed, and she told me "great running" followed by "catch that dog" (there was a person running with their dog) so I pushed on and managed to overtake the dog with about 25m to go. As soon as I finished I turned around to cheer the lady in, and thank her for her words as I would not have pushed harder if she hadn't said anything.
I was given the "festive treat" (a tube of maltesers) and after chatting to a few runners I headed home. There was a coffee van, and cakes on offer but I didn't think I would manage the run home after eating or drinking.
My time was texted through a few seconds after I had given my chip in- 45.55- no pb (and no course pb either- last year was 45.12) but not bad in the middle of a long run.
Later that day I was off for afternoon tea (this is happening a lot recently!)- we saw a lovely sunset from the building.
I loved the decoration on the fireplace- I'd like to get something similar for our banisters going up the stairs. It was good to catch up with my friends.
Unfortunately, the service was appalling- I was given salmon in my vegetarian sandwiches (so fed up of explaining to someone who works with food why fish is not vegetarian), no-one came over to ask if everything was OK with our food (so I could not even say about the fish), we were not offered even a top up of hot water, one friend who requested gluten free scones wanted to complain because they tasted awful, and in the end was sent to see the Receptionist (who didn't know why she had been sent there), no-one was about when we wanted to pay, and when we asked for boxes to take the leftovers home, all the food was scrunched up into one lump of silver foil. Sigh. Anyway, I have complained and we have been offered a re-visit in the summer when they have apparently improved, so we shall see.
When I got home we put up the decorations- our living room is not sorted yet (the furniture does not really fit it) but the tree fit nicely in one of the alcoves so that was OK.
We don't have a window ledge in the living room (we have porch doors) but there are covers over the radiators so at least there was space for the candle holders and reindeer.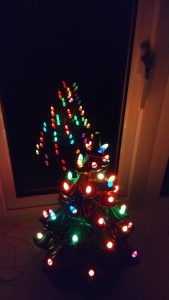 My favourite decoration is now on the dining room window sill- I love how it looks all lit up.
What types of decorations do you have? Do you like the same kind of music that you enjoyed when you were a teenager? Do you complain if you have bad service? I prefer to mention things at the time in the hope they will be sorted, but that didn't work in this case!