Yes, you read that correctly- too hot for cake!
This is one of my favourite races- the running club (Ware joggers- they run for fun) is such a friendly and welcoming group, the route is pretty and of course they are famous for their home-made cakes at the end.
I have always done the 10 mile event before, but as I already did the 10 miles in Richmond I had decided too do the 10k (also, most of my club mates end up doing the 10k so I thought I would be more sociable).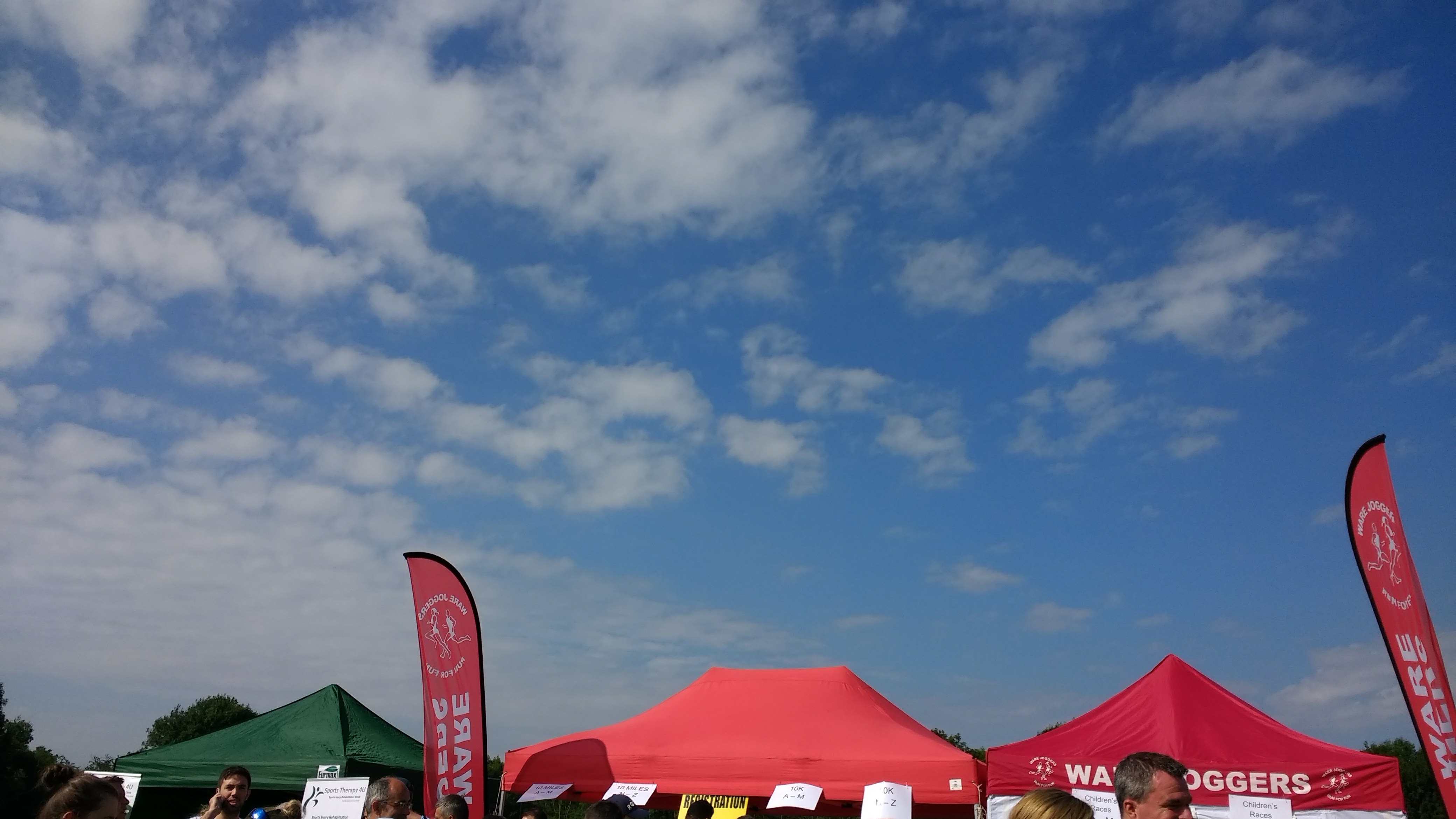 The weather said it would be overcast with a chance of rain later, but it was blazing blue skies.
The parking is right by the race start, and after a little queue to get my number (as I was out late with my mum I didn't leave particularly early in the morning) I was ready to go.
It turned out one of our runners (Catherine, on the right) was doing the 10 miles, but the others (including Louise, my best running buddy) were all doing the 10k.
Our running leader, Donna, was also running the 10k, and we decided to run together. We all flipped our watches over so we were not even tempted to look at the time- this was not a day for a pb.
The ten mile race is two laps-each lap begins with a few hills around little villages, and then finishes alongside the river, nice and flat. I've not done the 10k before so I was interested to see how it went-basically at the start we ran along the river for a little bit before joining the 10 mile route- we did one lap, and then finished along by the river (so the little bit of extra by the river that we did twice would have made up the difference from 5 miles to 10k).
We ran steadily and (apart from a brief stop at the middle water station) managed a royal flush negative split- 11.06 down to 9.32, and 8.33 for the final bit. The first hilly part was more shady, but once we got to the river, although it was lovely and flat, it was also totally exposed (apart from a few bridges to run under)- I really regretted not packing a visor as my face just felt like it was burning. I was wearing sun cream but my eyes were struggling from the bright sunshine. It is a very enjoyable race though- lots of great marshals and lovely views along by the river.
The finish is a lap of the field which felt so slow (despite being our highest pace)- in the finish area were loads of marshals who clipped the timer chips off your shoes (they were attached with cable ties), and then I wandered over to the drinks station- there were bananas and apples, so I had an apple alongside water (I got my cup refilled about 4 times).  You always get a technical t-shirt too and this year the colour is my favourite so far- we have had florescent yellow, fluorescent green and purple (last year), but this blue is so summery.
They always have a lovely cake stall laden with home-made cakes, and you can get cake and a drink for £1- they raise money for the Herts Air Ambulance. But, I was just too hot. I briefly looked but I didn't fancy any of it- what??? We found somewhere in the shade and sat down for a bit before it was time to head off.
The other reason why I love the top- it matches my trainers!
I did end up going to the garden centre again- I bought this beautiful hibiscus, plus a geranium, but of course as I didn't have a proper list I could not find the other plants I had seen.
We headed over to see my parents (my mum was in high spirits, and Dad was back from Wimbledon for the middle Sunday), and then headed to Andy's parents for dinner in their garden, followed by this cake- it was meant to be passionfruit cake, made with passionfruit curd, but I used a mixture of lemon and lime curd instead. The icing was amazing as it had a bit of melted white chocolate in there.  By that point in the day I was ready for cake!
What do you like to eat when you finish running or racing? I do like a banana, but the apple was so much better as it was juicier.