Last Sunday I headed out on my longest run for ages- 11 miles. It was beautiful weather- such blue skies- and the leaves were looking fabulous.
I took quite a few photos as I was running and really enjoyed myself. Well, apart from one incident. I was running along the old railway line- it's a very wide path in some woods. I'd passed people walking or running in both directions, some with dogs. At one point a dog ran out of the undergrowth and in front of me- the people walking it apologised but it was fine as it didn't trip me up or anything.  At one point I was running down the path and I passed a guy running in the other direction who had a dog running behind him.  As the dog ran past me, it doubled back and started growling at me. I stood still (I find that dogs seem to like the movement of running and think it's a bit of a game, and also when the Dog's Trust came into work they told the children to stand still if approached by a dog they don't know), but the dog was lurching at me, running around me in small circles and growling. The guy who was running hadn't even turned around at that point, so I called at him "can you please call your dog?". He then turned around and called it several times before the dog started to go to him (he was around 20m away and seeing as he was out running I don't know why he didn't run back..)- I was about to go when the dog ran back to me again, growling and going around me in circles. I shouted at him "can you please come and get  your dog as it isn't coming" but he just called it again. Eventually the dog ran back to him, so I shouted (I think politely) "if you can't control your dog, it should be on a lead". He said to me "sometimes he's a bit naughty but he won't hurt you" , so I called at him "you still need to be able to control your dog as that was really quite frightening". I turned and carried on and honestly I felt like crying- I was really worried that the dog was going to bite me. There were a couple of ladies out walking a bit further down and they had been watching- they asked if I was OK which was really kind of them.
The rest of my run passed without incident thankfully, although it was a rather slow one (11 miles in around 2 hours).
After a shower and breakfast we headed up to Wimpole- we'd been there years ago (and I did the parkrun there a little over a year ago) but as it's really our nearest National Trust place we felt like we should go a bit more often.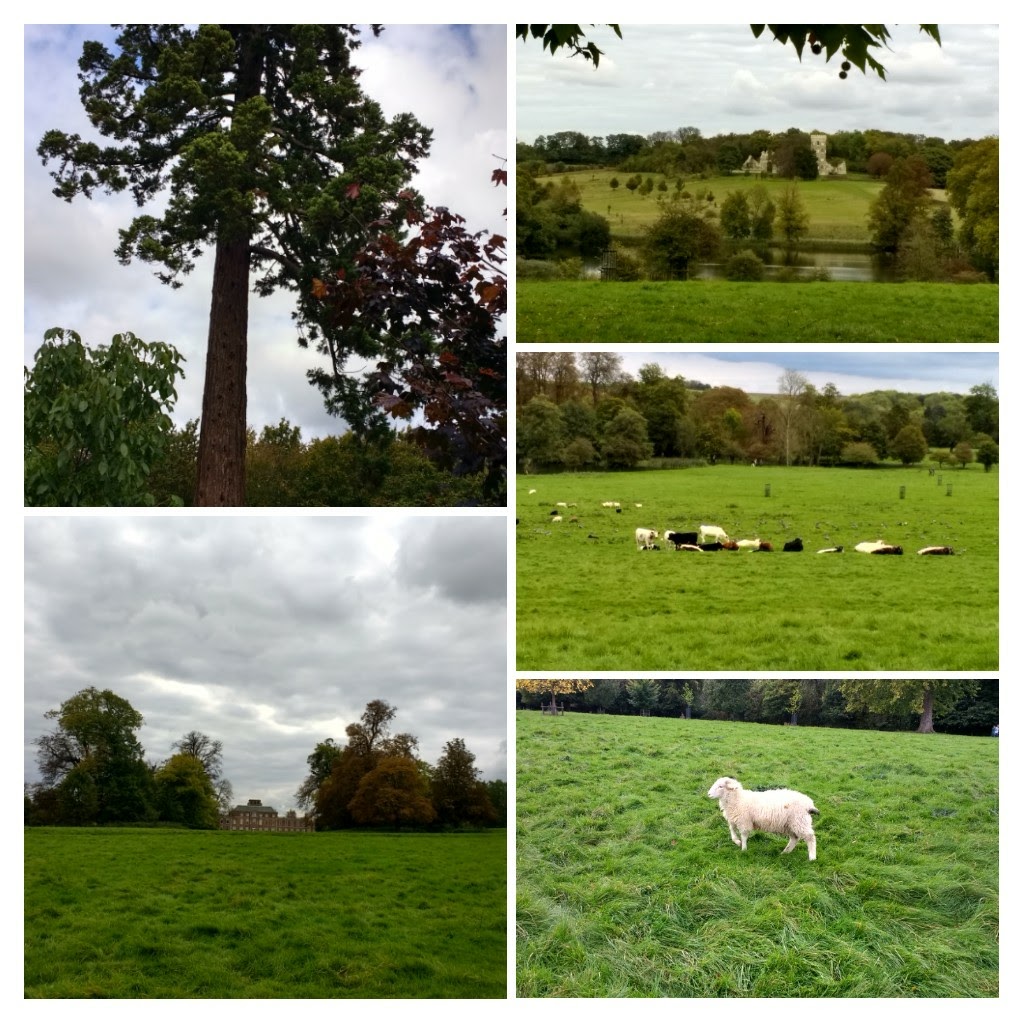 There'd been a running event there in the morning ( a half marathon and 10 mile) and we saw a few people wandering around wearing their medals, and the gazebos in the race village were being put away. We had a wander through the walled garden (getting ideas for our own garden) before walking around the fields- I think we walked most of the parkrun course but in reverse. It was time for a tearoom stop after that!
The tearoom situation was not the best- there was a restaurant with a hug queue and everywhere was busy but the tearoom was really a kiosk where you helped yourself (I really do not like that- especially when people do not use the tongs or jut breathe all over the food)- and there was no seating. I'd chosen a scone and I had to stand around for ages and ended up finding a bench so I could rest the plate on my lap. Must try harder Wimpole! Anyway, it was an enjoyable afternoon out.
Once we got home it was time to finish the last few bits of work before having dinner and watching some TV.
Also, I think I might be the only runner who has not only not applied to the London marathon ballot (not "The marathon", because there are many more…), but is also not really fussed about it. Partly the ballot system is annoying- I'm not sure why they let you know so much later as the ballot closed months ago. But although I love watching it on TV, the huge crowds make it seem much more stressful. I think I'd rather run somewhere new and see different sights too.
The rest of last week was fairly normal, although we did a new route with the club on Tuesday night- our run leader is great at estimating route lengths and we were told "5 miles, ish"- well it ended up being a little over 6 miles, but a good new route (although we'd need torches for a bit of it). Yoga was great as always although there was a power cut so it started a bit later, and then part way through we had to stop because I saw a massive spider on the floor- they put it outside for me! On Thursday I popped by my parents and felt so tired by the time I got home so I skipped my run in favour of a walk, which turned out to be the right decision as when we got back from the walk my legs went all shaky, not sure why but I think I'd just been really tired.
Did you enter London? Are you keen on dogs? I don't mind dogs, but I object to anyone telling me that their dog is fine when it is leaping up at me.