On Saturday I met Dad at Ellenbrook for parkrun. It was pretty miserable weather- only about 5 degrees and raining, so I sat in the car for a bit before finally braving it. Dad had driven (he often cycles but not surprisingly didn't fancy it)- I was heading to theirs for breakfast after, so I told him not to wait but we ended up running together. I'd worn a visor to try and keep my glasses dry, but the rain was too hard. I didn't even spot my friend Elaine (she was marshaling) until we called out "thanks" and she said "hello"- I recognised her voice but couldn't see properly!
Flying feet! It was slippery and very muddy in places, although the worst part (the "water feature"- a muddy track that is under water for a good 10 metres) has been filled with sand so it wasn't so bad any more. Also, the cows were standing up. I thought cows sat down in the rain? Or is it when it is about to rain??  I had worn gloves and took them off after around a mile (my hands tend to warm up fairly quickly)- I did offer them to Dad as he had forgotten his and he really feels the cold, but apparently he wasn't keen on wearing the flouro pink ones!
Anyway, an enjoyable run, finishing in 27.44 and 1st in my age cat! That doesn't normally happen (I think the rest of the people stayed at home in the dry!).
Our lovely tree is still so colourful- not tan lines but mud lines! And watching the rain from my car…
I'd packed jogging bottoms and a jumper, so after driving to my parents I changed- I wished I had packed a proper change of clothes though as then I could have had a shower- not sure why I didn't. I had to spend ages wiping the mud off my legs- I thought I just had some splashes but actually it was a proper coating! We then had breakfast (pancakes of course)- my sister came around with her husband and baby, my brother was there, and Andy joined us later, so it was lovely to all catch up.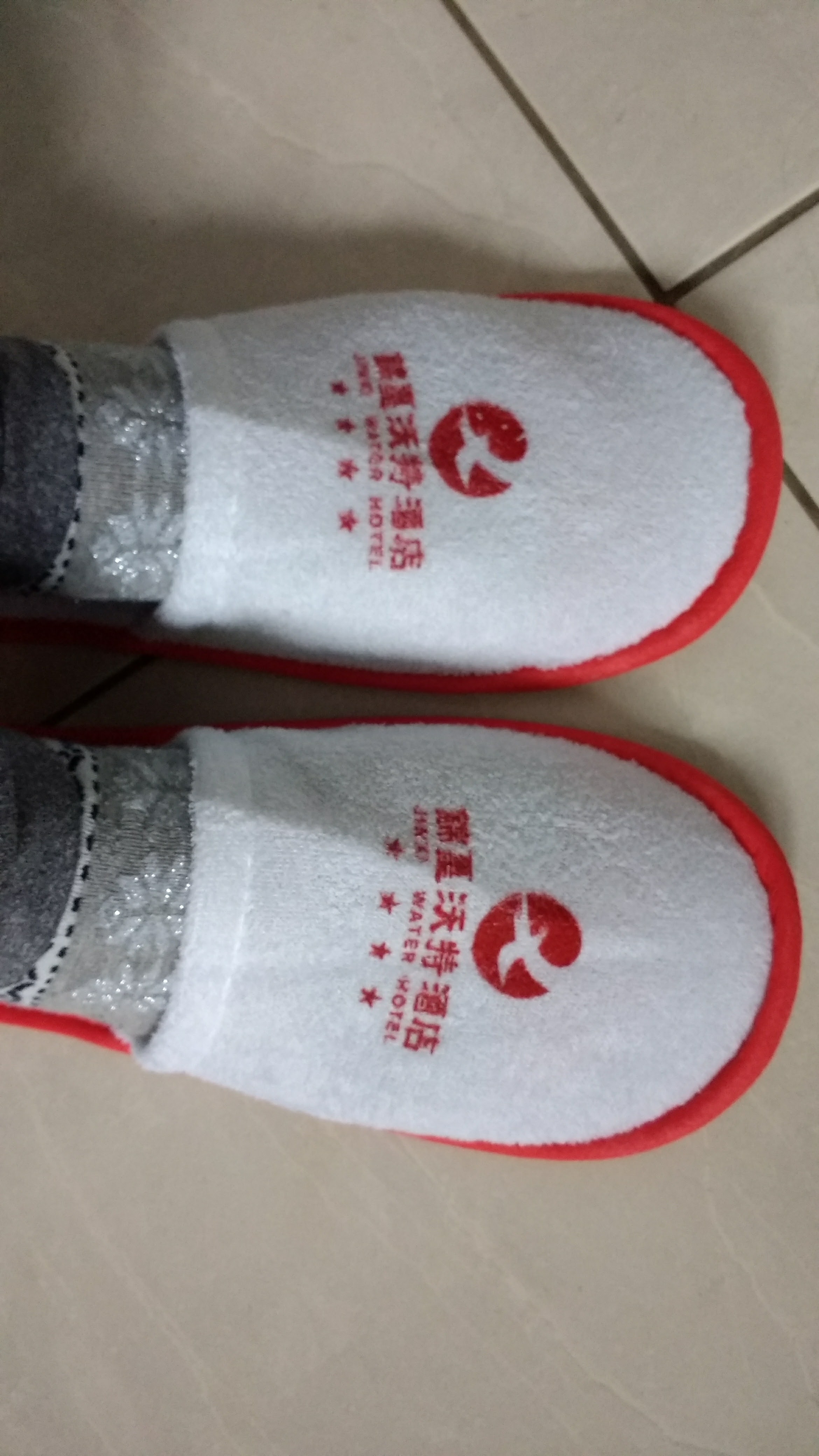 Mum lent me these slippers (from one of their hotels in China) so at least my feet were warm!
In the afternoon we walked into town and I made some caramel shortbread for Sunday. Then after dinner we went to the cinema to see The Florida Project, which was really good. It's set in the shadow of Disney World, following a child and her friends- they all live in motels and so it does show the struggle that the parents go through, but the children were brilliant and it was very uplifting at times too.
On Sunday I didn't set an alarm and didn't even wake up until 8.45! Crazy! I headed on a run- I ended up doing 10 miles. I'd worn a top and jacket, thinking I'd take the jacket off after a bit and tie it around my waist, but in fact every time I considered it, the wind would blow more and make me feel chilly, so I kept it on the whole time.
This is my "I wish I had worn a buff" face- my skin gets so sore and it looked like I had sunburn when I got home as the skin on my neck and chest was so red and itchy.
After a shower it was time for breakfast- on Friday I had been into town (for a massage) and so I had of course had to go to Gail's (an amazing bakery). I usually go for the chocolate almond croissants, but they had a sour cherry and pistachio croissant so I got one of each (plus a scone for another time).
I warmed them in the oven while I made the tea (Bluebird Bonfire Toffee tea) and then we had half of each. Mmmm, so good.
We then walked the long way to town (about 3 miles) and I had this tasty smoothie when I got home to give me a bit of a boost to power through some work.
We had tea at Andy's parents and then when we got home, it was finally time to use the log burner! We had it fitted in the summer but of course we needed to wait for a cold day to actually use it.
It was so cosy, and after getting so cold at parkrun, on my run and on the walks to town it was lovely to relax and feel warm- the perfect end to the weekend.
Do you have a different breakfast at the weekends? I'll happily have porridge every week day in the winter and muesli in the summer, but I will often have something different at the weekend to make it more of an occasion and a bit more relaxed. Are you wearing gloves on your runs now?