On Saturday I was off to marshal at Ellenbrook. I'd asked to be on one of the earlier points as my dad's cousin was coming down from Milton Keynes to run it (we ran with him in Linford Wood earlier in the year), and we were all going to have breakfast together after. They had kindly accommodated me, so after getting my high viz, lanyard and instrument (I chose a cool looking rain stick from Peru), and briefly seeing Dad and Tony get off their bikes and Brian arrive from the car park, I headed off to my spot.
It was a gorgeous morning- blue skies and not too much wind. I was glad I had wrapped up warm. I was looking forward to cheering on all of the runners- I don't marshal very often as I do like to actually run, but of course the idea is that everyone takes a turn, and the day before a half seemed a good day to rest.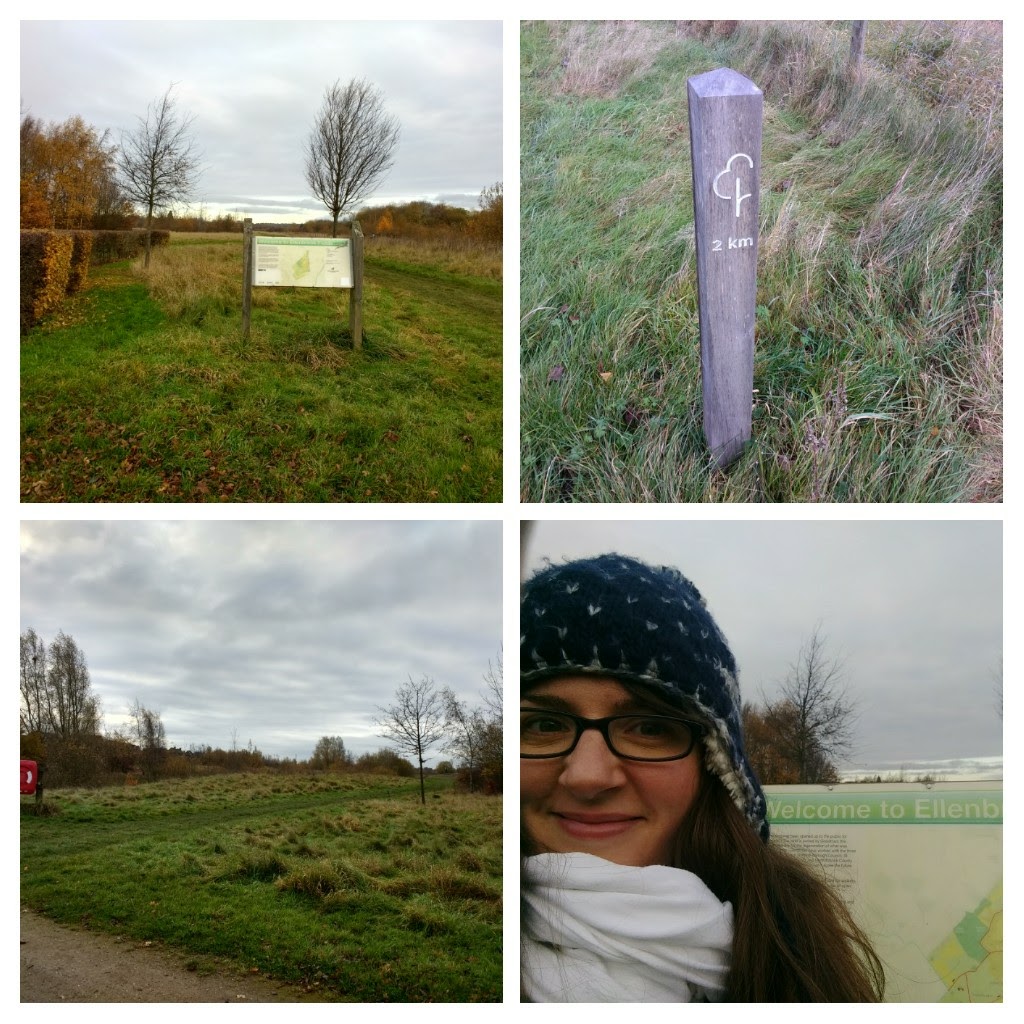 Ellenbrook has a small loop to begin with, and then a larger loop, so I was on Marshal point 2, directing runners first back towards the start (they turned left), and then on their next lap a right turn towards the fields and the bigger lap. As I was waiting, one of my friends, Elaine, turned up, walking her dog. She marshaled last week (taking the excellent flying feet photo) and as she was running a race on Sunday she had decided to walk while her daughter was handing out the tokens. She took photos of the runners as they came through the second time- one of the OH ladies was running her 100th parkrun (and got a pb too!). I commented that usually the front runners don't lap the tail walker, and then low and behold, as the tail walker came into view so did the front runner, steaming past. I had an arrow so I had to do a bit of jiggling to show them which way to go (left on the first lap, right on the second).  Once they had gone through we walked back to the start, just in time to see Brian and Tony finishing. It was so cold so we didn't hang around for long.  We then had a lovely breakfast (pancakes- I thought Mum would do them an English breakfast but she knew I was coming so went for those instead) and a great catch up. Brian is a total parkrun convert- next week he moves into the next age category (75-79!)- he's pretty speedy but at his local parkrun there are two other guys in the same bracket as him consistently going closer to 20 minutes- impressive!
Later we braved the rain to walk into town, and I did a bit of baking (caramel apple blondies) before an evening with the fire beckoned.
On Sunday I was running the Herts half marathon, at Knebworth, a big stately home and grounds by Stevenage. They have hosted big concerts there before (the one in the Oasis documentary) and the medal looked pretty cool. Anyway,  I had heard it was going to be hilly so I was prepared to not chase a time but just enjoy the scenery. The race info told people to get there by 7.45, which seemed early seeing as the race number were posted out and the race didn't begin until 9.30. They also said if you arrived after 8.50 you would have to use the overflow car park, 1km from the start, which I thought sounded fine (and sort of contradicted the advice of getting there so early). I live around 15 mins from the start and wasn't planning on using the bag drop or the toilets, so leaving at about 8.20 am seemed to me like I had left plenty of time. But no, a mile from the exit of the motorway I joined the queue of traffic, and it was just barely moving. It took me 50 minutes to do that final mile- I finally parked at 9.25, to find out that it wasn't a km, but a mile away (and according to google maps, more like 1.3 miles). I ran most of the way, and a lot of it was uphill- not a good start. At least I hadn't planned to use the bag drop (it told you not to, and said keep everything in your car, but there would be an "informal" bag drop, whatever that means- do they say "hey" instead of "hello?") but I did have to put my timer chip on my trainers as I hadn't decided the night before which shoes to wear.
As I got to the top of the hill, the race started with the speedy runners haring towards me (and all the people watching). There seemed to be a lot of runners so I managed to run around to the back (nearly tripping on a low fence) and put my chip on my laces and tried to take some deep breaths. A stressful start! Some people didn't even begin until nearly 10am so I wasn't the last by a long shot.
So, onto the race. I had heard that it was hilly, but I don't really know the roads around there at all. It was really tough. The first 6 miles went by OK- I was keeping a fairly steady pace and although I stopped to take a few photos, I didn't feel I needed to.
One sign said "enjoy the downhill"- not easy when you know you have to run up it later on… The "enjoy the music" sign was just before a guy playing a steel pan brilliantly which cheered me up no end.
The course started in the grounds of the house, and after 1.7 miles (or according to the announcer, "2 miles on the dot") we ran back through the finish line before heading out into the surrounding country lanes.
We then had a long bit of out and back- you turned at 5.5 miles so I had a long time to watch for faster runners on the other side of the road. At around 6 miles I started to get a sore leg- this happened to me at the Bright10 in 2016- it felt a bit like my leg was twisting around. After that happened I kept having to stop and walk and stretch it out. I am not sure what causes it- I think perhaps running on a sloping road where one leg is constantly higher than the other.
The hills were constant too- it felt like you were only ever going up or down, and a lot of it was fairly steep so the downhills were just as tough on the quads. I really struggled to keep going at times. I realised that I had left my clif blocks in my car (argh- what use are they there???), and at the final water station I took a bottle with me. I also spent a long time feeling grumpy as I saw all the discarded bottles and caps by the sides of the roads and in the bushes and woods- I really don't like bottles anyway because plastic is just so bad for the environment (and it wastes so much water) but if they must have them, why not provide a bin??? I made sure I took little sips as my throat was sore from the cold air. Even the 10 mile point with just a parkrun to go felt like the end would just never be in sight. I ended up messaging Andy at one point while I stretched out my leg as I was really struggling to keep going. From my fastest mile of 9.37 (mile 5) I slowed to 13.08 for mile 10.  With around 2 miles to go I started to see a few finishers with their medals, and could hear the announcer. At one point I could hear a band playing "Live Forever" by Oasis (there was a little stage at the finish area), but they didn't seem to be playing all of the time.
As you might be able to see on the Strava image above, the final mile was uphill (I'd already run it once on the run from the car park)- this was so tough and demoralising. The path hadn't been roped off so I had to weave in and out of the people who had finished, wearing their medals, on my way to the top.
When I finally finished the medal was handed to me, I was given a banana and a carrier bag, and then had to wander through and collect the items- a medium t-shirt because they had run out of small (grr), a little bottle of water and a clif bar.  I sat on a little fence for a bit and ate the banana and just tried to summon up the energy to walk again.
It was a  really cold day (2 degrees when I left the car) and my hoodie was in the car-  I had worn a long sleeved top but of course that was sweaty and not doing much to keep me warm. I put the t-shirt on and then saw lots of people with hot drink cups, so I found a little van selling hot chocolate and got myself  a gingerbread one (although that seemed to mean it came with a mini gingerbread biscuit?- I thought it would be spiced hot chocolate). I saw a few runners from the club and chatted to them briefly (one of them managed to run it in under 2 hours!) but I was getting so cold and had a long walk back to the car.
I also took one to show how much I hated it but Andy has said I really should use the happy photo instead- happy to have finished!
Then there was more chaos as no-one was manning the car park (which was basically a field anyway), so I think I finally got home at around 1pm. I did some yoga stretches and then had a lovely hot shower while Andy warmed up some cinnamon rolls in the oven and made a big pot of tea- then I started to feel a bit more human as I slowly warmed up.
So- the pros of the run:
Close to home
Lovely scenery
Great marshals (they had tambourines, one guy was blowing through a traffic cone like a trumpet, some had music playing)
Cool medal (it has cartoons of Liam Gallagher and someone else as Oasis played Knebworth before)
Not too expensive (£32- not the cheapest but you get a technical t-shirt although also see below)
Free photos- they have all been uploaded to facebook and emailed out and people can do with them what they like
Cons:
Hilly route
Bad organisation with parking- there was no need for the gridlock at the end
Not enough small t-shirt sizes
Rubbish (or non-existent) goodie bag
No foil blanket- considering it was such a cold day I thought it was a poor oversight
No bins for the water bottles en route
Did I mention the hills?
So, I won't be doing it again!  But I think that with a few tweaks it could be a really good event- things like the photos were a nice (unexpected) touch.
I didn't do much for the rest of the day- we had a lovely baked sweet potato for lunch and then went to see Only The Brave in the cinema (which I thought was very good- based on a true story of a fire crew who tackle wild fires). I woke up on Monday with a really sore throat (and super stiff legs) so I do wonder if I struggled more if I am coming down with something.
Are there races that you have said "never again" about? The "Great" runs are on my list.