In case you have not seen more than 20 seconds of new footage this week, you will know we have had a fair bit of snow this week. I couldn't run on Tuesday evening anyway, due to a late meeting, but because I was on a course that day (which started a bit later) I did think I could run first thing instead. When I woke up and saw snow and icy pavements, I gave that a miss!
It does make for some beautiful sunrises though.
On Wednesday yoga was on- my first time in a few weeks due to the half term break and work meetings- and I found it pretty tough in places. We look out over a communal garden lit with fairy lights so it looked so pretty in the snow.
Mostly my car has been showing -4 on my journeys to and from work, but to yoga it was down to -5! I made sure I took extra layers, but thankfully they were only needed for the journey as the room has a heated floor that had warmed up nicely.
We had some sad news this week – one of the regular Ellenbrook parkrunnners died in his sleep. He was such a friendly character and always chatted to everybody- I got to know him a bit better at the parkrun volunteer event last year and always said hi to him at parkrun. A few times during my warm up jogs he'd pass me in the other direction and jog back so we could run to the start together. He was training for the London marathon and appeared a very fit guy, only in his 50's. The core team were planning a memorial to him at parkrun, but due to more snow the parkrun has been cancelled- I am sure they will have a tribute next weekend instead.
On Thursday I left work as soon as I could as the snow got heavier during the day and the roads were not great to drive on- there were gritters out but the snow was settling so I was basically trying to follow the tyre tracks left by other cars. Ages ago I had ordered a new chair for the living room and it was finally delivered.
I made the most of my longer evening by making a pot of tea (Bluebird rooibos), sitting in the new chair and looking out at the ever increasing snow (and spotting a few birds feeding). We even put the fire on in the evening.
School was closed on Friday, and luckily I had taken a folder of work home with me the other day, so I got some work done in the morning, and also had a look in the garden (loads of footprints were left overnight- some were pretty big – see my foot for comparison- and I did wonder if any were the foxes, but I think it's all cats)- I also cleared the path and a bit of the driveway but as more snow was falling it seemed to be making things worse.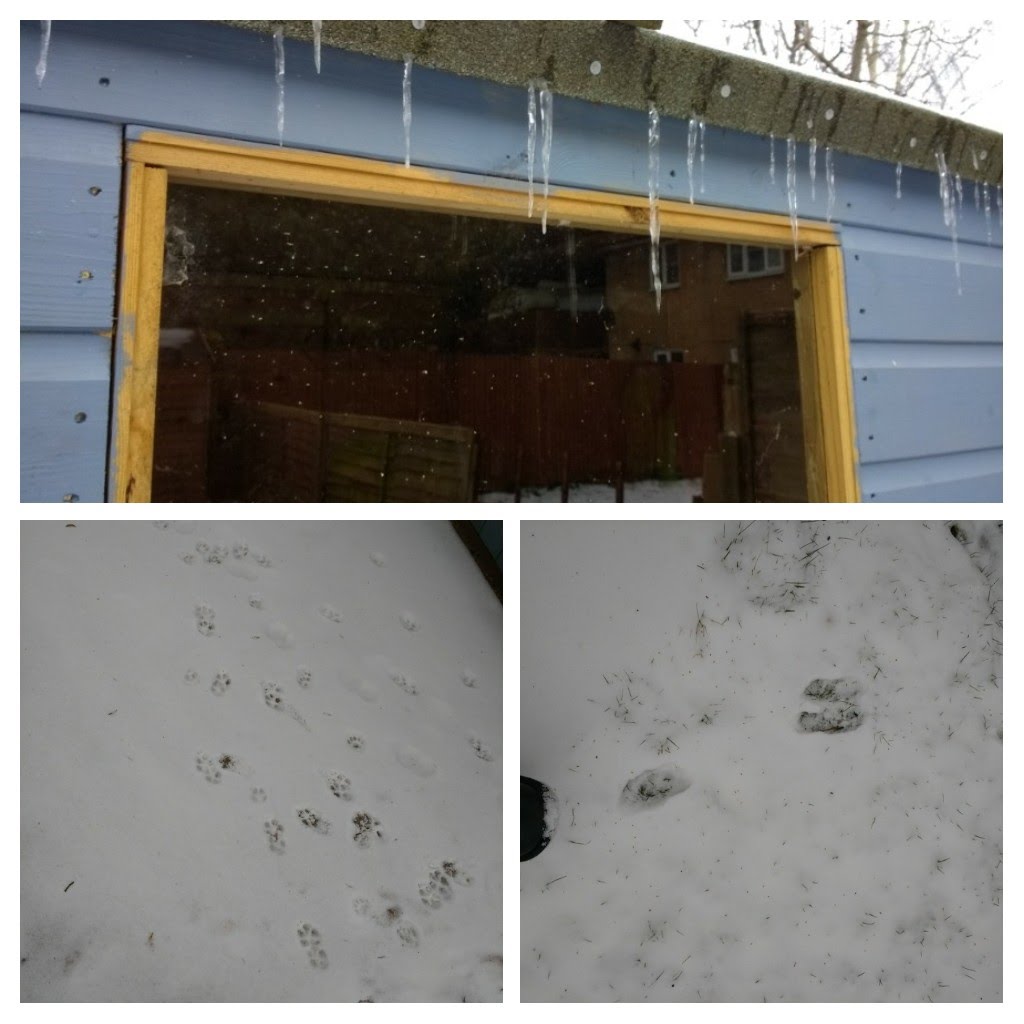 We walked into town to get a few bits for dinner before the worst of the weather set in- it was meant to get bad at around 1pm and that was pretty accurate.
After lunch (mmm, quesadilla with apple, chutney and cheddar) I did some more work- it was good to work while looking out at the garden- all the footprints that I had made in the morning were completely covered. (Late on Friday night we saw a fox walk through the garden- as it was all still snow-covered so it seemed so light) so I am pretty sure those are some of the footprints.)
The snow got really heavy- the road out the front was clear in the morning and it was then covered in snow after a few hours. I did try and take some photos of the birds feeding in the snow- the robins keep visiting the seeds and fat balls, and there is a very acrobatic blackbird who jumps up and almost hovers by the fat ball hanging from the little apple tree (top pic) but it's all a blur.
The poor birds must be wondering what is up with the weather. It has been sending me a bit stir crazy- no running all week. I could have potentially run on Friday during the day, but even walking into town wasn't easy as a lot of the pavements were slippery, and risking falling over just doesn't seem sensible when in the long run I've done all my training. We are still going to Cambridge today even if the race is called off (although they keep on updating that it should be fine-  just wet and cold), as we have cinema tickets and can enjoy time wandering around the city (or maybe brisk walking if it's still so cold). Although I was originally down to marshal at parkrun, Ellenbrook was cancelled, but Panshanger was on- it's all off road and running through the snow sounded like fun, but having another rest before the half marathon isn't going to do any harm (I hope- have my legs forgotten how to run in this short space of time??).
So, a week of no running (so far)- hopefully the thaw will happen sooner rather than later and things can get back to normal.
Did you have a lot of snow near you? Did you brave running in the snow?