So on the final Saturday of the holidays I decided to have a little parkrun adventure on my own. I looked at a a few options including Valentines or Victoria Dock for a V, but the train + tube times were adding up, so in the end I went for Northala Fields- I would tick off the N, and also complete the compass challenge (having already run Eastleigh, Southampton/South Oxhey and Westmill).
It meant I had to drive, and although it was 45 minutes away, this was on the M25 so I left at 7.45 to allow loads of time. The journey was actually really easy (even for me)- M25, then M40 into London, which would then turn into the A40, and then at some point (when the satnav told me, and also when the big mounds appeared to my right), exit and turn right. The car park was right there, although filled with the most enormous pot holes so I did briefly worry about getting my car stuck!
Northala Fields have these cool hump hills, which were from when the original Wembley stadium was dug out. One of them has a path spiralling all the way around to the top, so of course I had to run it to get the cool shape on Strava!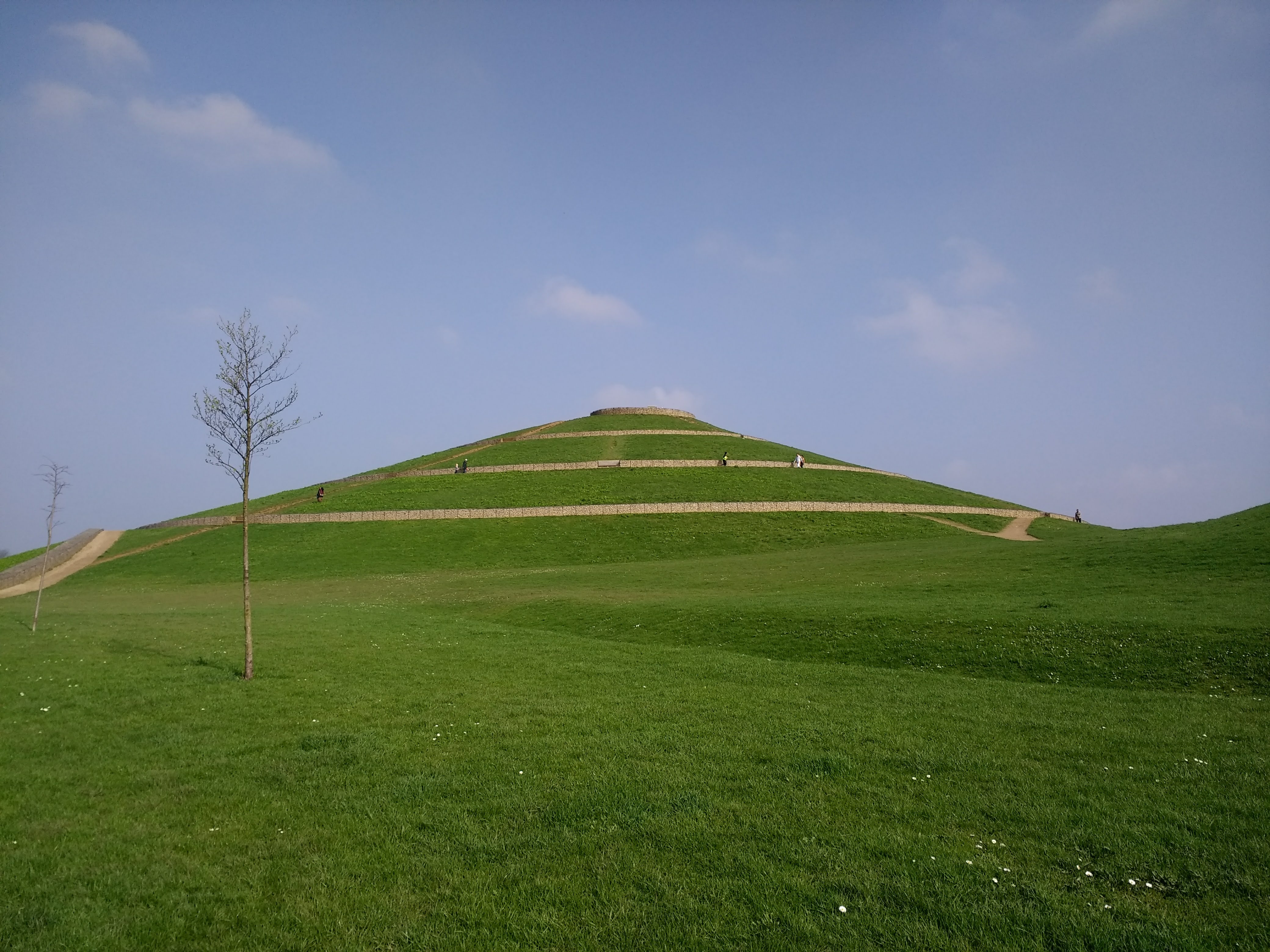 I had a little wander around before heading up.
Mmmm, cinnamon swirls…
It took longer than I thought- I'd run 0.8 miles and it was getting closer to when they would do the new runner briefing, so I took a few moments to enjoy the view before heading back down. It had boards up showing what you could see- the weather was beautiful but a little hazy so I couldn't see everything on the boards.
I had planned to put my long sleeved top in the car before the run, but as time was getting tight I tied it around my waist instead. I headed along to the briefing, where all the tourists were given a lovely welcome.
I saw a few other people with their cow cowls and said hi to them (although they were from Guildford and I just could not remember where it was at all- my geography is not great as if two places begin with the same letter I get them muddled). The guy doing the briefing had been to Panshanger and said how beautiful it was (it really is)- it was on the parkrun profile this week so check it out if you are interested. The main briefing was great- they had big pieces of paper for the milestone people to hold (eg a big purple 25, a red 50 and so on)- the people celebrating milestones stood on the bench holding the paper, so that even if you could not hear the briefing, you could see who was celebrating.
The course was busy with just over 300 runners. It started off on a fairly wide path with grass on either side, so even though (again) I started a bit far back, I managed to overtake people and get into my stride.  The route looped around the back of the spiral hill, went past the start/finish area through some wooded parkland and then around playing fields.
The view from outside the cafe- you ran past this to get to the playing fields section. 
On the far end of the playing fields we ran along the pavement, before heading back into the field, back through the wooded area, past the start/finish area (which I wasn't looking forward to but was good to be cheered on by the runners who had finished), back around the edge of the spiral in the other direction, and then along to the finish. I felt like I was going fast, but I didn't look at my watch at all. My miles were pretty consistent according to Strava- 9.11, 8.42, 8.45 and then 8.22 for an official time of 27:41
I like to take a picture of my finish token, and as I was getting my phone out, Bruce Li (who takes brilliant parkrun photos) came and asked me if I wanted a finisher photo. I agreed (we all love a photo at parkrun) and then I chatted to him for a bit. He saw I had Panshanger on my t-shirt, and then I realised that he had visited Ellenbrook and created a video of the course.  It was really lovely to chat to him- he told me that as this is his home run he takes photos at the start, runs it (in around 20 minutes I might add!) and then takes finisher photos for as many people as possible. What a lovely way to be a part of the parkrun community.
I did look in the cafe as I had heard good things, but there was a huge queue and I could only see cooked things on offer- I was hoping for a toasted teacake or something. I had a nakd bar and some water in the car so in the end I headed back and did some stretches before driving home.
So, another letter added, and a new club achieved (totally unofficial of course).  I think every parkrun is worth visiting, but this one felt quite special. The spiral was good fun, and the local just felt really different to other parks.
Then this week I got a message from someone saying I was on the parkrun instagram account (and also on the facebook page it turned out)- they had used one of the photos of me at the finish for their post about where everyone had been this weekend- fame at last!
If you like touristing, how do you decide where to go next?