So after seeing The Muppets at the O2, the plan was to stay in London nearby, so I could do Victoria Docks parkrun and of course a bonus would be to tick off the V. I had checked it was on via the future roster (they seem to cancel a fair bit) and followed them on facebook just to be sure. On Wednesday someone shared to the parkrun tourist page that it was cancelled due to some works going on that they just found out about. Totally not the teams fault at all, but so frustrating! Luckily we hadn't actually booked a hotel at that point (there were a few options and it was depending on where I would least likely get lost from) and the hive mind of the tourist group helped with suggestions. Beckton would have been the closest but I don't need a B, Mile End would have been close too but I went there in December. Thankfully someone suggested Valentine's- before Victoria Dock that was the only option for a V and I'd looked at it but from home I would have needed to drive somewhere and get the underground, and it was on a loop so a bit complicated.
Once Valentine's was the choice, someone sent a link through to this website (which is easier to use than the TfL website I find) and then told me to get on a central line train to Gants Hill via Hainault. If I had not been told that I would have spent ages on the platform dithering about which train to get on. As it was I had a fairly simple journey- run up the road from the hotel to Aldgate East, get to Mile End on one tube, then change to the central line for to Gants Hill. I had allowed plenty of time for getting lost, plus it was "10-15 min walk" from the station to the start at the other end.
As I got to the Mile End there was another platform going eastbound where I got off, so I didn't even need to wander around the station. There weren't totally clear signs on the platform though, but the station I needed was on the map and as a train turned up after a few minutes I got on it and just kept checking the map at each station to make sure it was going where I thought it was. When I thought I was OK I put on a podcast- I listened to the parkrun adventurers which is an Australian parkrun tourist podcast. One of the presenters had been to the UK annual conference so it was an interesting listen.
The directions on the website told you to follow signs for the park from the tube station, which helped with which exit to leave from. I'd looked at a map beforehand (how unlike me…) and so I knew the road name I needed too (Cranbrook Road) so I just followed the road down to the park.
Once in the park I had to get out google maps on my phone because I couldn't work out the map in the park.
There were some lovely ponds in the park but when I tried to go closer to take a photo some geese started to chase me which rather alarmed me!
When I got to the start I saw three people with cow cowls having a photo taken together. I thought they were all together but when I went to say hi it turned out they were all from different places (Essex, Bristol and Peterborough) and jokingly told me off for missing the photo! Then the tail walker came over and chatted to us about the course, giving us an informal tourist briefing. He asked if people were getting their V, and of course we were. When I explained about Victoria Dock, he did mention the cable car being a cool way to get to a parkrun, but I explained that I am not that keen on them so was quite relieved to arrive by land!
Then it was time for the main briefing before we were off. The route is two laps- you start in the middle and head out to the edge, repeating two anti-clockwise loops and then head back in (so you finish in the other direction). There was lots to see on the way around- boating lakes, tennis courts, outdoor gyms- and lots of shade so it was enjoyable and passed by quickly.
I put on a bit of a sprint at the end but it was hot and I didn't want to push too hard. 28:50 was my official time, but it seemed like it could be a fast course (with a few gentle up and down bits to add variation but no hills or tough bits).
On the second lap I overtook the tail walker who called out to me something like "it's better with no cable car"- I love the friendliness of parkrun.
When I finished a guy a few places ahead was being sick in the finish funnel so I had to look away, but thankfully one of the marshals took his token for him so we could all move on.
I briefly chatted to one of the tourists who had finished ahead of me, before scanning my barcode. They had this sorting tray for the tokens which I thought was a great idea- I think they are little seedling trays- one for each token.
Then it was time to run back to the station and get the tube home- much easier because all the Central Line trains were going to the station I needed.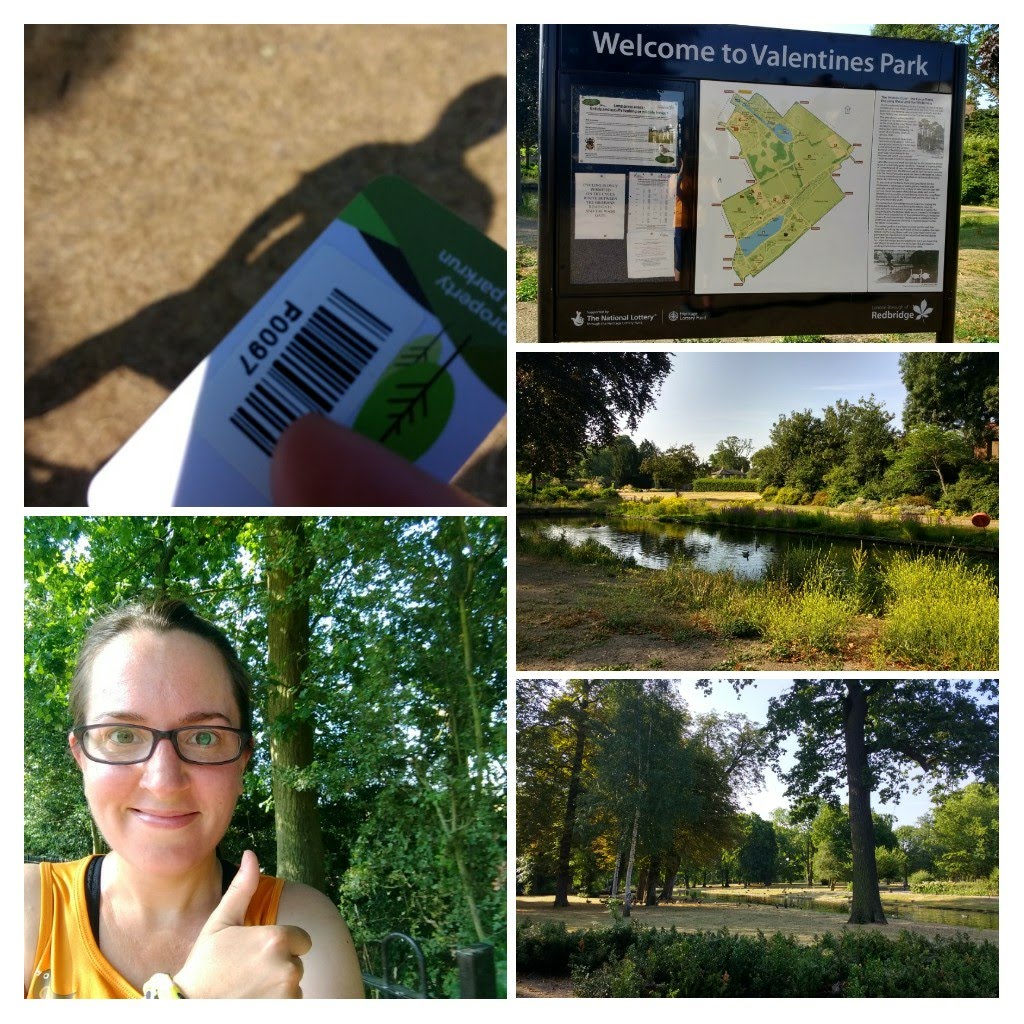 I was pretty thirsty by this point so got some coconut water in Pret to drink on the way back to the hotel, had a quick shower and then we checked out to get breakfast.
Andy booked Bill's near Borough market so we walked there and enjoyed delicious pancakes for brunch to give us energy to walk around London for the rest of the day.
So, another letter completed! For the UK I have D and K left of the more normal letters, Q (hopefully going there in September) and then I (which is either Inverness or Ipswich) and J (which is only Jersey as I don't think I can persuade Andy to go all the way to Boston for Jamaica Pond parkrun just yet….)
Do you get many tourists at your parkrun? Often I speak to people who have been to Ellenbrook Fields but we don't get particularly big numbers each week (under 200 usually).  Best post run breakfast?