*For some reason some of the photos are upside down in this- no idea why and I will have a go at sorting them out! Sorry!
Tring parkrun was the 10th parkrun venue that I visited, not long after discovering the joys of parkrun tourism and around the time that I decided to try and run all of the parkruns in Hertfordshire.  We are so lucky in Herts that we have so many stunning and varied courses but Tring was always mentioned when we spoke to locals because of the amazing views. It is right by the Chiltern hills and although it's a hilly one, the views were meant to be worth the effort. I went with my dad in October 2016, and it was a super foggy day, so although we loved the route, we didn't get the sweeping dramatic views so we always said we would go back. This summer I was only around for a couple of weekends, and as Dad been cycling across The Ridgeway ( a trail crossing the Chilterns) for a few days we decided to keep with the theme of the Chilterns and head to Tring on the 11th August. Thankfully the weather in August had no fog in store for us!
The course had changed a tiny bit since we were last there- starting on the field next to the avenue of trees (last time we ran through the avenue of trees at the start) but on the whole it was the same- run up a hill, run into some woods and keep going up, then go up a bit more, run along the ridge and enjoy the views, run down, across some fields and near the finish before a little bit more of an uphill.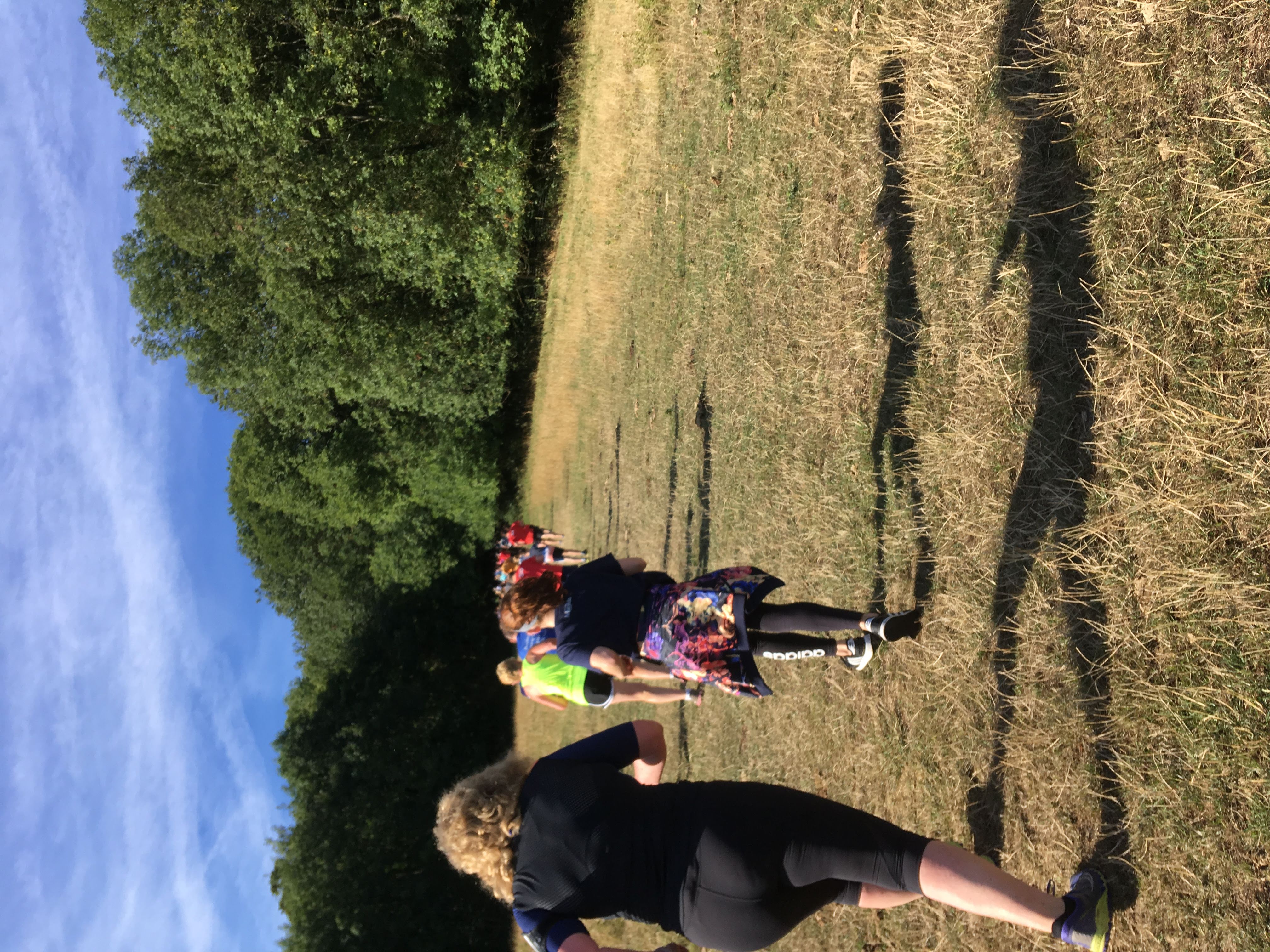 My brother came too, and the three of us started together but within a few metres Dad was heading off ahead so we all ended up being spread out. It was very enjoyable- breath taking hills and breathtaking scenery. I did walk up a few of the steepest bits as I felt I was sort of comedy running and really going more slowly.
I finished slightly slower than my last visit, but with the heat that wasn't a surprise, and the point was to enjoy it (which I did).
After we finished it was back home for Mum's pancakes- always a fab start to the weekend. I walked into town in the afternoon and one of my knees was pretty sore- I think the steep downhills had taken their toll.
The holidays have been going by so fast- I've been enjoying running first thing in the morning, and going out on lots of walks. I spotted loads of blackberries on a run, so returned there on a walk later armed with some bags to collect them- I should have also taken something to wipe my hands with as I had very sticky hands for the walk home!
I finally signed up to the Bird and Blend (formerly Bluebird Tea co- I keep forgetting they have changed their name) tea club where you get a small selection of teas each month.
This month the theme was honey, but they were all vegan teas (I signed up to the veggie/vegan one anyway, although I am sure they were sorting it out so that all of their teas were veggie- not containing cochineal and so on).
The three teas have all been delicious, but "Honey, I'm Comb" has to be my favourite- black tea with cacao nibs. I was also very excited to get some Red Velvet tea in the sales- they had sold out on the first day and I was too slow in ordering, but then it was back in stock so I left them a note on the confirm order page, and they replied in their shipping note which was a lovely touch.
I'm not opening it until I have finished the tea club teas though, otherwise the tea cupboard gets too confusing.
Time on my hands at home has meant that loads of jobs have been ticked off the list too- from going through all of my clothes and sorting out a bag for charity, tidying the utility room (I found things still wrapped in bubble wrap from when we moved house over 2 years ago!) and finding a few things at home to sell on ebay, it's all been therapeutic. Tidying the garden is the most enjoyable one. We have been adding plants, and although the hot weather meant the ground was rock hard and impossible to dig or weed, a few days of rain sorted it and I've been out there plenty of times.
One problem we keep encountering is the vast amount of junk buried just below the surface of the soil- I was trying to plant a little blackcurrant bush and when I dug down I found this huge paving slab. We also have a mountain of lumps of concrete- some I dug out of the ground a while back, and some were just left in a pile behind the shed (from the people who lived here before us). My dad keeps doing tip runs for us as he has a big people carrier and can take the seats out. We had arranged one morning for him and mum to come over, have coffee and a walk in Panshanger park, and then load up the car. However, it was pelting with rain so we opted to stay inside and hope it would ease off. It slowed, but didn't stop, so in the end we spent a good hour carting the blocks of concrete to the car. I didn't take a "before" photo, but there were three layers of concrete lumps in the car before we put any of the other junk (wood with nails in it, an old rusty chiminea thing) on top. My arms were aching the next day, and poor Dad had to then unload it all at the tip when he got there. It made a huge difference, but Dad was a bit annoyed that he didn't manage to clear it all, so when we saw them on the Bank holiday he told me he would be over at 2 the next day to clear the rest of it away.
(Top right at some of the lumps of concrete that I had previously dug out of the ground). I'd been on a run in the morning and then pottered around at home, and we then spent just under 2 hours loading yet more concrete lumps into the car. Some of them were too big to lift, so Dad hammered them into chunks. He took the rest of the big logs, and again the back of the car was completely full when he left. I am so annoyed that I didn't do a before and after pic, because it has made a huge difference, and now there are only a few remaining lumps (plus an open bag of concrete which filled with rainwater and then went solid). More therapeutic activities anyway.
Which parkruns would you like to go back to the most? 
Have you signed up to any mail subscription services? Years ago I used to get a weekly Graze box but it seems like you can get their snacks in lots of shops now.