On the Thursday my dad kindly drove us to Heathrow, where we stayed overnight in a hotel as our flight was at 7am, which even staying in the airport meant a lovely 4.45am wake up. Once we landed, we got the train to the station by our hotel (the 2 day ticket we had bought in advance covered the airport too) and amazingly could check in (we thought we would be dropping off our bags and coming back later), so we put on sun cream and then headed out to explore. (This was also a relief to me because in my infinite wisdom I had packed the charging anchor thing but only with the continental plug, forgetting that we were in a UK hotel on the Thursday night, and this would usually be OK but I wanted to listen to some podcasts on the plane and also needed my phone for the text message train ticket- as soon as I realised I turned it off but I'd used it lots in the day for podcasts/ phone calls, and it kept on crashing anyway which used more battery to turn back on again so it meant I could charge it a bit in the hotel before we went out).
It was baking hot. I don't want to sound like a broken record here, but like the rest of Europe it was having a bit of a heatwave.
We had to go about 4 stops on the metro (no AC on there of course as this weather is rather unusual) to the centre, where we walked around, saw the pretty colourful houses by the water (and then the same ones in the Lego store).
The centre is very easily walkable, although you can hire bikes too. We found a shop by Tivoli gardens selling amazing looking vegan ice creams, so I had the most refreshing raspberry ice cream covered in dark chocolate (on a stick, like a magnum, which turned into a race against time as it melted very quickly!).
After looking at the impressive buildings/ palaces (including seeing the poor guards marching back and forwards looking blisteringly lot) we walked out to see the Little Mermaid statue. The last time we were in Copenhagen was several years ago in December where it was the total opposite- lots of rain, freezing cold and getting dark early. This time the sea breeze was lovely and cooling so we stayed there for a while, being amused by the lengths some people were going to to get their selfie by her.
I opted for a photo from the path instead- much safer!
To escape the heat we found a lovely park to sit in for a while, and then headed back to the centre. We had re-watched the Copenhagen Travel Man episode, and had put the Round Tower on our list of things to do, but we thought we would be closer to it on the Saturday. However, we got to the end of a street and it was right in front of us, so we went up it. It was built in the 17th century as an observatory, and according to Travel Man, has a sloping spiral floor instead of steps so the king could ride his horse to the top. It only cost 25K (around £3 each), and as well as stunning views across the city, had an art gallery inside.
After that it was time to head back to the hotel- 28,000 steps isn't bad for a day of sightseeing! We did try and see the blood moon, but it was too low in the sky.
By the lift in the hotel it had this table with mini towels and also lemon iced water, although sadly when I got back from parkrun the water had run out…
On Saturday after I did the parkrun, we went out for a breakfast of cinnamon rolls before heading into the centre again, this time heading towards the botanical gardens. It was even hotter than Friday, so we spent a while sitting in the shade, people and duck watching.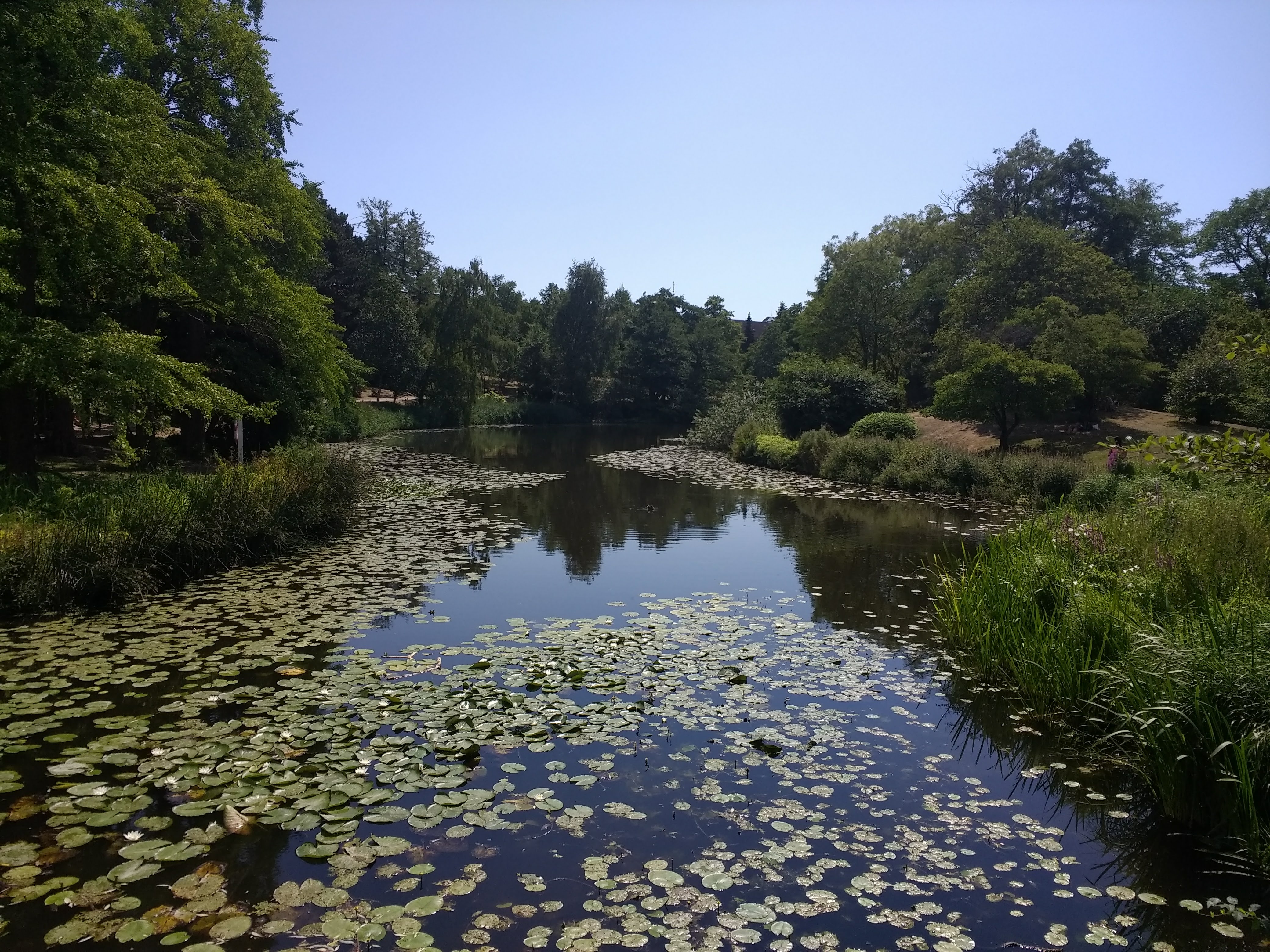 After walking around some more of the palaces and big buildings, we headed to a big park (the King's garden)- full of hen parties and people chilling out in the shade.
Then we walked back to Tivoli gardens- we didn't go in there as we went last time, but outside was a new sort of food court (much nicer than a shopping centre one) with all sorts of food stalls- pizza places, salad bars, bakeries, bars- you could then sit outside with views into Tivoli gardens. I must have spent half an hour wandering around choosing what to have as there were so many options.
In the end the need for something salty won over, so I opted for a grilled avocado and black bean sandwich, and I didn't even know it came with pickles! The best bit of a veggie burger is the pickles so I was very excited to see this big pile. Andy got a burger and some salt and vinegar chips for us to share, and we sat outside enjoying the atmosphere. We'd seen a tasty looking cake in one of the bakeries, and after wondering whether we should get it as a take away decided it wouldn't hold up to the heat, so shared a slice- it was some sort of raspberry open tart with dark chocolate and marzipan crumbles, served cold from the fridge which sounds weird but it was perfect.
Slightly less walking with 29,000 steps in total (which included my parkrun).
On Sunday we had to be at the airport early in the afternoon, so we walked up to the park near our hotel (the one that I had been to for parkrun) and walked around there for a while.
During parkrun I had seen a fenced off area with those special gates that are on a lean so always close, and wondered what was inside. My question was answered as we came across some Highland coos!
We also found a lake/reservoir, and sat for a while watching a heron catch some fish. It was all very peaceful.
It was such a great place to revisit in the summer with so many parks. The metro system was easy to navigate (even for me), the city is so clean and everyone is so helpful there. Of course parkrun was a bit of a bonus too, but it has reminded me how much I love this part of the world- Scandinavia/ Iceland…
Did you see the blood moon? Where do you like to go on weekend breaks? Do you like to watch Travel Man?