Last weekend we headed to Aldershot/Farnborough on the Friday night, as it is on the way to the New Forest. Originally the plan was to stay further south so I could do the Queen Elizabeth Country Park parkrun, but we couldn't find a hotel near/cheap enough, so this was plan B. The hotel (one of those Village hotels) was around a mile from the start of Rushmoor parkrun (not to be confused with Rushmere parkrun in Buckinghamshire….) so I didn't need to leave that early.
Anyway, it turned out that the business park where the hotel is was a mile away, but the hotel to the parkrun start was more like 2 miles- whoops! Combined with a slight panic when I ran past some army signs about dog patrols and this meant I arrived more than a little flustered! When I was close I re-started the directions because I wasn't 100% sure I was in the right place having seen basically no runners (and it gets several hundred runners).
They had a really friendly welcome board with some photos of the core team, the volunteer roster, and pace per km and per mile for a huge range of finish times.
They were having a junior takeover  (I think to promote their newly started junior parkrun) so all the main jobs (including the briefings) were by children (with their adults hovering and whispering hints). In the main briefing they asked for where the tourists were from- someone near me said "Southampton" and they then asked if anyone had come from further. I was about to say Hertfordshire, when someone behind me said "Germany" and then someone else said "South Africa"- I think they win!
The course began in some playing fields and was two laps, all fairly flat. The main paths were quite pebbly (bigger lumps than gravel) so I ended up running on the grass for the field bit. I'd imagine in winter it would be tougher to do that. The route then went out of the fields and along a pavement for a bit, before heading down next to a canal- this bit was lovely (and also shaded)- before running close to the start/finish area to do it all again. I find two lap courses seem to go by fairly quickly- it doesn't seem long before you are back at the start and then you only have one lap to go.
I tried to keep in mind that I had a 10k race the next day and realised after the first two miles I was going a bit fast, so I tried to ease off a bit.  I finished in 28:51 and when I looked at the parkrun challenges chrome thingy I realised I'd filled in another slot on the parkrun bingo as I needed a 51! This sort of made up for the not ticking off the letter q- I only have 3 left for bingo now.
Anyway, I was pretty tired after that and Andy did message me to say he'd come and pick me up in the car, but with all the army stuff around I wasn't quite sure where he'd park or where we would meet (there seemed to be lots of clearways with no stopping etc.), so I ran back (and instead of going back the way I came through the business park, blindly followed google maps on my phone which then took me into a bridge without a pavement – luckily a bit of the fence was trampled down so I could hop over it and get to an underpass!) – I got back around 10am so not too bad.
Anyway, after that it was time for tea and a cinnamon roll (the bonus of the Village hotels is that they tend to have a Starbucks in the lobby, and Andy had picked us up breakfast while I was running back) and a quick shower (they downside of those hotels is the 11am checkout time which doesn't give much time for drying hair!).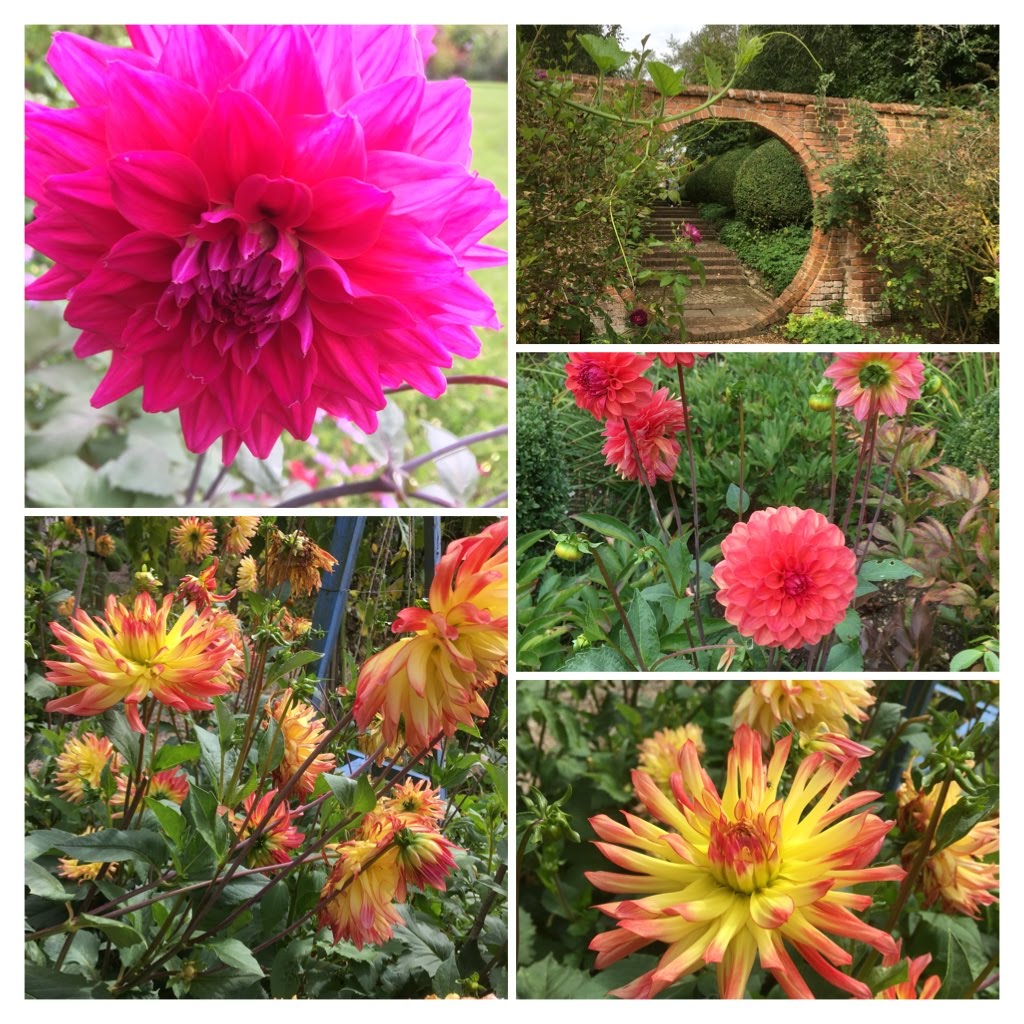 We drove to some nearby gardens which were included in the National Trust pass (not actually NT though) and looked at the beautiful flowers. Then we drove into the New Forest and picked up our numbers (and paid for parking), before heading to Lepe, by the water, for a lovely walk along the coast. There was lots of info about the war as it was used to preparations for D-Day, so it was quite interesting. Despite being a bit overcast you could see across to the Isle of Wight and over to Portsmouth.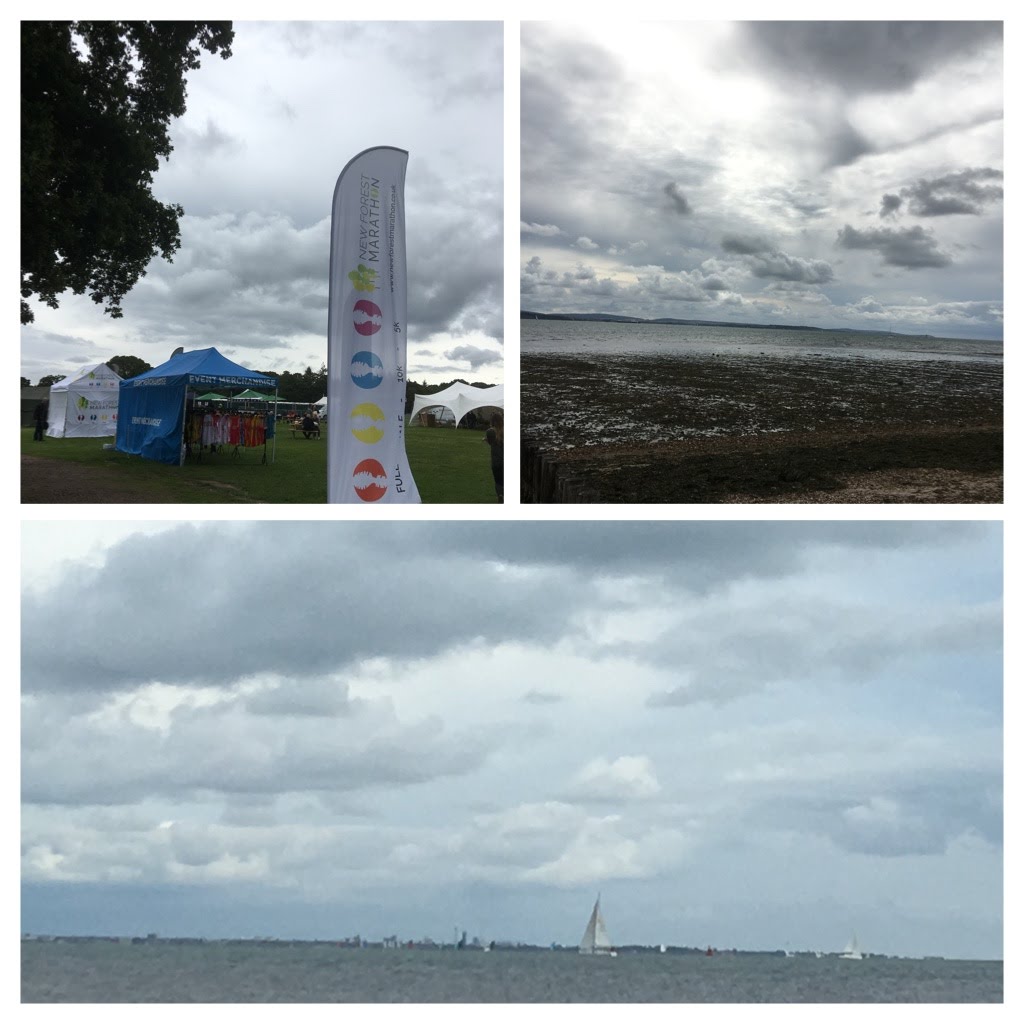 There was a nice looking tearoom by the water so we shared a piece of cherry and almond cake (a bit like a bakewell slice) and then drove to see Andy's Grandma.
We'd booked Bill's in Southampton for dinner, and then had a bit of a wander around IKEA after that (we know how to live!) before getting our kit out ready for the New Forest 10k the next morning.
Have you ever seen a junior takeover? Do you have a local junior parkrun? There is one around a mile from here, but I've never been as I've not got children- I think it might be a bit weird to turn up to one without any.