We stayed in the centre of Brighton so it meant I could get up pretty late on Sunday morning as the race started at 9.30, so I left the hotel at around 9.10. Andy walked with me so I could give him my jacket at the last possible moment- it was beautiful blue skies but felt colder than the Saturday with a cold wind. We saw a few more snails on the way so of course I couldn't resist a few more photos.
I'd looked up my 10k pb 54:53 from the Brighton 10k back in 2015, and originally I was thinking of going for one, but when I wrote down the mile splits it seemed I would need to run faster than my parkrun pb for twice the distance (and beat my 5 mile pb) so I just thought I'd try to keep an 8 on each mile and see how I got on.
The route starts by the seafront and you first head out towards Hove (this time with the wind behind), turning at just after 2 miles to come back along the seafront, past the start/finish area at about 4.5 miles, with a second turnaround point to head to the finish.
As the wind was behind at the beginning, I made the most of it and tried to keep a fairly sharp pace from the start- 8:56 then 8:45 were mile 1 and 2. As we turned we ran into the wind and it felt a lot harder by the beach huts. As I'd run parkrun there the day before I thought a bit about that and how close I was to a course pb. After the Hove lawns you head up onto the road (I heard someone say "I hate this hill" which made me laugh so much because it's a tiny slope  from the prom to the road, no where near a hill!) and there it was easier because we were a little more sheltered. 8:51 and 8:47 for miles 3 and 4. Each time I glanced at my watch I could see 8 something, and I think I had in my head I needed 8:40 ish for a pb, and although I was sometimes quicker, I was often behind it, so decided not to stress. Mile 5 was quite tough as we ran past the finish area and of course could see loads of people who had finished- the wind seemed harder here too so it felt a little bit of a slog (nothing awful but just hard work)- I had the standard maths confusion as there were km markers and I thought I'd seen them all, and to add to that near here a marshal was shouting 1.5km to go, when after that I got to the 8 km point and realised he had meant 2.5 km- I was very confused about my maths converting from km to miles before I saw the sign!
I managed 8:43 for mile 5 so I felt I was speeding up. At the turning point thankfully the wind was then behind me and with less than a mile to go I tried to speed up. I'd looked at my watch at the 9km point and thought I was within a shout of going under 55 mins again, so I tried to push on and kept my mind busy with a combination of overtaking people in front and counting up to 100. Mile 6 was 8:23 and then the final bit was 7:31 pace so I did put in a speedy finish!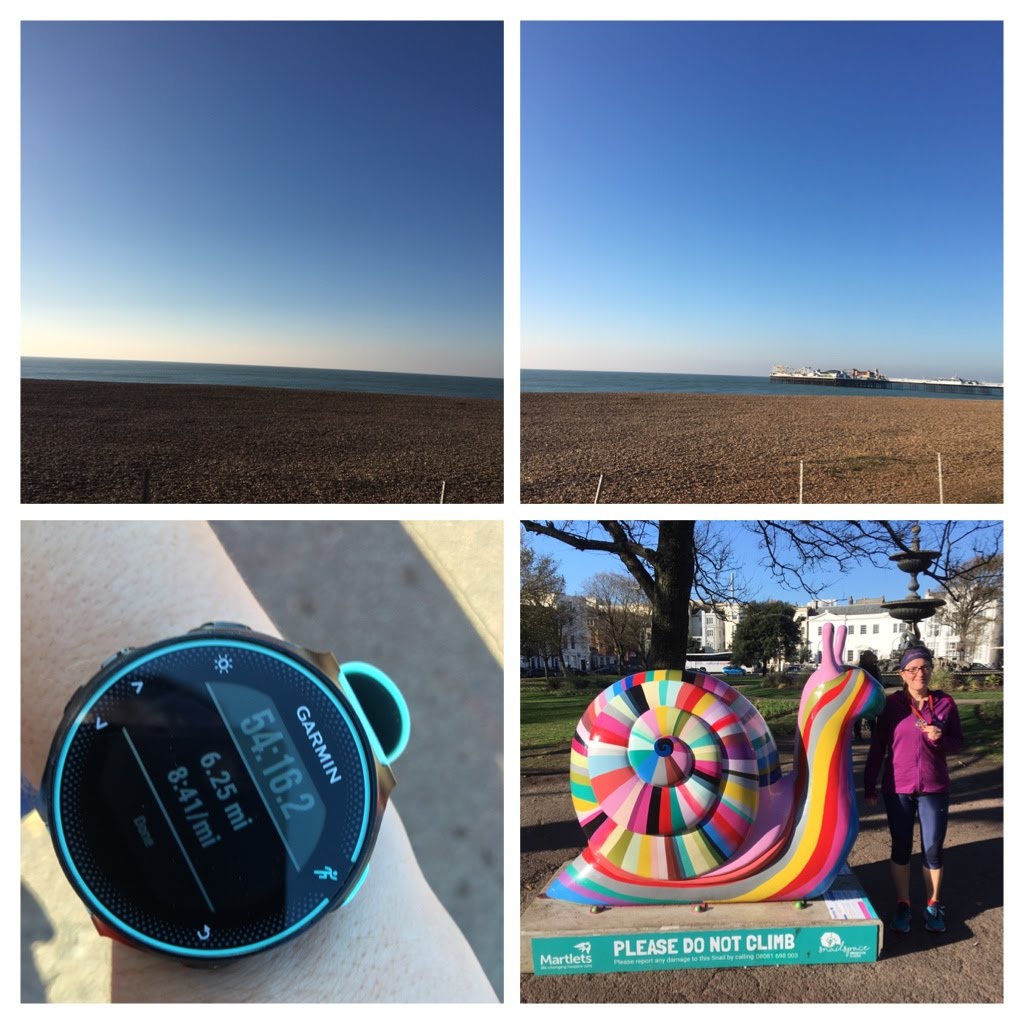 I stopped my watch in the finish area (showing 54:16) but I had no idea what my official time was, and I also couldn't remember exactly what my pb was! I then had a bit of a shocker as I'd arranged to meet Andy by the tent with the flag, and waited around a bit, taking a photo of my watch and with my medal, and in the end texted him and it turned out he was in the meeting place- I was at a different tent- whoops!
It was time to head back to the hotel for a shower- we stopped at Pret for a hot drink because I was getting quite cold again (despite having my lovely run Disney top to put on).  When I got my text through, my chip time was 54:11, which made it an official pb! For some reason Strava thinks I ran the 2015 one in 52 something (I definitely didn't!). I realised that this was the first time I had run it since 2015, because in 2016 it was cancelled due to a storm, and then I didn't do it last year because I think it clashed with a half marathon.  Anyway, I'm very pleased with that because when I looked at my pb I did wonder how on earth I had managed to run it, so to actually beat it was a great feeling. (Just need to somehow transfer that over to parkrun, although usually when it comes down to it I'd rather just run around and enjoy a parkrun rather than aiming for a time…Runner's World pace calculator thinks I should be able to do 25:59,  and if I use my best ever half time it says 25:55!)
On our way back we saw vegan runners wearing these amazing enormous animal costumes- the one above is a massive chicken but there were other animals too- big kudos to them for running in something that would be easily caught by the wind.
I had bought a Christmas bun at Gail's on the Saturday (they are a bit like cinnamon buns, but with christmassy things like dark chocolate, candied orange and frangipane- so delicious) so I had that for breakfast before a shower and drying my hair. We then went for a little wander around the shops, had lunch at Leon (vegan Christmas wrap for me, plus hummus and waffle fries to share) before getting the train back home.
Christmas food in November- yay or nay?  What do you think your best distance for a pb is? I suppose I don't tend to properly race a parkrun, but I think I am better at the slightly longer distances where I can warm up and get into it a bit.