I always like reading these sorts of posts, and writing them is lovely because you get to look back and remind yourself what has happened in the past year.
Running
Running wise, I kept going with the theme from 2017 of doing less races, but keeping the ones that I enjoyed.  My first race was the Cambridge Half marathon – I wasn't even sure if it would go ahead as we had more snow that weekend, but it did, and it was freezing, and somehow I managed a fast for me time of 2:04:40- just as well as the big crowds meant we only just made it to breakfast on time after!
In March I did the 10K Runfest at Lee Valley (but decided that next year I'd probably do the half marathon again) and in May the Hitchin 10k with my dad – running with him is always a highlight.
In July it was time for the Ware 10k in the middle of the heatwave, and then the Panshanger 5 mile race with Dad (thankfully an evening race).
In September Andy ran the New Forest 10k with me, in preparation for our trip to Disney. I made a last minute decision (well a few weeks before) to sign up for the Wimpole half marathon- this was a beautiful race but fairly hilly and took me about 2 1/2 hours.
In November we ran the Disney Wine and Dine 10k together, celebrating 20 years together (and having just got married).
Later that month we went to Brighton where I somehow got a 10k pb of 54:11, and then in December I enjoyed running the local festive 5 race.
parkrun
Of course I have loved going to my local parkruns of Panshanger and Ellenbrook Fields. If Dad is around we usually meet at EF, and if not I pop to Panshanger as it's closer. We've also been on a few tourist trips together, gradually ticking off those nearest events not yet done (and mainly ones with 2 or less laps that take our fancy) going to Houghton Hall in January, Rushmere (with the gong!) in September, and Jersey Farm and Gunpowder in December.  Dad reached 20 events on a trip up to Huddersfield so I got him a cow cowl buff for his birthday for our tourist trips.
In February I achieved Queen of Herts when I ran Letchworth parkrun (all the parkruns in Herts done). In March I noticed that Oak Hill wasn't too far away and would tick off the O, and then on a trip to Southampton I visited Portsmouth Lakeside (originally I was going to drive to the Queen Elizabeth Country park but seeing as the  lakeside run started right outside the hotel it seemed a bit silly to go all that way).  I also got to wear my 100 t-shirt and am now over half way to the next milestone of 250.
I got rather obsessed with the running challenges badges on the chrome extension. After downloading it I noticed I only need a north for the compass challenge, having already run at Southampton, Eastleigh and Westmill, so in April I headed to Northala Fields (which also happily ticked off the N for me).  I was halfheartedly filling in the parkrun alphabet before, and started to actively chase it a little more. At the end of April I introduced a friend to parkrun at Black Park parkrun, and then on our trip to Scotland I managed to tick off the Y at York on the way home. A couple of weeks later I drove around to Upton Court to tick off the U (coincidentally meeting another regular from EF parkrun) and then in July I got my V as we were staying in London- it was meant to be Victoria Dock but that was cancelled so I got the train to Valentines.
On a trip to Copenhagen I earned a Danish flag by running at Amager Fælled, and then in another trip to Brighton I ticked off my 4th Brighton parkrun with the beautiful but hilly Bevendean Down parkrun. Trips to Rushmoor and Rushmere (with the gong!!) ticked off two more times on the bingo list, and earned my cow (half cowel- 50 events) at Wendover Woods.
I visited Dinton Pastures for the D, and then Jersey Farm for the J later in December, and finished the year at Gunpowder, earning another  G for the Stayin' Alive badge.
I have run at 17 new events this year, and while I love touring around, my favourite moments from parkrun will be the times I have run around with Dad, or gone back to breakfast at Mum's after.
Fun Times
We went to see Gomez at the Royal Albert Hall- time spent at live music is always well spent in my opinion. Andy got us tickets for the Foo Fighters at the Olympic Park, and they totally rocked! We also saw the Manic Street Preachers at the Penn festival in the summer. One of the major highlights was going to see the Muppets Take the O2 and then seeing Flight of the Conchords was also a hilarious evening. With my parents we went to see Joe Lycett on tour and again that was a pretty funny evening.
We've been to the cinema a lot this year too (making the most of our free tickets)- Mission Impossible and Ocean's Eight were good fun, A Star is Born and First Man were "totes emosh", Isle of Dogs and Ladybird were quirky, Game Night was a lot funnier than I expected, A Simple Favour was super creepy, Thoroughbreds was dark, Tully was exhausting, and The Mis-education of Cameron Post was brilliant but also infuriating. We've got Mary Poppins tickets for NYE so I have high hopes for that too.
Travelling Tales
We have managed several trips to Brighton this year (always a favourite place and then as we found somewhere to get our wedding rings from, we had to do a few visits to order and collect them). A few running related weekends to Cambridge and the New Forest, as well as trips down to Southampton to see family, a lovely week going up to Scotland and catching up with one of my oldest friends, a festive weekend in Bath and a few festive days in Berlin.  In the summer holidays we had a long weekend in Copenhagen and another in Amsterdam, plus a week in France. The highlight would have to be our half term trip to Florida, where we got married at the botanical gardens.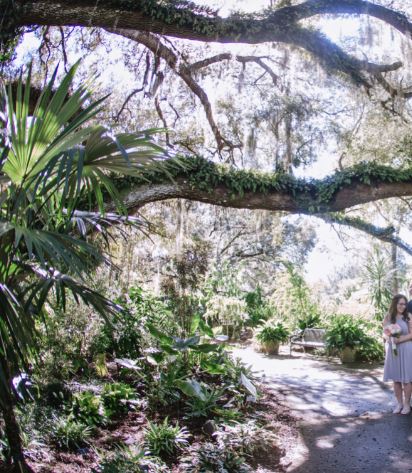 All in all a pretty good year.
How was 2018 for you? What are you looking forward to in 2019?