(New Year's Day Double)
After a pretty chilled out weekend with an 8.5 mile run on Sunday morning and a little walk in the afternoon (followed by watching one of my Christmas presents, Whisper of the Heart) we packed up on Monday to head up to Nottingham. We'd not been for a few years and had a free night to use up, and it meant I could do some parkrun tourism to make up for missing out on Berlin!
On the Monday afternoon we had a nice wander around the centre- they have a Bird&Blend (they shall always be Bluebird to me) so we got a delicious tea latte each while we walked around the city centre, and later on a dinner at Bill's, and then we had booked to see Mary Poppins Returns (which I really enjoyed- it felt like slipping under a cosy warm blanket and snuggling up with a cup of tea- all very soothing and relaxing because you know it will be alright in the end).
For a while I was just going to do one parkrun on NYD, and had looked at the later starts so Andy could pick me up after. Forest Rec (which I have been to before) wasn't on, but it would have been the easiest to get to because it was on the main tram line. The trams were running on NYD but the buses weren't, so the later start would mean Andy could pick me up after and we'd just head home.  However, when I started looking to find out which ones were on, I was using the double finder and of course got tempted by a double. Added to that was that Gedling (9am start) would mean I'd get my Stayin' Alive badge and I soon decided to attempt the double.
The two runs didn't seem that far apart (3 or 4 miles) and as one was 9 and the other 10.30, theoretically I'd have lots of time. As no buses were running I got an uber out to the park, having left it rather late (I never want to call it before I leave in case there is one right there, but of course there never is) so only arrived at 8:50am. Thankfully the start is right by the car park and so as I walked up I heard the call for the new runners briefing. I was hoping to find some people running between the two, as I'd asked a question about it on the tourist facebook group (as to whether it was all pavements as I couldn't tell on google maps) and was told lots of people ran it last  year. Anyway, the only people I spoke to were doing the double but driving. Ah well.
Gedling is a lovely one lap undulating course (they described it as a figure of 8 as you repeated the belt bit). We were warned about the two hills, called The Beast and The Cobra (it rises up and bites you) but as I was taking it steady I didn't find them too hard. Maybe similar to Wimpole if you've been there? Anyway it had the most gorgeous views as it was right on top of the hills looking across the countryside- the sky was incredible with light beaming down between gaps in the clouds. I would have stayed and taken a lot more photos had I not been pressed for time!
I did snap a few mid-run and am impressed with how they turned out. I finished with token 372 / 466 with a time of 33:20 (argh so close to 17 or 18 for the stopwatch bingo!).
I'd seen lots of these lovely wooden carvings around the route, and the fox was right by the finish area so I allowed myself a picture before loading up google maps and a podcast for the run between.
When I'd looked the other day, I had found a 4 mile route, and I'd written down the road names on a post it note so I knew that google maps was taking me the same way. There was one section on a country road without pavement, but thankfully not many cars were around and it had a fairly wide verge to hop onto when needed.  I had a bit of a panic when I thought I would need to cross the railway line but the directions (and my post-it) were sending me down a dead end road and I was cutting it fine with time and knew I wouldn't have time to double back on myself if it was a proper dead end- the main road curved away from the park so in the end I followed the directions and found a pedestrian bridge further along. I was starting to worry a little bit by that point as it was getting closer to half 10 and I hadn't seen anyone out running, and normally when you get close to a parkrun you start coming across people running. Just then a lady ran past me- I asked her if she was going to the parkrun, and she said something like she was, but didn't think I was going the right way, so I asked if I could follow her. She nodded but then sprinted off so I had to up the speed to try and keep her in sight. I got to the park but then it turned out that the parkrun did not start on the edge, but in the middle of the park- basically another mile away!
The lady I had been following was long gone, but I ended up running with someone else for a bit, only she didn't know where the start was either. We found a sign (a proper parkrun one) and then came across a marshal, who told us "just keep going around, you can't miss it". I made it to the start at about 10:29am in the end, and I really needed to sort out my shoe laces as one shoe felt a bit loose. Thankfully there were lots of milestones to be announced which meant the start was a little delayed (10.37 according to my Strava).
Colwick was another lovely course- starting out around the little lake, going around the big lake and then back around the little lake again. All very flat with gorgeous views. I was feeling tired by that point though, and the short stop before the second parkrun had made my legs a little stiff. What did cheer me up was the amount of people saying "aye up" to each other- it is always such a friendly-sounding saying.
Again I took a few pictures on the way around- I loved seeing all the changing views.  For my second one I finished in position 409/ 573 with a time of 33:25- a few seconds slower than the hillier but first one of the day.
The plan at the end was that Andy would drive out to meet me, but he messaged me while I was running to say he was in the car park and would see me soon. This turned out to be the car park at the entrance to the lakes, another mile away from where I was! I didn't bother putting my watch on again, and half ran and half walked back. 12 miles done for the day- I was pretty shattered as I've not run that far in ages (and I was expecting more like 10 miles in total).
Anyway, a G meant that I had earned my Stayin' Alive badge!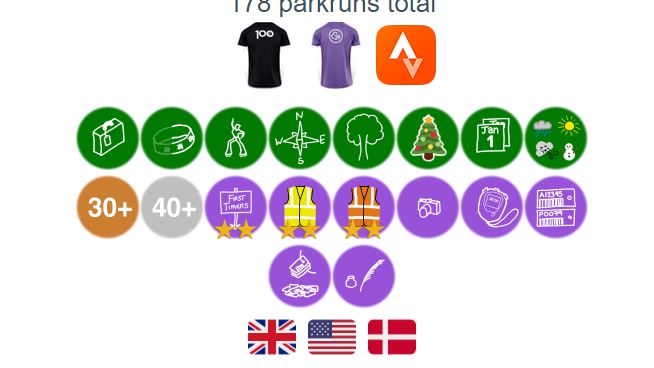 Third green one along!
Another C means I am one step closer to the pirates one too and I now have one R and 5 C's so only need 2 more.
I'd packed a jumper, face wipes and coconut water, and Andy had got some almond croissants so I had breakfast as we drove back home, stopping to buy a cup of tea when we were a little closer.
There were some cool graphics on the internet showing all of the different NYDD options- as they were two of the closest in that area it is no surprise that more people did that double than other local ones (279 did the same double as me). If you are interested to look at ones local to you, the link is here.
A different NYDD from last year where I ran my two home events, but good to see two new courses- I've now run at 55 different parkrun locations.
Once home I had a shower and watched some TV, and then we headed out on a walk before it got dark. I felt pretty shattered but when I looked back at Strava my mileage had really dipped in the past 3 months- since doing Wimpole half marathon back in October I've only run over 8 miles 3 times, and then I ended up running 12 miles, so it isn't a surprise that I felt it a bit. Brighton Half Marathon training has begun!
How did you spend New Years Day? Would you be tempted by a double parkrun? Which races are you looking forward to this year?