Unpacking goodies from France/ Belgium including a few slices of marzipan. I also got some bits from a natural cosmetics company- they sold concentrated shower gel, so a teeny bottle is meant to be 50 washes so I bought a bottle for our summer holiday.
I made lots of iced teas- this lemon and raspberry tea turned a blue/purple shade once brewed. It's green tea which I am not always keen on, but when cold brewed (basically add to cold water and leave in the fridge overnight) it wasn't bitter at all, and was really refreshing. I wouldn't have it too often as I am a bit sensitive to caffeine so tend to only have one or two "real" cups of tea a day (and I'd rather "spend" that on proper tea rather than fruity iced tea).
On Tuesday I had a 10 mile run, but my legs felt heavy the entire time. You know those runs where you think "it will get better in a minute" but for the whole way? I think probably I was a bit stiff from the driving on the Monday (and all weekend to be fair), so that didn't help. It one direction it was black clouds and another blue skies, and I made it home before the rain so that was good.
It rained a little, but I spent some time in the garden pottering about which is always enjoyable. (Good work procrastination too).
On Wednesday my car was having it's service and MOT, so I drove it there dressed in my running kit and then ran the long way home (5 miles in the end). Andy made me laugh when he said to me "are you going to run around town until your car is ready?"- luckily I didn't because they didn't call me until about 3 o'clock (I had to drop it off at 8.30)- that would have been a long time to run around.
Our dining room has become a bit of a dumping ground, because we have a big table but only need a small part for both of us to sit at, plus there are loads of drawers that needed sorting, so one day I took everything out and went through it. It was lovely to do as one of the drawers had a load of tickets from various holidays.
I also found this Christmas biscuit (I think it was a free thing from John Lewis?)- so I had that with a cup of tea one afternoon. Only the 6 months  late!
On Thursday I met a friend for breakfast at The Waffle House. I parked the other side of town and walked in, through the park and past the cathedral (about 2 miles I think). It was such a gorgeous day and there were so many ducklings in the park. One group of them were jumping out of the water, eating little flies that were buzzing about in the air.
I went for a pecan nut and butterscotch waffle, with added banana (to make it breakfast-like). Delish.
I had popped into Gail's to get some of their delicious sourdough bread for dinner, and then on Friday I had a run first thing (5 miles) and then had banana and pb on toast- I had not had this in ages and it was so good!
On my run I saw a fox just sitting by a hedge, and then when I got home and was telling Andy about it, a fox came into our garden. I used to quite like seeing them in our garden, but now it appears we are at the edge of some territories as we keep finding "presents" in our garden- it's horrible if you are weeding or something and then come across a pile of it, so I ran out to chase it away. Half way there I wondered what I would do if it didn't run away, because foxes are more scary than dogs, but thankfully it went through the hedge into a neighbour's garden.
I had a bit of work to do of course, so spent that afternoon (and a few others) catching up on things, but it's so nice to be at home and to stop and have a cup of tea when I want to, or stretch my legs when I need to.
Then on Friday afternoon we drove down to Brighton. It was beautiful weather and although we had a bit of a nightmare parking (recently we use the college car park but even though there were spaces, when you tried to pay online it said it was full, so we had to go elsewhere), we had plenty of time to wander around. For the last few times we have walked past this amazing smelling pizza restaurant, Fatto A Mano, so we decided to head there for dinner. All of their "vegetarian" pizzas contained Parmesan, which isn't a vegetarian cheese, so I opted for a vegan pizza and it was so good- the base was perfect, lots of fresh tomato sauce, roasted veggies, pesto and vegan cheese. We shall be going there again I am sure!
There's a lovely ice cream shop nearby, but it shut at six, so we ended up going to Sprinkles and sharing some white chocolate mint choc chip, before walking the long way back to the hotel.
In the morning I ran down to Preston Park for the parkrun- it's the closest to the hotel (we stayed by the station). It also meant my p-index is now 5 (so I have been to 5 different parkruns 5 or more times). Little things!
Of course it was then breakfast at Cafe Coho- I met Andy there and he's already ordered so it was pretty perfect timing.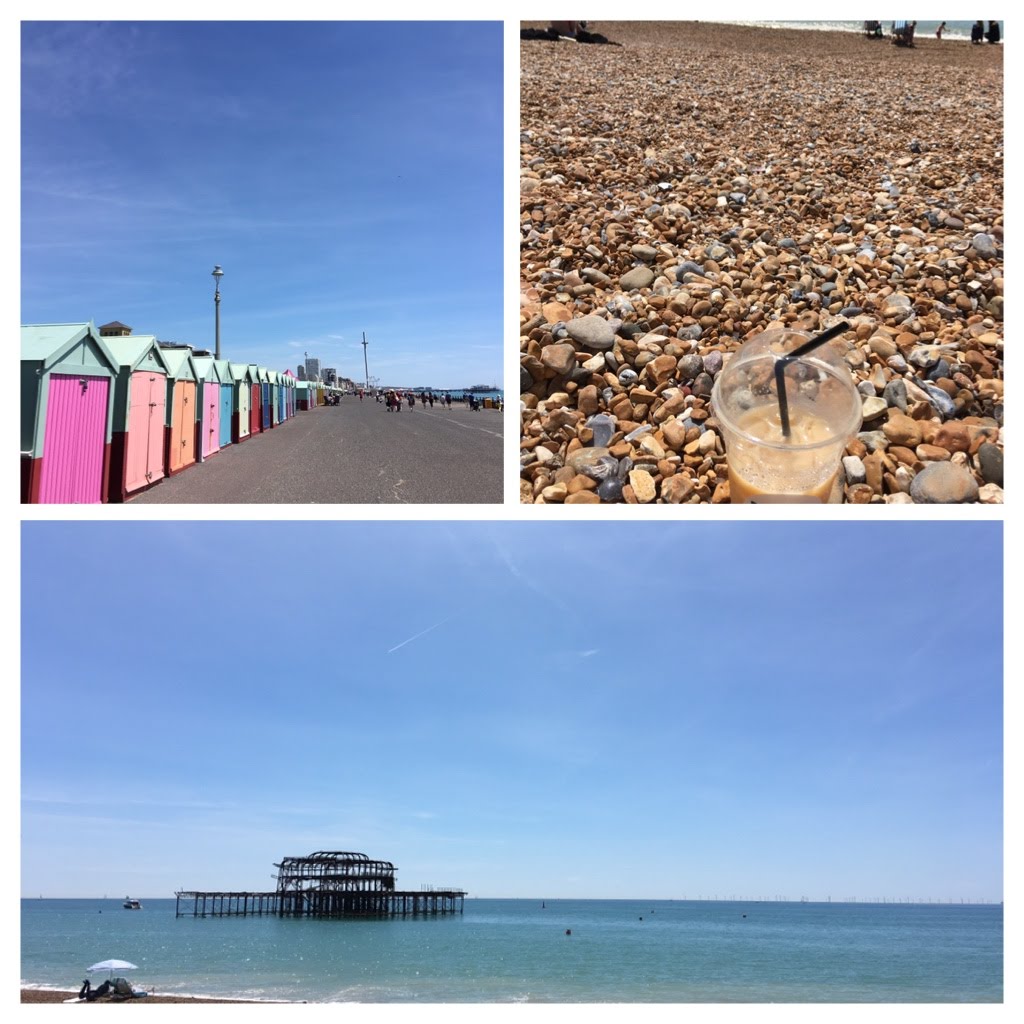 After a shower we picked up iced teas from Bird&Blend and went to the seafront (along with everyone else!)- we walked along to Hove, sat on the beach for a bit, and enjoyed mooching around. As always, a pretty perfect day.
We had a bit of cake in the afternoon (I think it was pumpkin and salted caramel cake, which sounds quite autumnal) and a cup of tea.
I came across a new to me shop (Wideye) selling natural toiletries and cosmetics- the bug spray caught my eye so I bought some, plus some lip balm (the lady made me laugh when I chose the pineapple and coconut one- she told me it was a bestseller "probably because everyone's a raging alcoholic and it smells like a pina colada") and a few gifts.
We got home quite late on the Saturday and so I didn't set an alarm and by the time I got up on Sunday it was already really hot. I quite like the advice of dressing for 10  degrees warmer than it actually is,  and as it was already 24 I knew I needed to brave the shorts. Andy commented that I might blind everyone with my pale legs, but I had on my sunglasses so it didn't bother me! I tend to favour capri's because they don't ride up like shorts can, and so the first time I wear shorts for a run I always feel super self conscious. To make myself feel better I wore my Run Disney vest- it has a lovely sort of flap at the back to let the breeze in without exposing your skin to everyone (and needing suncream in an awkward place).  I ran 7 miles and that was plenty!
The rest of the day was spent baking back to work brownies (peanut butter and white chocolate), pottering in the garden, having a walk and visiting Andy's parents.
I feel like I made the most of the week off- a good balance between things to keep my busy, but time to chill by myself too.
How do you like to spend your days off? Do you run in shorts? Do you have foxes near you? I am pretty sure they are trolling us now with the amount of things they leave in the garden for us …