Two weeks ago on Saturday I headed to Panshanger for a parkrun. It was the first time I'd run one in ages, having missed one when I fell over, been tail walker the week after that and then marshalling the week after that. I had a bit of a warm up through a field, trying to spot the new long,  horned cattle that had been introduced (there was a bit on Countryfile about it- I don't usually watch it but I'd seen on the tourist page that it was about Panshanger). Anyway I couldn't find them at the start so kept an eye out whilst running. I started at the back which means a lot of run/walking to begin with, but as I had a 10 mile race the next day I didn't want to get carried away.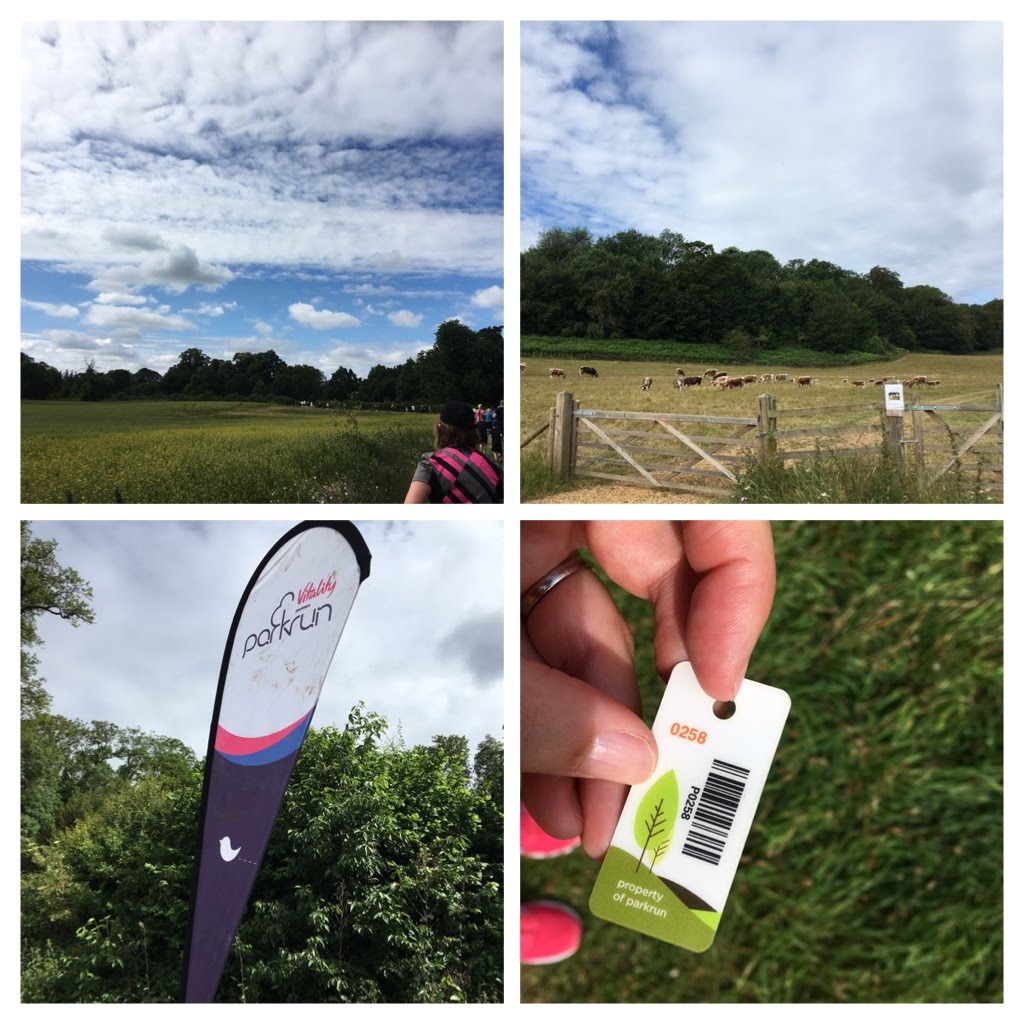 I found the cows just over half way around- in a field next to the lakes at the bottom, so I popped off the route to take a photo before carrying on.  I was glad that they were behind the fence (not a fan of cows in the same field as me)! As I was coming up to the finish I looked at my watch to see if I could get my final stopwatch bingo number (I need a 17) and I think my watch was on something like 30, but I had no idea how long it would take me to run up the final part, and then I heard someone coming up behind me so decided to have a little push to the finish line. My time was 32:54 so no-where near the number that I need!
I didn't hang about and quickly got back home for a shower, coconut water and a croissant from the freezer (I think that was my last one, sad times).

I had some work to do in the afternoon and then we walked to the park to meet our niece and nephew with Andy's parents (as they were looking after them for the weekend). After chasing them around the park for a few hours, we walked home via Starbucks so I could get my free drink. It was a bit chilly by then so I had a warm drink- we even got caught in a few spots of rain. I remembered to paint my nails (my pre race ritual) and enjoyed a cookie in the evening.
The next morning was a fairly leisurely start for a race as it didn't start until 10am and is only maybe a 20 min drive away. You have to pick up the race pack in the morning, but there aren't big queues. The parking is right by the start, and it's all so relaxed. I picked up my number (and t-shirt), wandered about a bit, looked at all the cakes, and then put my bag in the bag drop tent. By the way, big races could learn a lot from this race- when you sign up you choose your t-shirt size, and it's printed on the envelope with your number, so after getting your number the person sees the t-shirt size and you get it (other years it's been printed on your number if you collect it when you finish)- then everyone gets the size they need plus there must be much less waste.
The Ware Joggers are something like a baking club that runs, or similar. If only I lived a little nearer! They always have loads of home-made cakes, and a cake + drink at the end is £1, raising money for the Herts Air Ambulance. There are free kids races- it's just great all round.
I loved these tops I saw (Shut up I'm not almost there!). The race is two laps, with the first part of each lap being a little hilly, and the second being totally flat along the canal (or river?). It's so pretty, the marshals are brilliant, I just love it.
I wasn't aiming for a particular time as it was warm (although not as hot as it could have been), I took photos on the way (being careful not to on the bumpy bits- I'm still wary of tripping over) and just loved it.
Although I did not love the people throwing their cups on the floor despite being asked to put them in the bins and there being loads of bin bags by each water station. Some even chucked them in hedges- how are they meant to be spotted by the poor volunteers cleaning up???
The two laps went by fairly quickly, although in the final few miles I had that thing when there is someone walk running, and what they do it run past you, slow to a walk, wait for you to run past (it seems) and then run straight away to overtake. It was a guy doing this, and it was driving me mad especially as at times it was a narrow towpath with lots of walkers too, so it was annoying that he would seem to stop right in front of me and then I'd have to squeeze past him. I was pretty glad that with around a mile to go he slowed and I got a bit of space between us!
The finish is a lap of the field and that always seems to take a while as you can hear the names being announced and see everyone milling about with their medals and cakes but you still have to run further! Anyway, as soon as I finished I was given a medal and a bottle of water, and after picking up my bag from the bag drop I joined the queue for cake. Usually I'd have a tea but it was really warm by this point so I opted for tea bread and squash (squash really reminds me of giving blood but I wanted something cold). I then found somewhere to sit down and watch the runners come in, enjoy my cake and also do a few stretches. I saw loads of people eating bananas and thought that perhaps they'd been organised and brought one with them, but when I left to go to the car park I realised that by the medals there were also bananas, I just didn't see them. Ah well.
I drove home for a shower and lunch, and then we were off to the lavender farm.
It is just so gorgeous there. If you want to go into the fields you pay £6 and get a paper bag and some scissors, so I did that and Andy waited for me in the show field and shop area (it makes his hay-fever bad).
It is just so relaxing to be out there with all the bees buzzing around and the smell of lavender as you brush past the flowers. Some sections had big drifts of wildflowers too.
(I had a bit of fun with the timer on my phone for some photos- also showing off my new Totoro top).
I filled my bag and then headed back down to see Andy in the cafe.
The cafe sells lavender everything (ice-cream, lemonade, plenty of cakes) so we got some lemon and lavender cake to share, plus lavender lemonade (which I really liked), plus a piece of shortbread (lavender, of course) to have later on.
I bought a couple of plants to go in the garden, some peach and lavender jam and some lavender lip balm. Not too overboard!
When I got home I had fun arranging the flowers in various jars. I found a few really pretty little beetles that were living on them too, so I put them outside.
Do you have a local favourite race? Have you ever been to a lavender farm?