(This is the penultimate recap from the holiday- normal service will resume soon!)
On Tuesday we flew from Portland to Kahului, on Maui, for a more relaxing week and a more traditional honeymoon destination. We are lucky in that we have travelled to Hawaii twice before- the first time we visited Oahu (the island with Honolulu), Maui and Big Island (the one with the active volcano), and the second time we had been to Oahu, Maui and Kauai- for both those previous trips we were over there for a couple of weeks, as you have to fly between each island and so need to allow time to travel. For this holiday we only had a week, so decided we would go to one island, and stay there.  In the end Maui was the choice, as it has lots of things to do, but it's not covered in huge highways (the ones by Honolulu are crazy), and we would be able to relax after a week and a bit of constantly travelling.
Portland had a rule that nothing at the airport could cost more than it would elsewhere in the city, which was a great thing. We had a few things to finish up for a random breakfast of apples and almonds (as you can't take certain things into Hawaii), and then we picked up lunch at the airport. I found a place that did a super spicy chai, plus a vegan wrap with veggies and an amazing peanut sauce, and some vegan banana bread for us to share. The flight was about 6 hours, and we flew with Alaskan Air which really impressed me- there was food to buy and no entertainment (I had a load of podcasts to listen to) but they brought around tea and biscuits, and you were actually given the hot water and teabag of your choice- loads better than the BA coffee-coloured tea!
Once we'd picked up the car, we popped to Walmart (thinking it would be the best place to pick up some bits- in fact Wholefoods was cheaper and had a better selection) and then drove up to where we were staying, Ka'apanali, on the west of the island (where we had stayed before).
Once checked in we walked the 2 miles along the coast to Whalers Village, a shopping and dining village close to lots of hotels. It has a Vintage Island Coffee shop- first stop, acai bowls!
We walked back along the coast as the sun was going down- beautiful.
Wednesday- Due to jetlag (it's another 3 hours from the west coast) I was awake early so headed out for a run down the coast. I did 5 miles to Whalers Village and back.  Look at the size of the hibiscus flowers! I cannot resist taking photos of them- they are so pretty and colourful.
We then walked to Duke's (a beachfront bar/restaurant) and had breakfast there as a first day treat.
We shared banana macadamia nut pancakes and French toast with lilikoi (a bit like passionfruit) syrup, plus little glasses of POG (pineapple, orange, guava) juice. Sitting there with views of the sea is pretty much perfect.
Later we drove down to Lahaina, a big town slightly south of where we were staying. It's a lovely place to wander- it used to be the capital and a port for lots of whalers (thankfully the only whale-based industry there now is for watching and not killing). There is an old jail, lots of art galleries, a huge banyan tree, lots of quirky shops and views of the sea.
We were both looking forward to a Dole Whip- we love these at Disney  and the only other place we'd seen them before was the Dole pineapple plantation on Oahu (so wrong island for this trip), but last time we were here we found a place that did them- this one was topped with Maui gold pineapple – so delicious. I ended up with a bit of a headache which was probably from being out in the sun and maybe not drinking enough after the run (and maybe being a bit dehydrated after the flight the day before), so once back we sat in the shade and read our books, had a game of mini-golf once the course was in the shade, and then had a swim in the pool as the sun was going down.
Thursday- Due to having zero acai bowls the day before, we made up for it by going back to the cafe for lunch (we bought some cereal to have for breakfast as our room had a little kitchenette)- they also make an amazing sandwich with peanut butter and mango, in cranberry and walnut bread, so we shared a sandwich and an acai bowl.
Super delicious.
Then we headed down to the Maui Ocean Centre, an aquarium by the ocean. They had a huge dome showing a 3D film all about the whales of Maui (filmed off the coast) which was pretty spectacular. We listened to a talk about turtles- one fact that I found so interesting was because turtles are not reared by their parents, hatchlings raised in captivity can usually be released back into the wild because a lot of their behaviour is based on instinct rather than being taught. That may be obvious to some but it hadn't occurred to me before.
There was also lots of information about projects going on across Hawaii to make the habits more natural and remove non native species. I also didn't know anything about the military using one of the islands for testing bombs, (until some time in the 90's) but that has ended now and they are gradually replanting and repairing the land.
Oh, and guess what? They also sold Dole Whip- it was our lucky week!
We made sure we were back in time to walk along the beach at sunset and take more photos.
Friday- I was up early for a 6 mile run along the coast (more stopping to take photos of flowers of course).
I was so sweaty when I got back! I think when you are running you don't notice it as much because the breeze sort of cools you, and then once you stop it just pours out. Just me?
We then had more time reading (I was reading a book about a guy cycling around the world and it was very relaxing), popped to a plantation to have a wander around the garden, and then headed over to Ioa State Park to view the beautiful valley and rock needle.
We shared a pineapple and coconut smoothie in the plantation gardens
Beautiful Iao State Park- so Hawaiian with the lush green slopes
I had a look on the parkrun tourist tool to see where my nearest one was- over 2000 miles away! (If you have not used it before, just google tourist tool and it pops up- it tells you your closest parkun and you can move the point to where you will be, say for a weekend away, and also if you add your barcode it can show you only events you haven't been to before).
Saturday- we decided to try somewhere new for an acai bowl, and walked along to Whalers Village, but although this one was good (topped with papaya and coconut) it wasn't as good as our favourite.
More hibiscus flowers on our walk back…
Another day, another sandwich- this time with a ginger chai alongside…
We drove to Paia to have a wander- we'd not been here before but it was another lovely place with lots of art galleries and little independent shops. There is an artist called Heather Brown who we love, and have bought a few of her prints before. One art shop was selling them, so we picked up a couple more to take home as souvenirs.
It was a baking hot day, and as we walked past a  shave ice store Andy decided to get one. I am not usually a big fan, as I find it very syrupy, and then end up with brain freeze from eating the plain ice at the bottom, but this store made the syrups with fruit juice, and the ice was really shaved so thinly, and it was actually really good- probably the best shaved ice I've had. We had a tropical mix with pineapple, mango and coconut.
Then we headed to Ho'okipa beach as we had read that giant turtles go onto the beach in the afternoon to sleep there overnight. Sure enough, there were already lots on the beach. The section of the beach was roped off, although one turtle was actually laying on the rope and some people didn't notice it. Sadly some people were going into the sea and wading over to the turtles, even though you have to stay away from them.
(Bottom left picture- all those mounds on the beach are more giant turtles)
Our plan was then to drive up to Haleakalā National Park to watch the sunset, as the last few times we have been to watch the sunrise, but now that is so popular that you have to book a slot. Anyway, there was a crater cam and it was just surrounded by clouds, so we decided to skip the long drive and head back instead. The drive back should have taken maybe an hour, but the traffic was so bad I think it took close to 3 hours in the end. There is only one road which goes to that part of the island, and there had been a couple of accidents. By the time we got to Lahaina it was dark (and late) so we bought a picnic from the Safeway store to have once we got back.
On Sunday I went out for a longer run (8 miles in the end)- I decided to see how far the path went south of Whalers Village- I think in fact I could have run all the way to Lahaina if I wanted to go further. I found this cool Aloha sign by one of the hotels (a little further south of Whalers Village) and a lovely lady offered to take my photo for me.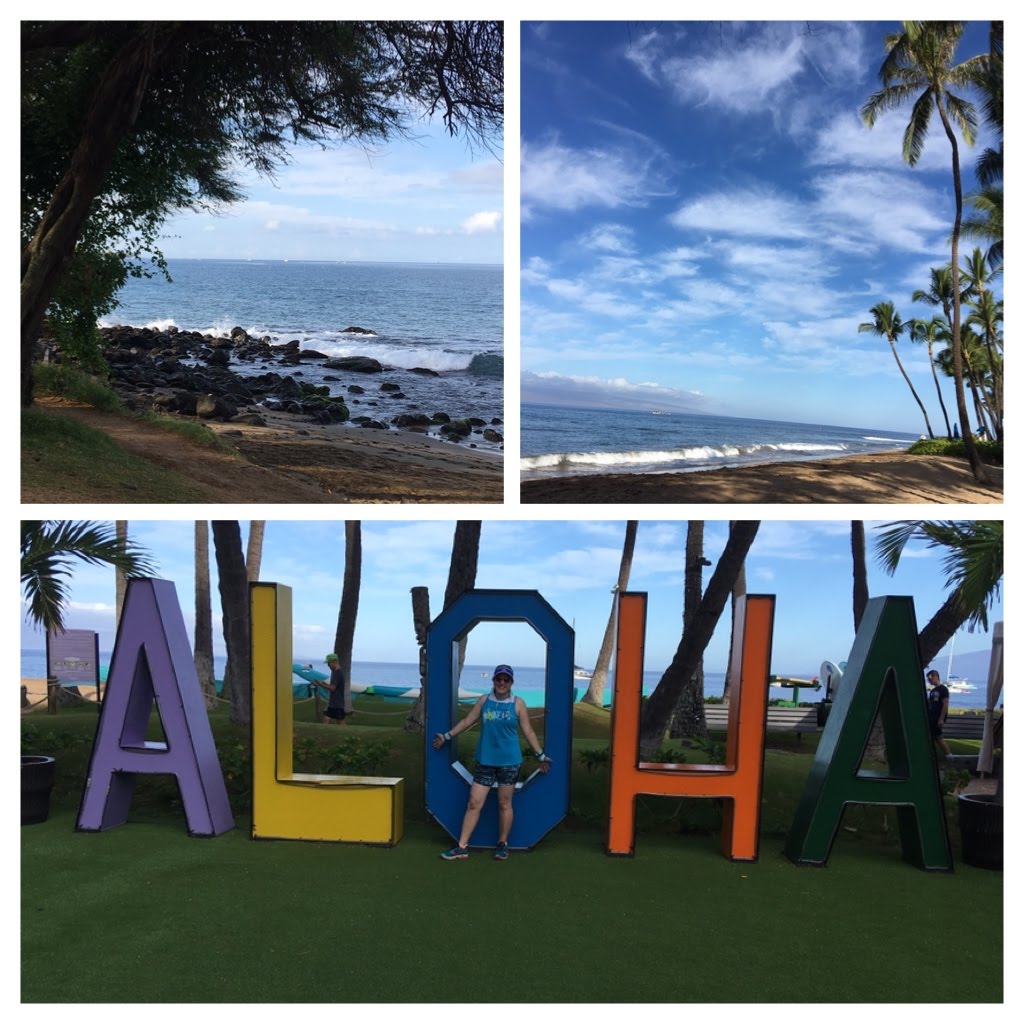 I was OK running- slowly and taking breaks to take photos, but when I got home and looked in the mirror I looked a right state- it looked as if my top had been dipped in water as it was totally drenched in sweat.
Thankfully I had bought some coconut water (with lime- this was gorgeous) and a papaya to have for breakfast alongside our delicious pb puffins.
After cooling down, reading in the shade, we popped to get our standard lunch (share an acai bowl and pb mango sandwich), and then headed to Lahaina to buy a few souvenirs and gifts. We had seen Leoda's Pie shop on our trips before, but never been- there was always a huge queue so we decided on this trip we would make sure, so on our way back we stopped off to get a pie to share- we went for key lime as it would be tropical and we were not disappointed.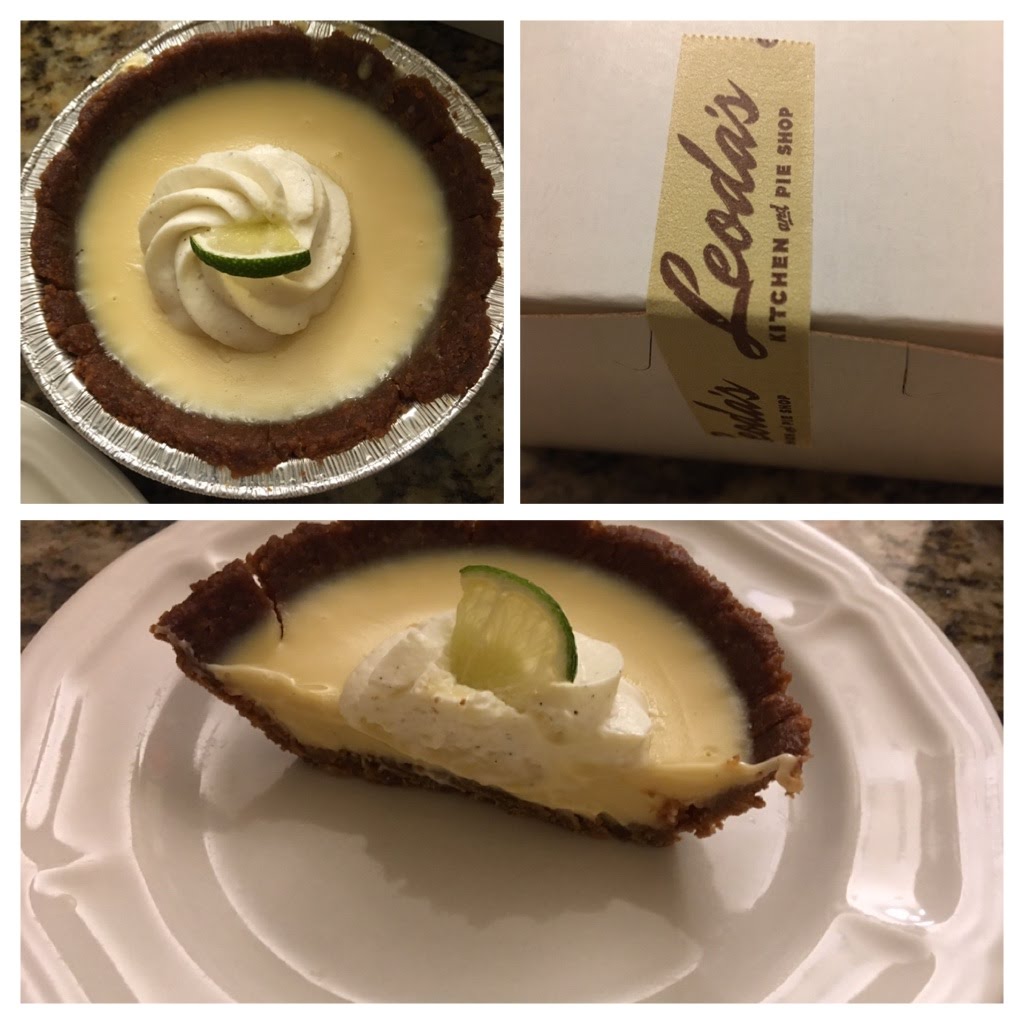 We ended the day with a walk along the beach (and in the sea) at sunset.
On Monday we were moving hotels  to a different part of the island for the final night, so after checking out and having a final acai bowl, we drove to the more resort-y part of the island (Wailea). There we were welcomed with the proper lei's (flower ones as opposed to shell ones at the other place).
We were planning on doing some snorkelling here, but the red flag was out at the beach (meaning dangerous currents) so we couldn't do it.
The lady at the front desk was very friendly and asked if it was our honeymoon- although I do not like a fuss and felt rather awkward being asked about it. Once in our room there was a knock at the door and a bottle of fizz was delivered to us- I asked Andy if he had ordered it (I didn't think he would have) and was told that it was a wedding gift- how kind! A shame I don't drink though!
This (for some reason) really unsettled me- I am not sure why but I think I felt a bit out of place in the hotel anyway (it was a more expensive place-we used a free night from hotels.com- but filled with families with kids so not a really exclusive place by any stretch of the imagination) and I really don't like a fuss so I just felt like I was being stared at (stupid I know).
Anyway we walked along the sea at sunset and I felt a lot better after that!
Tuesday was our last day in Hawaii- we had a swim in the hotel pool (the waves were too big for snorkelling still), and then went for breakfast. We thought it would be an end of Maui treat, but it was so overpriced and nothing special ($23 for one portion of French toast!). We went over to Kihei and had a little walk along the beach, but it was very quiet and the tide was high so we couldn't walk far, so we drove to Big Beach instead. You couldn't go in the water there because the waves were so huge and dangerous (some people still were) but it was amazing to watch.
(No, the beach wasn't in Australia..) The waves come in sets and there would suddenly be the most enormous wave- it was very hypnotic.
You can see below a few people going near the water in the picture below- we saw a few people get knocked over and apparently this beach has the most broken bones because people underestimate the strength of the waves. There were lifeguards but also signs saying do not go in the water/ do not stand with your back to the water but of course you also see people ignoring the signs because they want the perfect photo.
The plus point of the resort hotel was that you could use a courtesy room after checking out, so we used the room to have a shower and change clothes as we had an overnight flight. There's a Wholefoods near the airport so we went there for a quick dinner before getting our night flight.
And then it was farewell to another amazing time in Hawaii- the perfect mixture of relaxing, sightseeing, visiting new places and old favourites.
Do you like to go back to the same holiday destination or do you like to always visit new places?