After landing in Manchester and getting the train back to Milton Keynes (thankfully I didn't fall asleep and miss the stop- that was my main concern after 2 overnight flights in a row) I had a fairly chilled out week planned. The jet lag wasn't as bad as it has been- sometimes I have had terrible trouble falling asleep at night, but this time I found I felt suddenly very sleepy at around 4pm, and would battle through the evening, and feel a bit groggy in the morning but nothing too bad.
My inverse taper was meant to be starting once I got home, and I had pencilled in an 8 mile run for the Tuesday morning. However, when I woke up I felt weird, sort of dizzy (I get a sort of delayed motion sickness thing sometimes, especially if I have fallen asleep on something moving like a train or car) so I did a very gentle 3 miles to help reset the body clock.
The rest of the day was spent finishing the unpacking, sorting out some of our lovely souvenirs (we got some more art), doing some gardening, tea in the afternoon to stay away, and walking to town to get my free Starbucks drink before the voucher ran out (it's only valid for a week and runs out each Wednesday).
On Wednesday I felt much better, and as I had run 8 miles on holiday, ended up going a little further (10 miles). I was feeling fairly stiff and so did a bit of yoga when I got home- I am sure I am very late to the party here as I have seen her mentioned on lots of blogs before, but there is a short sequence on the Yoga with Adriene for post-run, and it was just what I needed.
I got on with some work as I was feeling much better, as well as a bit more pottering around, sorting out the dining room and things like that.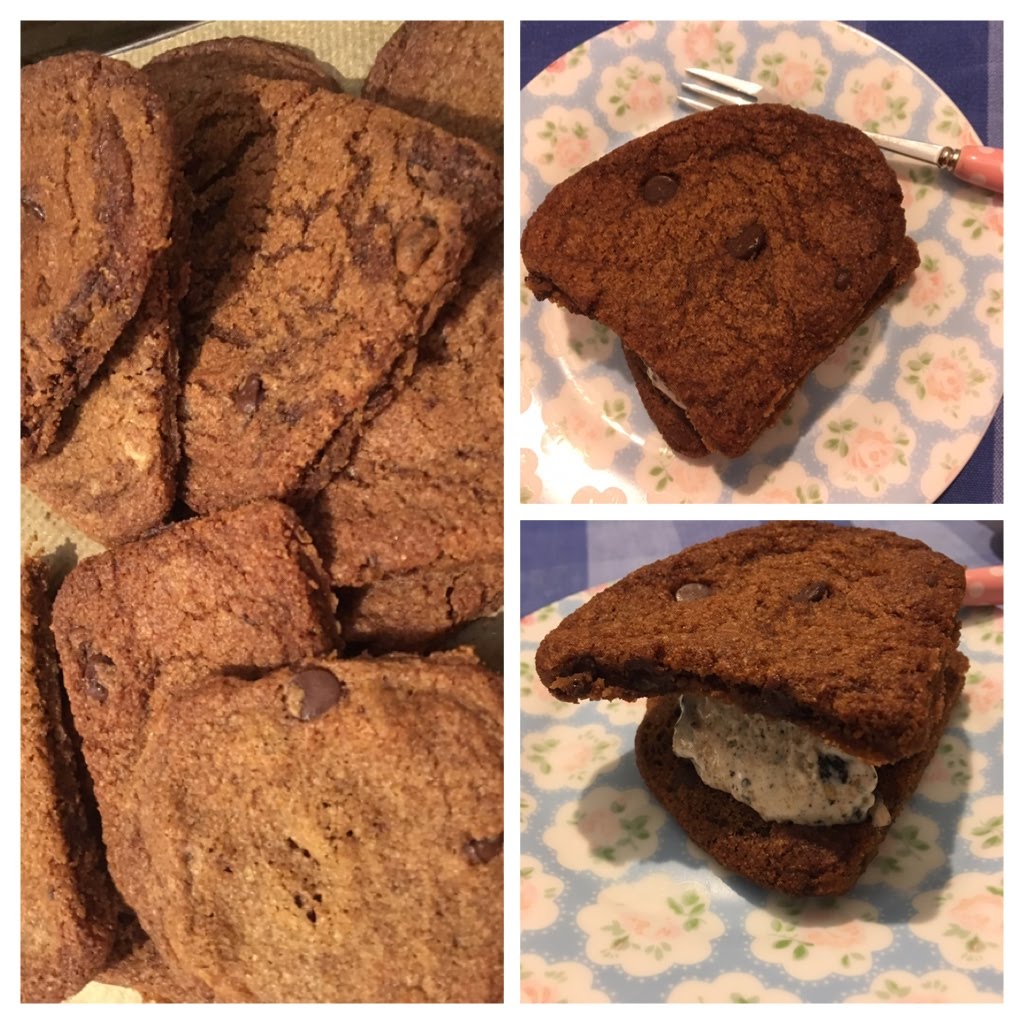 I baked some cookies and Andy had the good idea to make ice cream cookie sandwiches-very tasty.
On Thursday I did a short run in the charity vest, as I realised I hadn't actually run in it. The vest was a bit gaping under my arms and wasn't that comfy, so I think for the race I will wear my club vest underneath. Hopefully I won't get too hot, but I can't see another solution as I think I'll get fairly uncomfortable (plus it was very low cut so I felt a bit self conscious in it). At least I remembered to test it out before race day!
I also had a memory on facebook pop up- 4 years ago I did Crissy Fields parkrun in San Fran- that was my first tourist parkrun, as up until then I had run at St Albans as my local, and then Panshanger once it started. Who knew that 4 years later  it would have become such a fixture in my life? Now I've run at 66 different events which just seems crazy! In the autumn following on from this we were in Brighton and I looked up to see if there was a parkrun there, and did Hove Prom, and after that my interest in visiting different events started growing. Now it's the first thing I look for when we go away, whereas back then it had only just started to occur to me that I could visit other parkruns!
On Friday I drove to the outskirts of St Albans and walked in to the centre as I had a back and shoulder massage booked in- just what was needed after attempting to sleep upright for two nights! Then I had breakfast in Pret and visited my parents. My sister and niece were also there, so we sat in the garden and caught up. I'd bought a few bits in Hotel Chocolat in town (I had a 15% off voucher, so it would be rude not to…)- I hadn't realised quite how warm it was, and had left it all in my car boot. When I got home, well, some of it was rather liquid!
I had a car full as I had a few parcels delivered there while we were away (well in fact some of them arrived before we went but I wasn't sure so had put their address down to be sure)- some Bird&Blend tea, and I finally spent my Sweaty Betty vouchers that I won from a Fitbits competition. I love their victory run bra (way better than the shock absorbers in my opinion), and also got some leggings and a yoga brick. At yoga we sometimes begin by laying down with the brick under our shoulder blades, and it feels so restorative, so I am thinking once term starts I may just lay like this in front of the TV! I also needed to borrow the wallpaper stripper from my parents because we need to start sorting out the hall- urgh!
On Saturday I headed to Panshanger so that I wouldn't be back too late and could help with the wallpaper stripping. The steam kept setting off the fire alarm, and it was a really hot day so not the best way to spend it. We did get a fair amount done, but I think it's going to take us a while!
As a post-holiday treat we had bought extra frozen fruit and some granola, and Andy made us acai bowls for breakfast- so good. I also got a "top fan" badge for With Me Now (my fave parkrun podcast)- how exciting! (Clearly I have had too much time on my hands in the holidays!)
On Sunday I did a 12.4 (ish?) mile run and a bit of yoga, had another acai bowl for breakfast, did some work and then we headed to see Andy's parents for some belated birthday celebrations (brother in law and nephew). The run was hot by the end, but I was glad to get that many miles done as I felt confident that I could take on the GNR.
On Monday we could have done more wallpaper stripping, but it was too hot for that so instead we went around to Capel Manor, which is a gardening college that you can look around. It was quite interesting, with rows of pretend houses so you could see different styles of front and back gardens. It had a walk through a forest, and a big lake to walk around. I had a few bits to sell so took some photos and put them on Gumtree (I am not sure the best place to sell things but at least this way I don't have to faff with the post office).
Tuesday I did a 3 mile run to loosen out my legs, as they were feeling a bit stiff after the 12 miles, and then had to head to work as it was time to move all the furniture. (Our school gets cleaned over the summer and they basically pile all the furniture into one part of the room and we have to put it back)- on a hot day this wasn't the most appealing thing but it needed to be done.
My reward was a slice of apple cake in front of Bake Off in the evening- hooray!
This is me sheltering under a tree as it had just poured with rain!
On Wednesday after a short walk in the morning to stretch my legs (where I got caught in a heavy rain shower) I headed back into work to continue sorting out my room, and then in the afternoon my sister in law, niece and nephew came over and we went to the park. Every other time it has rained, (and we've still gone to the park) but this time it was dry! It did pour once we got home though.
Thursday I did 6 miles, made myself pancakes for breakfast (these were a mix made with things like chickpea flour and were actually really tasty), did some gardening, and then Andy got my bike out of the shed of doom, and I walked it around to the local shop for them to give it a service. I then walked into town as I had a few things that needed sorting (including tightening my glasses, although now they are too tight and I need to go back…). After everything was sorted I sat in a cafe for a bit, with a magazine for company. It's good to have this sort of me time.
In the evening we went to see Once Upon a Time in Hollywood. I enjoyed it (apart from all the gory bits at the end) but when we left Andy said to me "did you know anything about Sharon Tate and what actually happened to her?" and my answer was no- after finding out I think the film would have been more tense if I had known!
On Friday I was meant to be getting the train down to Brighton to meet  up with a friend, but she wasn't well so we've had to postpone. I ended up going on a walk, doing some baking for work, doing a bit more work, and then later in the day Andy got the train down with me (the plan was he'd drive down later and meet me there).
We had a delicious pizza (Fatto A Mano- I love their vegan pizza with roasted veggies and pesto) and then a lovely walk along the seafront to Hove as the sun was going down.
I heart my "save the bees" top.
Saturday was time for a parkrun sandwich- the last few times I've either been to Preston Park, or visited new (to me) Brighton ones such as East Brighton and Bevendean Down, and I fancied going back to Hove Prom.
I didn't need my hoodie after the first few mins of running- it was warm!
It's a bit further from the hotel (I think it was 1.6 miles) so it made a nice parkrun sandwich. The weather was beautiful, and it was packed! The first time I ran there, there were just over 100 runners, and this week there were nearly 500! Its fab to see how much parkrun is growing.
After breakfast at Cafe Coho, we found that there was a pro-democracy protest going on, so we walked down there. They had a few speakers including Caroline Lucas, so it was well worth going.
The rest of the day was great- wandering around the shops (of course getting a drink from Bird & Blend), along the seafront, stopping for tea and cake (this was delicious vegan carrot cake from Wolfox cafe), and popping to Leon for dinner before getting the train back.
On Sunday I went out for 11.5 miles (and some yoga once home)- I felt good on the run although I did stop for a while in the middle as I bumped into someone from my running club and I'd not seen her for ages. One week to go until the GNR!
I painted my nails with nail polish from Wideye (no formaldehyde or nasties which apparently there are lots of in my beloved Essie- I am going to move over to more natural colours as I finish the other bottles).
So, the final few weeks were a nice mix of pottering around at home, catching up with family, getting up to speed with my running, and then finished with a little getaway to Brighton.  I have loved the little yoga videos after my runs, so I am going to try and keep up with that once I go back to work, although the temptation in the evening to rush to the shower and have dinner is pretty big. We shall see.
Do you look to do a parkrun when you are away? When did you discover parkrun tourism?
Do you sell things on ebay/ gumtree/ depop? I won't go into it now, but gumtree is not my favourite but I am not sure if I can be bothered with the faff of posting things…