Our 5 and a bit hour flight from Hawaii landed at goodness knows what time on Wednesday morning, and after getting our bags (super quickly) and picking up the hire car, we drove straight to the ferry port to get a boat over to Vancouver Island.
I had slept a little bit on the flight, but standing on the deck in the sunshine with the breeze blowing was just what I needed to wake me up properly. The ferries are brilliant- very scenic and most times we have been on one there has been a naturalist doing a talk – this one was about seagrass and why that habitat is so important for different species. While on the deck we saw a few creatures but they were too far away to identify (dolphins or whales). There were lots of seals on a big rock half way over too. Andy had got something for breakfast at the airport but I was feeling a bit ropey so I just had a little bit of his tea. As we were driving to Victoria we saw a big shopping place (Uptown) so we stopped there for a walk around and to get something to eat, and a few bits as we had a little apartment in Victoria.
I had been really looking forward to my first London fog- it's a tea latte made with steamed vanilla milk and Earl grey, and it's gorgeous. The Wholefoods had a little cafe in it, so I got one there and it didn't disappoint! As we couldn't check in until 3pm, we parked by the coast and walked along, seeing loads of kites and looking across the sea to Olympic National Park in Washington State.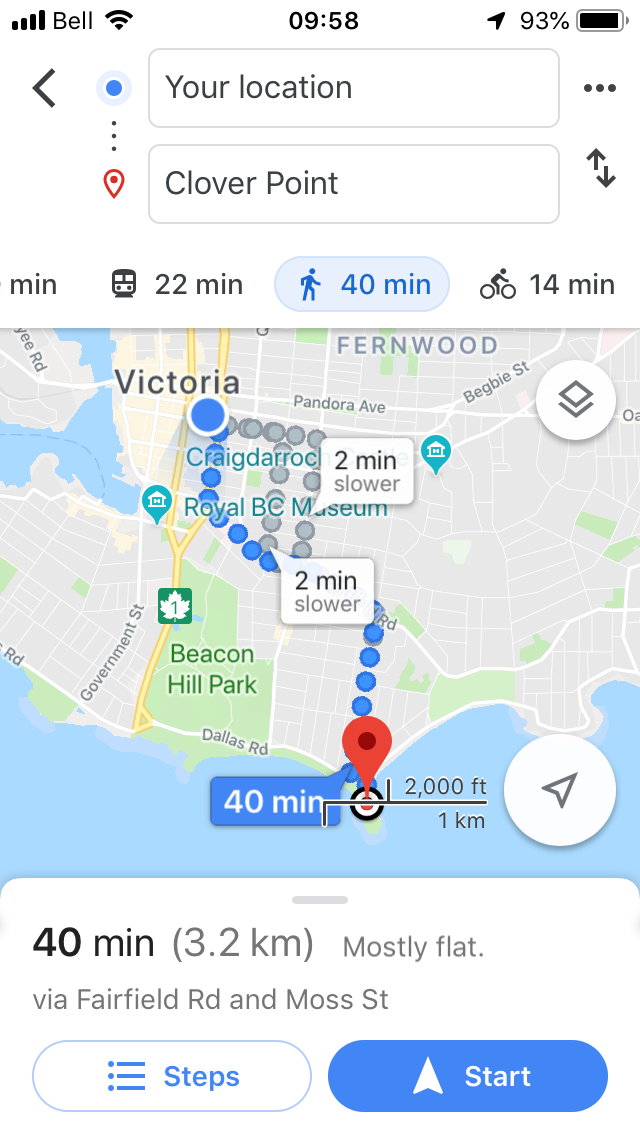 I was planning on going to Clover Point parkrun but it looked a bit far from where we were staying and I thought I was going to have to look up bus timetables etc, but we realised that we had walked around the parkrun start, and it was only 3km away, so I could comfortably run there and back- phew.
We checked in to our airBnB, had a wander, went to a build your own burger place for dinner (and in case you wondered, yes a veggie burger with pineapple, avocado and pickles is very delicious), and walked by the docks and along the main Government street.
We had bought a couple of cakes from a cupcake place in the Uptown shopping place, so shared one later on too (it was pineapple with coconut frosting), and saved the other one (red velvet) for another day.
On Thursday we decided to have a day in Victoria, as we'd only been there for a day before. We walked to Beacon Hill park in Victoria and had a lovely wander. It was full of flowers, lots of paths to walk around, had interesting features such as the biggest totem pole in the world (although it was having some construction work done around it so was next to a big crane). We saw a snake on the path, and loads of black squirrels.
I had to get my London fog fix, so we went to Murchie's which is a tea shop, cafe and also retail store. We shared a scone too, and Andy tried a maple latte which was their black maple tea made into a latte (I tried some and it was good- surprisingly not too sweet). They wrote on the cups so we could tell which was which! We did a bit of shopping- David's tea and also a tea shop called Silk Road which seemed to be a bit of a cult favourite.
 On Friday I went on a run to the coast, mainly to suss out my route to parkrun. I didn't get roaming in Canada (on my phone), and although I had downloaded the map, the walking directions didn't work once I was away from the wifi, so I was glad I had worked that out before.
It was a beautiful day, blue skies and a calm looking sea.
We drove up to the shopping centre (why is it called Uptown though, as of course I got that song stuck in my head) as we both fancied getting a few bits from Roots (they do super warm cosy hoodies)- they were having a sale and so we each bought a couple of things and I did have a slight panic about fitting it all in our suitcases when the lady said she would go and get a bigger bag!
We then drove out to Goldstream Provincial park, a little north of Victoria. We had a walk through the woods, a mooch around the information centre, and then tried to find the parking for the waterfall hike (apparently on the other side of the highway) but couldn't, so headed back to Victoria.
In the evening we had another wander around Victoria, walking around the edge of the harbour as the sun was going down.
When we got back to the centre there was a lot going on, with a little market and some live singers and musicians. We couldn't hang about for ages as we had to get back to pack.
We did pop in to the Rocky Mountain Chocolate Factory for a giant peanut butter cup- we shared this once we had done our packing (a good incentive to do it quickly). Thankfully even with the late purchases of bulky hoodies our cases closed!
On Saturday I was up early to get to parkrun, as Clover Point started at 8am (I checked that so many times)- the run there was great and once at the start I chatted to a few tourists and local runners. It was a really friendly event- their tail walker had a home-made t-shirt with parkrun advertised on it (free weekly 5k + the address) and he was so friendly, welcoming everyone and taking photos of people with the selfie frame.  The main briefing began with an acknowledgement that we were on First Nations land, and then went on to be the typical parkrun. It is a fairly small event (the week before was their first birthday and they ad a record 77 runners- one week they had 6 runners!) which did surprise me as I saw loads of runners in Victoria, and there is a Running Room (a running shop) which offered free runs each week. Maybe it just takes a while for the word of mouth to spread, and where it starts is not next to lots of shops or cafes so I suppose people won't happen to see it. 
DFYB and passport!
The course was a simple out and back along the coast, at one point dipping down  before we looped back on ourselves (back uphill)- nothing too steep.
I love the out and back nature because everyone was saying "hi"/ "nice work" etc as they passed each other. One of the people I'd spoken to at the start was from the UK but was living over there for a few months and was introducing some friends to parkrun. We chatted briefly as we ran before she sped off, and I was coming in to finish she cheered me in and then ran back to run in with her friends. I didn't have too long as we had to check out at 11, so I ran back after getting my barcode scanned.
I realised that I was also a parkrun pirate! (7 C's and an R)- both my Canadian parkruns counted towards the total, and what better place to become a pirate than by one of the seven seas (Pacific)?
While I was running back, Andy texted to say he was walking along to an amazing looking bakery that we'd seen the day before, so I met him there instead.
It was a tough choice, and in the end we got this delicious custard slice thing with raspberries, pistachio and rosewater (alongside the rest of our cereal and apples).
Originally we had thought of  driving up the coast a little to Nanaimo, and getting the ferry back from there, but we could not book on (they were standby only) and as our flight was the same day, we didn't want to take any chances, so we drove to the ferry terminal in Victoria. On the way back the naturalist on the boat talked about clam gardens, which was really interesting and something I'd never heard about before.
Once back on the mainland we stopped in an outlet mall, (Tsawwassen Mills) and I ended up getting a couple of pairs of leggings in the Lululemon outlet- the slightly cropped ones are ankle length on me and have the stretchy side pockets that I love.
We went to Queen Elizabeth park, a park on an old quarry on a hill overlooking Vancouver. It had a big eco dome thing (a bit like the Eden project) and lots of different styles of gardens to wander around. A quick pop to Wholefoods for a pre-flight sandwich, and then it was time to drive to the airport.
Our flight overnight to New York wasn't the best, but it was OK and I slept a little. I did worry because we had packed a couple of Clif bars in case we wanted a snack, and although I stay awake for the safety briefing, once that was finished I put on my eye mask and headphones, loaded up a sleep story on the Calm app, and tried to sleep. A little later we were told on the PA system that someone on the plane had an allergy to peanuts and so we should refrain from eating anything containing nuts. I could have already been asleep and missed the announcement.
We landed in NY after 5 and a bit hours, and thankfully immigration wasn't as long as before (partly because I could go into the queue for previously used ESTA's). When we first booked the flights we thought we would head into the city for the day, but we thought the airline would keep the luggage and it didn't, and as our next flight wasn't until late on Sunday night we couldn't check it in for that one just yet. We got a shuttle to an airport hotel as we'd hired a day room. This turned out to be a very good idea- when we arrived they were still serving breakfast so we got to have something to eat, could then have a proper sleep and a shower, and just relax before getting the final overnight flight back to Manchester. These were much better seats- we were upstairs at the  front of the main section so we had lots of leg room, no-one in front and it was fairly quiet as there are less people up there. I slept a bit, alternating between the calm sleep stories, music and podcasts. Then all we had to do was get the train back to Milton Keynes and drive the rest of the way home.