I was doing so well with keeping nearly up to date, but the Wimpole 10 mile was back in the first weekend of October, and now it's nearly over!
I've still been enjoying Bake Off, usually accompanied by something home-baked (these were the lovely Runner Beans monster  workout cookies), and been having plenty of walks in the dwindling autumn sunshine.
One day Andy had to go to London for work and visited the amazing Swedish bakery in Covent Garden to bring us back cinnamon buns. They are the best.
I also got myself a bike lock so I can cycle to more places (Panshanger parkrun was OK without a lock and it's a rusty old bike but you never know).
I've not managed as many runs due to a few things- the week after Wimpole I had yoga on Wednesday and a run on the Thursday, and the following week I'd not run on the Sunday so I had a run on Monday after work instead. I quite liked a Monday run and not running on Tuesday, as Tuesday is a busier day, but then I'd be running 3 days in a row, so I'm not sure about that.
On the 12th it was Panshanger parkrun's 5th birthday, and as I was heading into London the next day and wouldn't fit in a run then, I decided to run there, and as Dad was also going he gave me a lift home.
After a quick turnaround I was off to the lavender farm to meet some friends and their children as they had opened up a pumpkin patch.
It was quite fun- if you found a pumpkin with a cross on you could roll it down the hill, they had a decorating table and you could buy them if you wanted. After a walk in the rain, we went to the cafe for some lunch.
I loved the Day of the Dead design, but there were loads of clever and interesting ones.
On the Sunday I went into London to meet a friend- it poured with rain and we walked for ages, in the end going for a scone and tea to warm up.
My Run Disney top has been having a few outings now it is a bit cooler- it's a long sleeved top but very thin fabric so it's good for that in between time (plus I've been so tired that my runs have been slow, so I've not warmed up that much!).
Runs have been to mainly clear my head as work has just been busier than normal- very much needed.
A week ago on Friday I had booked my flu jab, but that turned into a bit of a saga. I walked to the pharmacy in the evening, and I wasn't looking forward to it (I used to be OK with needles but then when I had one jab I fainted and since then I've really hated them and often end up crying and getting very embarrassed)- but the fact it was in a pharmacy seemed to make it better somehow. Anyway, when I got there, they had run out of jabs, and despite me having a text every day since booking, they somehow couldn't call me.. Anyway they said I could come back the next day as they were due to get 5 more and would save me one (continued later!). I went out for dinner with some friends (good old Bill's) which was good but meant to be my treat after having an injection!
On Saturday I cycled to Panshanger and enjoyed a glorious autumnal day there. .
I used my bike lock and the proper lovely wooden trunk bike stand things this time!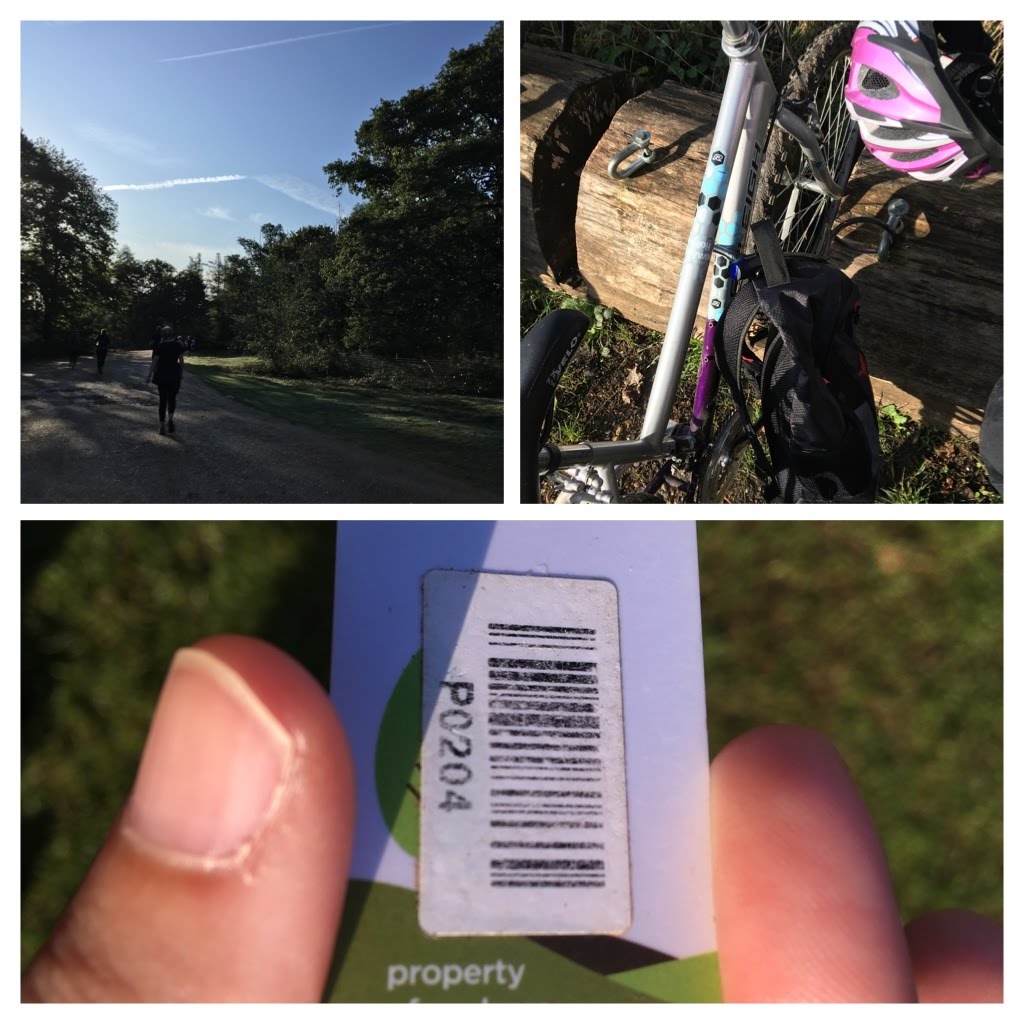 I then cycled back to the pharmacy (the cycle to parkrun is just over 4 miles, and then the pharmacy is another mile from home), but when I got there they told me they didn't have any, and said they didn't have my number (even though I'd watched them write it down the day before)- in the end they rang around and found a local pharmacy where one appointment didn't show up, so if I got there quickly I could have it! I cycled there as quickly as I could, and luckily they actually had one.
Then I had to cycle home (after the mandatory sit down afterwards so they can check you are OK- and honestly it was fine and I didn't even realise she was doing it), had a shower and then finally breakfast, before we went into London.
This time we managed to get further along the crowd and found a big screen where they were broadcasting the speeches- I felt a tiny bit of optimism after this, whereas before I really felt hopeless. One of the MP's who spoke said that after seeing the march last time it made her rethink her stance, so I think it goes to show that actions like this can make a difference.
Afterwards we went to the Swedish bakery but the person in front of us got the last cinnamon bun! We got a school bread style bun instead- still delicious.
When I got home that evening my back was very sore (I think walking all day and then a long tube ride made it stiffen up) and although I had planned a run in the morning, it didn't seem sensible. I did some yoga which helped, and then we had breakfast (I'd prepped the baked French toast already) and then later in the afternoon I had a run instead (but a short one) before we went to the cinema.
Leaving my yoga mat out meant I was more likely to stretch when I got home too!
I went for a run to the pink fountain in town- they colour it pink each October for Breast Cancer Awareness, and this year there is even a selfie frame. I'd worn my Run Disney jacket and so inadvertently matched!
At the cinema we saw Official Secrets which was excellent (but also depressing that nothing seems to have changed with the way governments lie to the general population).
I also made pumpkin spice fudge as end of term gifts for my team (basically added a tbs pumpkin puree and some spices to a normal fudge batch, and decorated with white chocolate).
The final week of term was manically busy with observations and meetings on the Tuesday (so lots of prep on the Monday), parents evening Wednesday and Thursday, and then helping to lead a training day on Friday. But we've made it!  And if you have reached the end of this, well done!
How was your October? Have you been enjoying Bake Off? There was a really good podcast episode with one of the past winners (Nancy- on the JVN podcast Getting Curious) which I found very interesting as to how the behind the scenes bits work.