Some of you may know that this time last year the two of us went to Florida for the week, and while we were out there, got married (in the Botanical Gardens), and as luck would have it my half term was a week later than lots, so we managed to score fairly reasonable flights to go back to celebrate our anniversary.
Dole Whip features a fair bit…
We had to connect via Miami (which was super stressful because although we had 2.5 hours, we had to clear immigration, collect our bags, re-drop the bags and then re-go through security- we made it with 10 mins to spare!). But all the stress was worth it when we got to the parks bright and early the next morning! Although I am not a big Halloween fan (I much prefer the Day of the Dead idea) I do love the "fall" decorations, with the autumnal leaves and coloured banners everywhere.
Plus lots of people were going to the not so scary Mickey Halloween parties (you had to get extra tickets for these) so there were lots of costumes and t-shirts to admire.
And all the hotels had pumpkin carving competitions- how amazing is the Moana one?
Pretty much every day we did 2 parks- playing the fast pass system like pros! In the app you can book a certain number each day (and some are higher tiers than others) but once you have tapped in to the ride, you can then log on and get more, so we had different parks each morning to make sure we'd get on all the big rides, and then would go to a different park for the afternoon/evening to see the fireworks show, and book the fast-passes that day.
Any trip to Disney also includes a list of must-eat snacks (more on those later).
I loved my Minnie-Mouse themed Magic Band- these work as your room key, park ticket and fastpass ticket, and as they can be reused I got a patterned one.
I went out for a run around the lake on a couple of mornings- it always looked beautiful as the sun was just coming up.
We stayed in Art of Animation, which is across the lake from Pop Century, and you can run the entire lap (just over a mile for one lap).
Lots of them had very cool "wraps" on the outside- I particularly liked the Olaf one.
Now the Skyliner (the little cable cars) run from there to Epcot and Hollywood Studios so it's a pretty good location. One day I timed the journey (to compare it to the hotel bus or driving) and it was 18 minutes from the park to our hotel- you had to change at Caribbean Beach but that was maybe a 20m walk from getting off one to getting on the next one). I was a bit sceptical about them, as they have no air-con, but when moving there is a nice breeze coming in through the air vents and they are tinted. When they stopped it was another thing, and I am not sure I'd be happy inside a stopped one in August.
Our block was Little Mermaid themed- even the shower tiles were made to look like Ariel's grotto!
At this time of year Epcot hosts the Food and Wine festival which is really fantastic.
I love the guacamole from the Mexico place in Epcot
All around the world showcase are extra mini buildings themed to different places (eg the Alps/ Mexico) and each one serves 3 or 4 small dishes (for around $4) and a range of wine, beer and non-alcoholic drinks. You can get a little leaflet with all the menus, and although we heard some people complaining that the portion sizes were small, we shared them and they were pretty good to try- a bit like tapas or something.
Epcot also do Dole Whip during the festival so of course we had one (no float though- boo).
Some of the stands even had little recipes so you could recreate it at home.
I bought a strawberry smoothie as Andy had bought a frozen lemonade with whisky, and my drink came with a mini doughnut in the top!
The other reason we had gone was because the new Star Wars land had opened in Hollywood Studios. Andy is a huge Star Wars fan and he had been really looking forward to it. One evening we went to the Cantina, where they served themed cocktails (mine was a fruity mocktail) and the DJ was the robot from the old Star Tours rides! Pretty fun!
The land was impressively themed, with huge (life size?) models of the various spaceships and lots of extra bits going on. The new ride was also so much fun, although when we first went on it I didn't realise that the pilots actually controlled the simulator!  Before you went in you were given a little card (pull joystick left to turn left, forward to go down etc) and as you are in there, voices come on saying "left pilot, follow the bus", buttons light up to launch various things and you can even pull the lever to jump to light speed!
Delicious Mexican bowl of rice, beans, salsa, corn, vegan cheese, guacamole, tomatoes and crunchy tortilla chips
At the end of our first turn I realised that my joystick only went forwards or back, and Andy's only went left or right- which is why I was having trouble using it! But it was such good fun, we went on it twice more during the holiday (once being engineers- sitting further back and pressing lots of buttons when they flashed, and then being pilots so we swapped so Andy could be on the right and jump to light speed).
Highlights from each park:
Magic Kingdom: Our snacks of choice; Dole Whip float (Dole Whip on pineapple juice), ice-cream cookie sandwich from Main Street, this year with added peanut butter sauce which improves it 100%, and the giant cinnamon roll from Gaston's Bakery (yes you need to share, and no you don't need extra icing despite what you read on the internet). So. Good. 
Philharmagic is one of my favourite rides (shows?), the Buzz Lightyear ride is always fun (although not as clever as the Toy Story one in Hollywood Studios), the classics such as Small World and Carousel of Progress will never get old, The Little Mermaid ride is a good gentle one, Haunted Mansion is always funny (and is never busy at other times of year but at Halloween it's crazy popular!), the Enchanted Tiki room is always quite funny (and right by the Dole Whip stand), Pirates is a classic and I shall never tire of the hilarious/ awful puns on the Jungle Cruise. Andy did persuade me to try the Mine Train ride, because I don't like drops (I can just about manage the drop on Pirates) but don't mind fast or side-to-side, but I didn't enjoy it so I won't be going on it again! He goes on Space Mountain and sometimes Splash Mountain, but those are the only rides I avoid. I also loved the new fireworks and projection show there, and the park is so pretty at night (I love the Tangled lantern bit).
Hollywood Studios: This is usually the worst park for good snacks, so often when we went there we would eat elsewhere (one morning we went in early for Star Wars, then headed over to Epcot for a late breakfast in Norway), but we did love the vegan Mexican bowl from one of the counter places, and had that a couple of times.
The new Star Wars ride (Smuggler's Run) was so much fun– I loved it! I'm not a rollercoaster fan, but it's a fun simulator and the fact that you get to actually control what goes on and work as a team just added to it so much. The Toy Story ride there is just genius (you get whizzed around an arcade and get to throw plates, fire darts, throw hoops and all sorts (with 3D glasses on, not really) and it's always good for some friendly competition! The Muppets is always a classic, as well as the original Star Wars (Star Tours) and Little Mermaid. The Star Wars fireworks and projection show was brilliant too. I don't go on Tower of Terror or Rock n Rollercoaster, but as Andy is a single rider it doesn't take long for him to go on them while I sit in the sunshine or mooch around a shop.
Animal Kingdom: One bakery did a "colossal cinnamon bun" which we shared- it was good, but not as squishy and gooey as the Gaston one.
As for rides, the new Avatar themed rides are brilliant. Last year I was really nervous before going on Flights of Passage, as I didn't really understand what it was from reading the description. It's a simulator, but you sit on a sort of bike thing (that is meant to be a dragon- you can feel it breathing and everything), wearing 3D glasses, and are flown around the Avatar land. On one of our goes a kid next to Andy said to his dad "this is the most beautiful thing I have ever seen"- and it is really stunning. It swoops about a bit, and did make my stomach drop but it was just on the OK side for me. The other ride is a gentle boat ride. The whole theming of the land is impressive- in the dark the floor glows.
Andy enjoyed the Everest ride, and we both love the Lion King show, but after getting too wet on the river rapids ride once, we avoid that one.
Epcot: School bread is now one of the top foods to have- from the Norway bakery. It's the best selling pastry in the park and no wonder- a delicious cardamom spiced bun filled with custard and topped with toasted coconut. It's so good and not super sweet like a lot of things- we had them for breakfast on a couple of days. We had a few little things from the Food and Wine stands including a carrot cake, a vegan almond and fruit frozen parfait thing, a chai chocolate ice cream shake and of course Dole whip.
Soarin' was always my favourite ride, but they have changed it from "over California" to "around the world" and added in a load of CGI which it just didn't need. These places are beautiful without needing fake animals leaping about. Plus it jumps from place to place without any pattern or sense. It's still a clever ride (you sit in swinging seats and are lifted up in front of a big screen and moved gently as the video moves around the world), but even the music isn't as good now. I love the Frozen ride- just a log ride really but the animatronics are so clever and life-like, and the movement of the ride fits with the music from the film. The teeny snowmen are so cute too! Lots of in-jokes to be had on Spaceship Earth (even if Judy Dench does say "math" and not "maths", the Nemo ride is always fun and I love seeing the rescued manatees. There was an interesting exhibition about how Epcot will be changing (something inspired by Moana, and a Mary Poppins something in the UK section). It did make me miss Ellen's Energy Adventure- so many funny quotes from that ride. Their fireworks show was a stop-gap between Illuminations finishing (sad face- that was my favourite fireworks show ever) and the new one beginning, and it was a bit weird in places,  but had some clever flying glowing dragon kite things.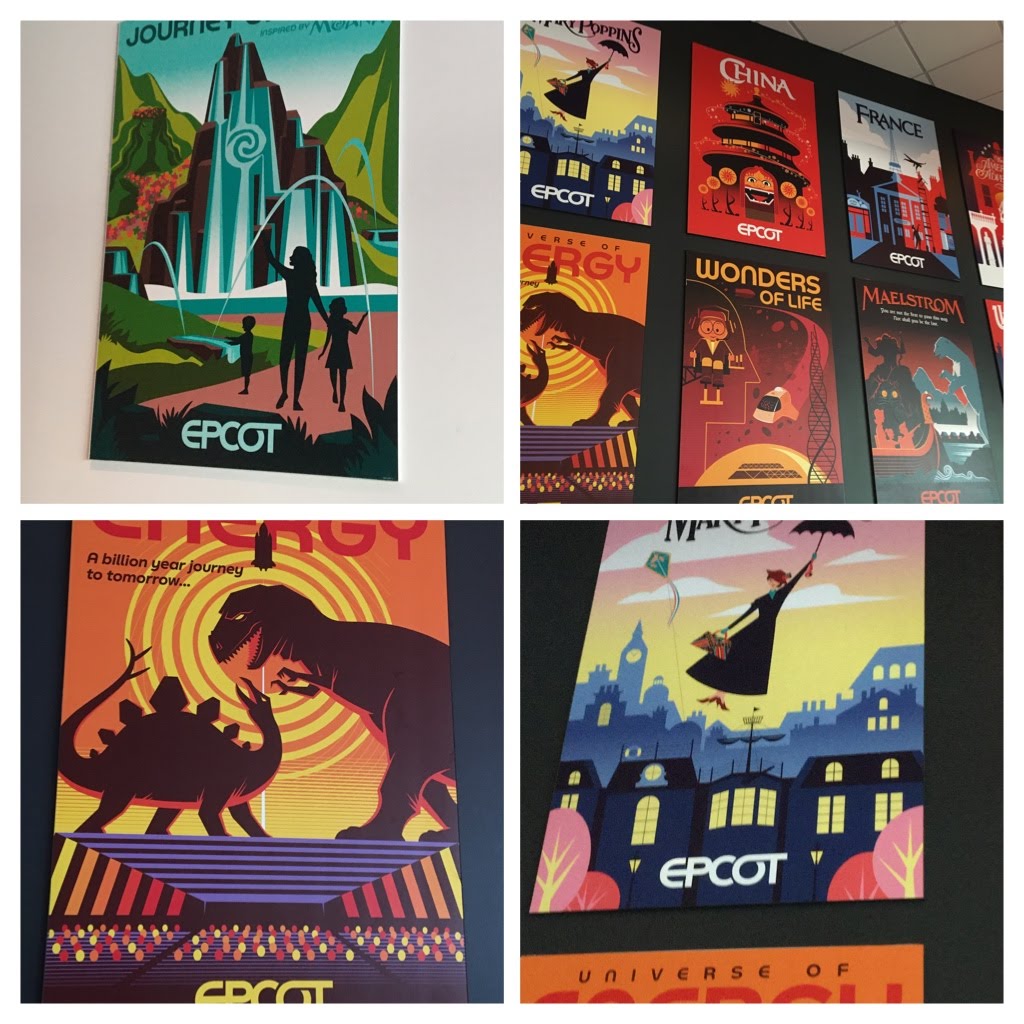 We popped to Disney Springs (formerly Downtown Disney) on a few occasions- to get an Earl of Sandwich for a late lunch/ early dinner (what is the brunch equivalent?) and to do a spot of shopping, and one day we sped to a park for a couple of fastpasses, and then headed out to some actual shops (Bath & Bodyworks, Skechers, Old Navy and Lululemon) before heading back to another park. We did also go to the race Expo but I will keep the Run Disney bits in another post as this one is already super long!
As it was out wedding anniversary, we had booked dinner on that day at the California Grill, a restaurant at the top of the Contemporary Hotel. It looks down onto Magic Kingdom, and we went fairly early (5.30 I think?) so the sun was beginning to go down to add to the good views. Their menu has a few veggie options anyway, but they also have a separate plant (vegan) menu where you could choose 4 items and have 4 mini-plates, so I did that and had a rather eclectic but delicious meal of a mini tomato calzone, heirloom tomato  salad, creamed spinach and an avocado and sesame sushi roll. It's all served with their warm sourdough bread and it was such a lovely meal. Afterwards we wandered downstairs to see the construction of the giant gingerbread house in the lobby- it was already looking impressive.
The view as the sun was going down.
We were lucky with the weather- last year was warm in the day and cool at night, but this year was the warmest October in a long time. Driving from the airport we had torrential rain, and then on the Sunday we got stuck in a downpour at Animal Kingdom (while Andy was on Everest, so we had to shelter in separate places and meet up for our Avatar fast-pass once the rain had eased).
(Before and then during the crazy rain). Apart from that, we had sunny and hot days, and it cooled off to more normal levels literally as we were waiting to start the 5K race.
Last year we did the 10k race on the morning we came home, meaning a 3.30am wakeup. This year we did the 5k which was on the Friday, which meant we could enjoy our final day in the parks a little more. Our flight was a bit stressful as we had a connection in Charlotte of 50 minutes-eek! Thankfully a lot of people on the first plane were connecting, and there was no security or immigration to get through, so we basically got off our plane, walked along the corridor to the next section of gates and found ours- they were boarding Group 8 (and we were Group 7) when we got to the gate, but at least we made it before the final call! I'm getting the hang of overnight flights now- I have some aromatherapy spray to put on my neck pillow and eye mask, and basically as soon as the plane has taken off I put all that on, put on my headphones (they are noise cancelling ones) and either listen to a sleep story on calm, or some music, and don't take my eye mask off until we are close to landing.
As you can see, we packed a lot in the week, and I certainly don't go on holiday to sit around!  Most days we were doing close to 30,000 steps
Do you prefer active or relaxing holidays? If you have been to Disney, which is your favourite park, and more importantly what is your favourite holiday snack?