Happily our trip to Florida also coincided with the Wine and Dine Run Disney weekend. Last year we did the 10k, but decided to do the 5k instead. I was planning on doing the Florida parkrun on the Saturday, as it was a 7.30am start so I could be back for checkout at 11, but when I actually looked it up, although it was 30 mins away (not too far) there were no public transport options and so the Uber was going to be $40 each way- a bit too much to spend in the end. But the Run Disney event was the main attraction. Races in the US seem to be expensive anyway (no £6.50 Festive Five here) but at least with Run Disney you get lots of things around the race.
I loved going to the Expo, not just for the merchandise but for the fun of posing for pictures and meeting characters (without the sweaty hair and face of the actual race day).
Last year we went for breakfast and then to the Expo, and this year we went to a park for a couple of rides before heading there- we were maybe half an hour later but there were big queues and loads of the clothes had already sold out. I really wanted some Disney shoes, but I could not work out how to find them in the app to pre-order, and when I went to the website it kept signing me out and making me reset my password. We picked up our numbers, went to the shop where in the end I got two things- a long sleeved top (the purple one below)- it has thumb holes and I loved the list on the back- and then the black jacket- it's sort of puffy in the body with thin sleeves. My running club used to do similar branded ones, and I didn't get one as I didn't know which size to choose online, and I am always super jelly of the people who have them as they are light but warm. So when I saw they did one, I had to get it (and it was not too expensive- £69 compared to $45 for a vest). We then went to the other building to pick up our race tops- the green one below- these were also long sleeved, so no way would we be wearing them for the actual race! It was 33 degrees outside!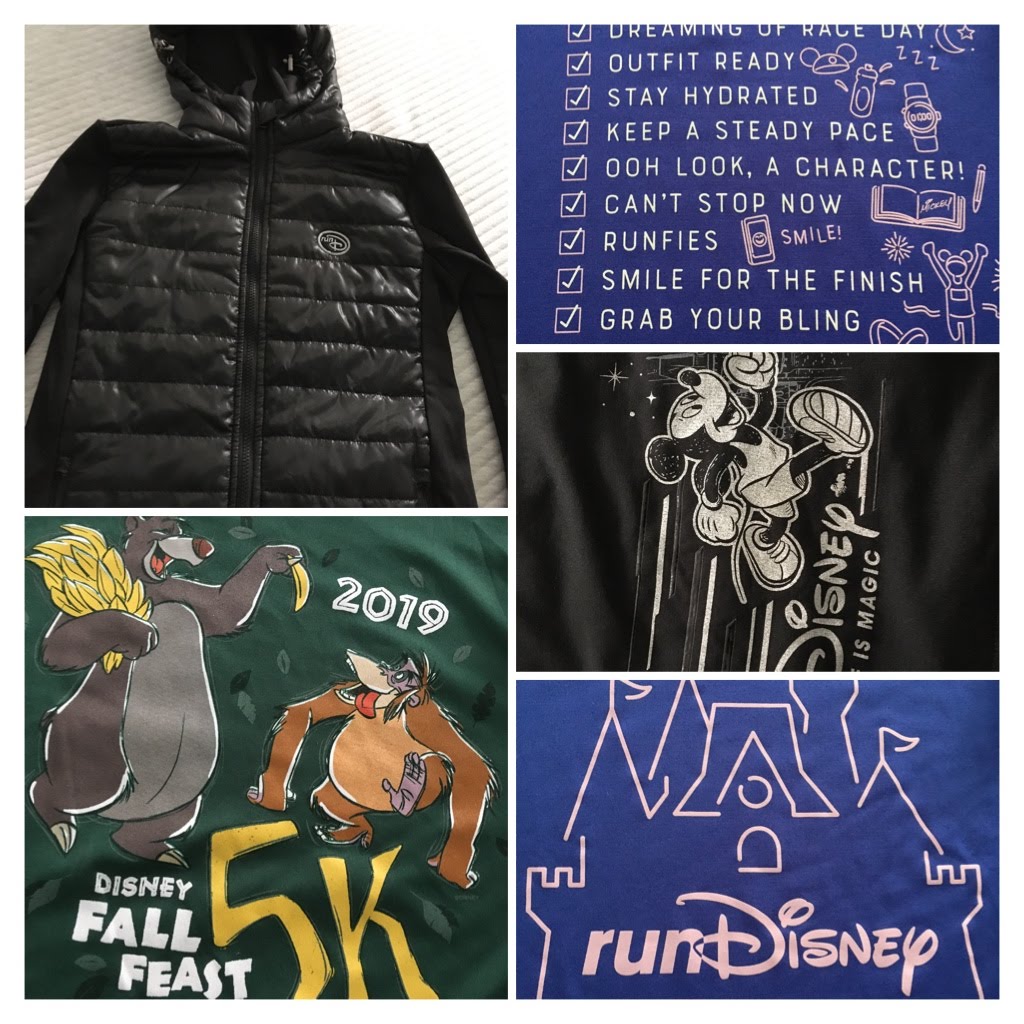 I had wanted to get some Minnie ears to wear for the race, and I was being a bit fussy- I wanted light coloured ones as the dark ones I wore last year didn't show up in the photos. I really wanted the Arendelle Aqua ones (a sparkly blue/green colour) but they weren't in stock anywhere, so on the day before I got some pink/gold sparkly ones. We didn't stay too late in the parks that day (we chose a 9pm firework show vs the 10pm one) and then got our numbers ready, as it was an early wakeup the next morning.
The hotels all put on buses, and as the race started at 5.30am we were told to be on a busy by 4am at the latest. We set the alarm for 3.45 and had the quickest get up ever, as the bus stop was a 5 min walk from our room.
Once at the start, we had to go through security (neither of us had bags so that was speedy) and then walk to the start. You can see above that it was actually a fair walk (as we got dropped at the finish area)- I am guessing it was a mile? I wished I'd tracked it! We had to stand around for a bit, but there was a DJ playing music and they interviewed people linked to the supporting charities, so it was all fairly entertaining and the time passed quickly. We were in the first wave so once the wheelchair athletes had gone it was our turn to count down and see the fireworks.
After we had been running for about 5 mins we heard the next lot of fireworks for the next wave. The route was pretty flat and seemed to get into the park fairly quickly, which was good. I loved running around the world showcase- all the buildings had their lights sparkling, and there was music playing in some places.  I didn't stop at any characters (they were not the most famous ones- a bug from Bug's Life, Chip and Dale). It wasn't timed but we managed a good negative split with 10:33, 9:48, 9:04 and 8:28. Once we finished and collected our medals and little snack boxes, we queued to meet Minnie and then Mickey, before heading to the bus stop.
The snack pack was pretty good- some hummus, chips to dip, apple sauce, little fruit and nut bar, and a sort of Dime bar.
After a shower and change we had to head out as we had booked breakfast at the Polynesian- my favourite.
We shared a fruit platter (which was full of mango, pineapple, kiwi, dragon fruit, strawberries and plums as well as fresh honeycomb and some of those ball things you get in bubble tea- I didn't eat those- are you meant to eat them or are they for decoration??), and the banana stuffed French toast which comes with maple syrup and also this amazing strawberry sauce which I poured all over the fruit too!
Of course the other fab thing about a Disney race is posing with your medal after! We went to MK and Epcot so I could get a lot of photos, and then on the Saturday we went back again as I wanted to pose with the Christmas decorations (and Friday was the final Halloween party, so I knew there would be some Christmas things out the next day).
Have you been to a Run Disney or other themed running event? Do you usually run on holiday?