On the first Sunday of the holidays I headed out on a run- seeing lots of flooded pavements. I wore my festive leggings for probably the final time of the year. I was also amused by the sign showing where "Ground control deliveries" were going- is Major Tom visiting WGC?
After some pottering and packing we were off to the airport to fly to Nice. Dad had given us a lift and wanted to be home early, so we had plenty of time in the airport. As there was a Leon, we opted for an early dinner, which turned out to be lucky as someone on our plane had an epileptic fit and they had to land somewhere else so she could be seen to be paramedics. It was pretty late by the time we arrived in Nice (as they had to refuel and do some paperwork) so we were glad to have already eaten.
We had a few days in Nice- our hotel was close to the water so each day we had lovely long walks along the coast in one direction and then the other.
There was a Christmas market so we went to that a couple of times, although it was much smaller than when we had been in the past.
It was warm in the day but chilly at night and so we managed to work our way through a fair number of Christmas classics- Home Alone, the original Gavin and Stacy Christmas special, It's a Wonderful Life, Muppets Christmas Carol, The Snowman….
There was a Chinese Lantern festival so one day we caught the tram out to the park to have a look- they were really impressive.
We wandered around the old town, walked up the steps to the gardens that overlook the sea, and walked around the flower market. It's definitely a place to mooch around.
I'd packed my running kit so one two mornings had a sunrise run along the coast.
Our hotel had a nice breakfast with plenty of croissants and fruit, and as it was Christmas some little nutcrackers on each table too.
On Boxing Day we flew to Paris as we had a few days booked at Disney. This was trickier as the trains were on strike- we had to get a coach from the airport, which was fine, but our hotel was one train stop from Disney.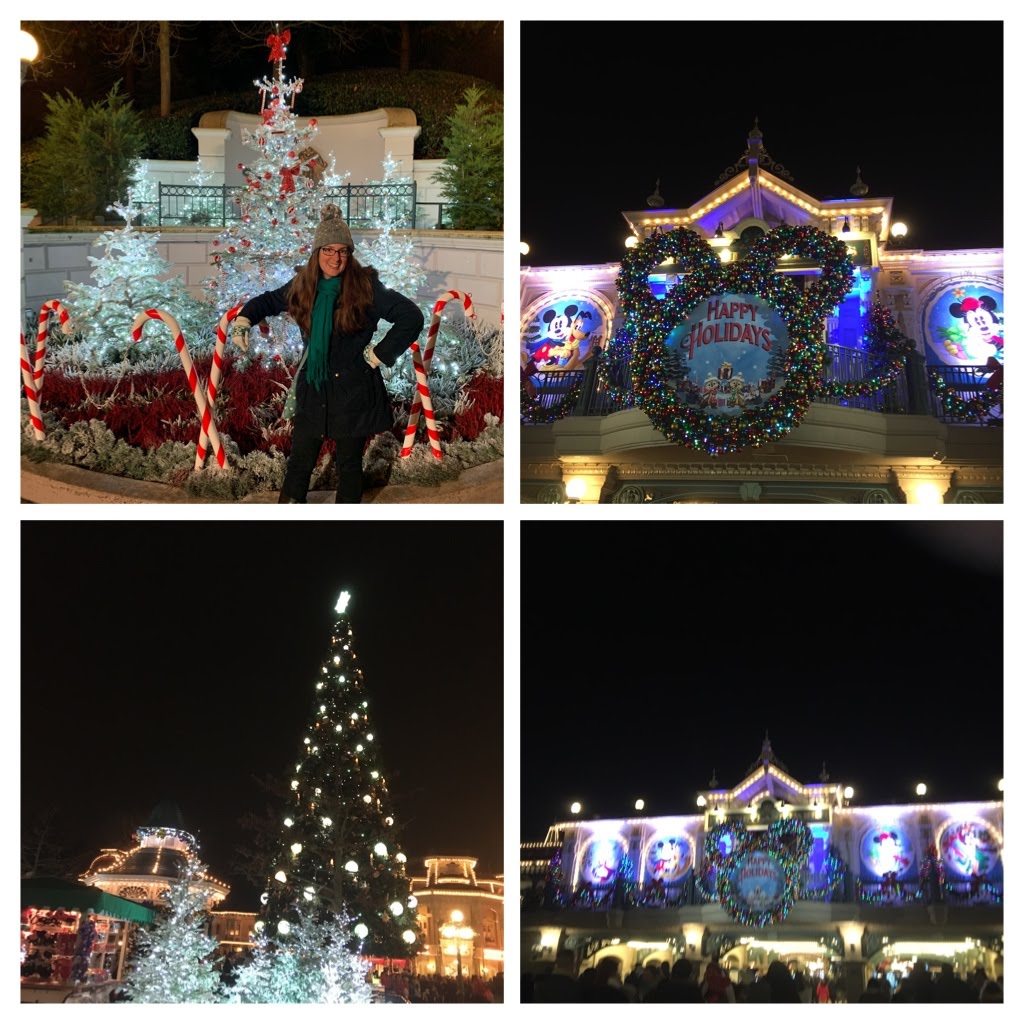 In the end we walked it most days (25 mins ish) although one day it poured with rain and we tried several times to call an Uber and they would each get within about 5 mins of us before cancelling! A little frustrating.
The Downtown Disney / Disney Springs/ can't remember what it is called area had some little Christmas market style food stalls, and the Studios park had a mini Christmas food market too. One of the stalls did fresh crepes, and one day I had one with goats cheese, rocket, honey and walnuts which was just so delicious.
One stall did vegan foods (there were veggie and vegan options elsewhere too) but my favourite thing from it was a hot apple juice with cinnamon- it was so warming. I'd bought a few cup cosies as gifts this year and had also got a couple for me- this is my festive reindeer/Mickey one!
(Andy had mulled wine)
We had an extra day in Disney, as originally we were going to head into Paris on the Saturday to see a Van Gogh exhibition, but with the trains hardly running it didn't seem worth getting stuck. It was busy, but we had managed to do pretty much all the rides that we wanted to do, seen the parade a couple of times (Disney do produce earworms), seen the projection/firework show (they have silent fireworks which seem like such a good idea) and seen a few festive shows including Mickey's Swing Band, with a live band, singers and dancers (and Mickey rocking an awesome drum solo!).  There was a new Frozen show which ended up being very good- Olaf was on a screen moving about and talking, with Anna and Elsa appearing on the stage and singing. Plus the decorations are just so pretty.
I had seen on Instagram that there was a big gingerbread house in the main hotel (the one by the park gates) so we went there- it was very impressive and smelled wonderful, but they didn't have any for sale (unlike in Florida where they sell the pebbles/ biscuits). Luckily one of the stalls outside sold gingerbread so we bought a Rudolf.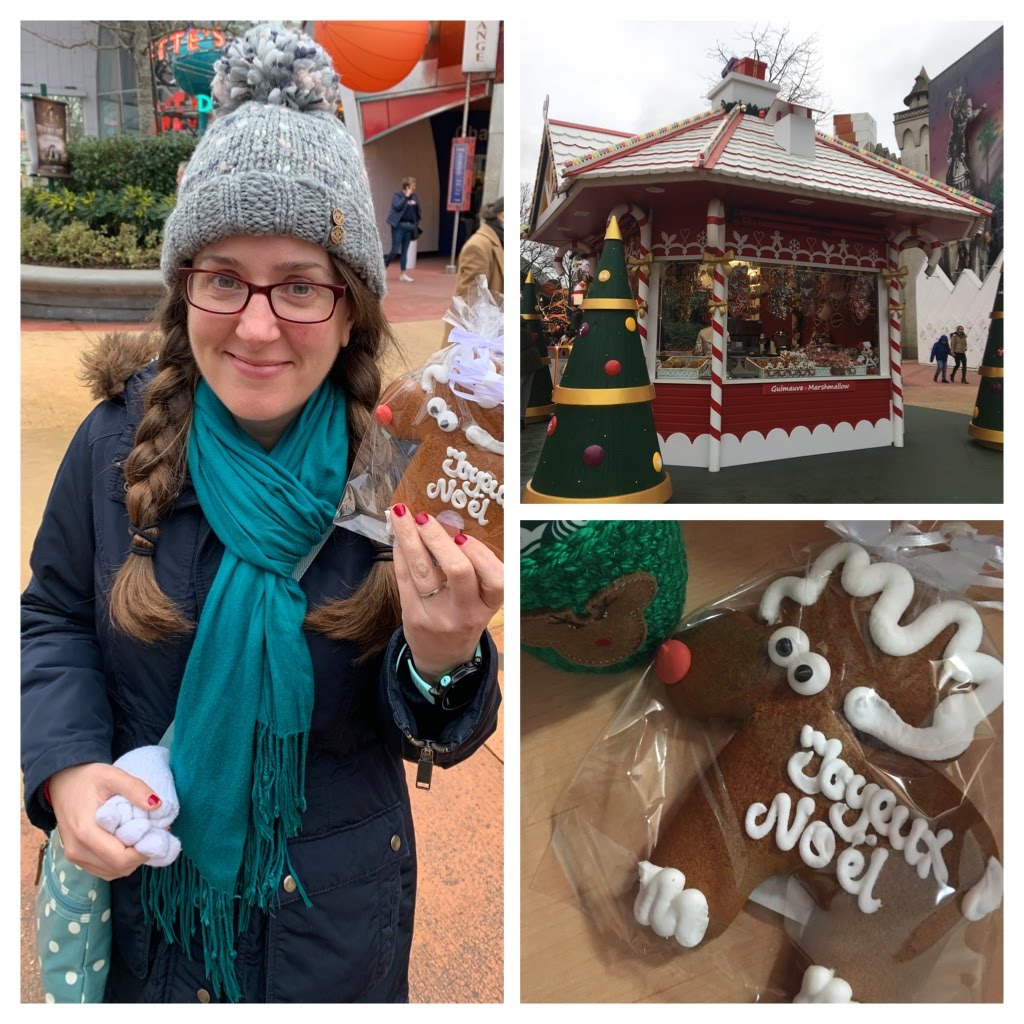 It was very very cold! I had packed long sleeved thermal tops, t-shirts and a jumper for each day, but ended up wearing a sweatshirt over my jumper. If there was a queue for the ride you were often inside which was a bonus because you could warm up a bit! We had a fair bit of rain on the first night (luckily it had only started as we were making our way to the exit) and the Friday and Saturday were fairly grey, but on Sunday we had beautiful blue skies and frosty grass- it made everything even prettier.
The only thing that irked me was that the parks are supposedly non-smoking, with signs up and notices on the maps, but this is ignored by a lot of people so wherever you walked you would have plumes of smoke being blown into your face. Anyway, apart from that it was a great couple of days.
We got the Eurostar home, which is so much easier than flights (we just couldn't do the logistics easily for a train on the way out). We bought a new decoration for our tree which I put on as soon as we had unpacked.
Have you been to Nice or Disneyland Paris? Where is good for a wander?