After getting back from Norway feeling super refreshed, it was into a busy week -the end of term is never "winding down" as people outside Education think, it's normal work plus assessments and Nativity rehearsals and extra events (all the while trying to keep the kids calm).
December week 1:
On the Monday I went out for a run and ended up having to walk a fair bit as the pavements were freezing over and really slippery in places- this has happened to me before so I will have to try and avoid the main road, but trying to find somewhere well-lit (even with my torch) is not easy.
I did see the town Christmas lights which included this huge bauble with polar bears inside so of course I attempted a mid-run selfie!
On Tuesday I had to pop into town to pick up a deliver-to-store item, and so I used the time to get a few more Christmas bits. Andy was out so I did some craft. When we were little we lived in Denmark for a bit and made these lovely Danish heart decorations, and after seeing lots in Norway I was inspired to have a go, so I looked online for a video (I've found a book before  but could not follow the instruction) and started making the templates and cutting out the paper.
I was really pleased with how they turned out- I am going to give them with my gifts with little chocolate coins inside.
Here is the old one I have from when we were little.
Andy had been out the day before too, and bought me back some Christmas tiffin from Pret- I love them.
Wednesday was yoga, and I was really pleased because it was a super small class so we spent a bit longer in some poses that we wanted to focus on. I can get into the first bit of the tripod headstand and can lift one leg up at a time, but can't seem to do both. Josie (the teacher) steadied  me and I managed to get both legs up, although when she asked me to push my legs closer to the ceiling, I just could not work out how to move them- being upside down is so weird! I was very pleased though. I also had to demonstrate the crow pose (a balance) to the class as somehow that's something I can do.
Thursday- 4 mile run
We had some beautiful sunrises that week, and one day I popped out at lunch for a quick walk in the woods to get some vitamin D (bottom left).
On Friday I popped out at lunch for some quiet time- everything gets so busy at this time of year and I felt the need to sit somewhere where I would not have to say anything. I listened to a podcast for about 20 minutes and felt so much more refreshed after. After work I popped into town (Gail's had Christmas buns so I got us a couple) and then to the garden centre as I was looking for a wreath. I didn't get one, but I did see this rabbit (not for sale).
On Saturday I cycled to Panshanger (head band under the helmet to try and keep my head warm- it did work better), and then I was tail walking.
I'd packed my Minnie Gingerbread hat to keep me warm on the walk (can't wear it under my helmet). I was given a walkie-talkie so every now and then the RD would radio to check everything was OK. I was a bit anxious about having to work it (the lanyard you get has their phone number on, and once before I had to ring it when I couldn't lock one of the gates) but it was super simple. Once I had cycled home I had some mince pie porridge (porridge with Meridian mince pie filling and some flaked almonds) and then had to head off quickly to school where I was helping in the grotto at the fayre (making reindeer food- bird friendly of course).
I was feeling very festive so in the evening I got on with decorating our Christmas cakes (I make them for our parents too).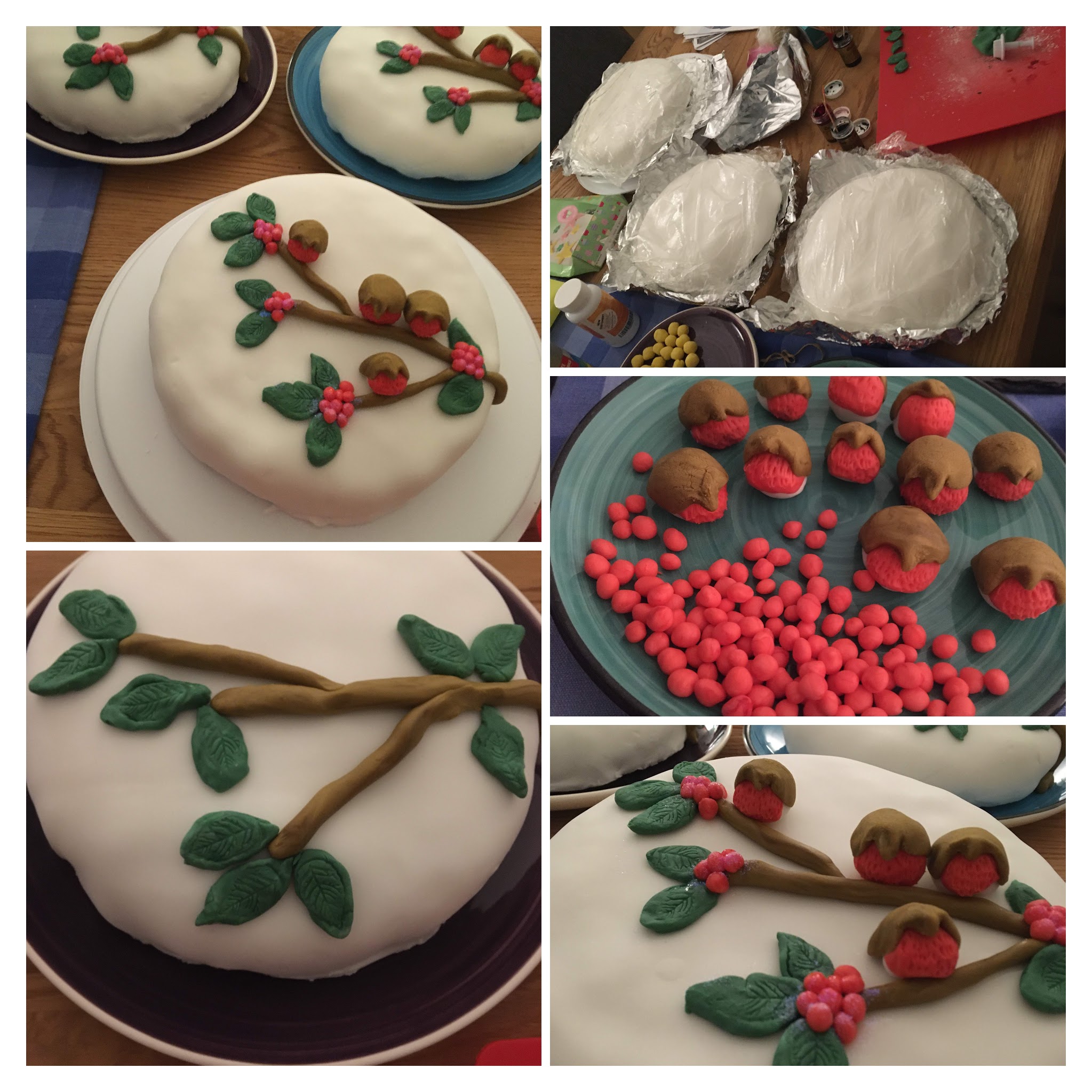 I went for a robin theme this year and was pretty pleased with how they turned out. I think I'm going to add a ribbon of coloured icing around the bottom as they are a bit uneven. Made with love though.
On Sunday morning it was my running club's annual run and brunch, so I got on some festive gear and headed out to meet a couple of the girls on their way to town.
I also decided to wear my new trainers- I got them back in July but have been wearing the old ones as they were fairly new then, but recently my knee has been a bit sore and I just wondered if old shoes could be the culprit. I do love them! My antlers kept blowing off in the wind though…
I wore a top to change into once we got to Bill's (Happy Holidays 2008 from when we went to Disney!).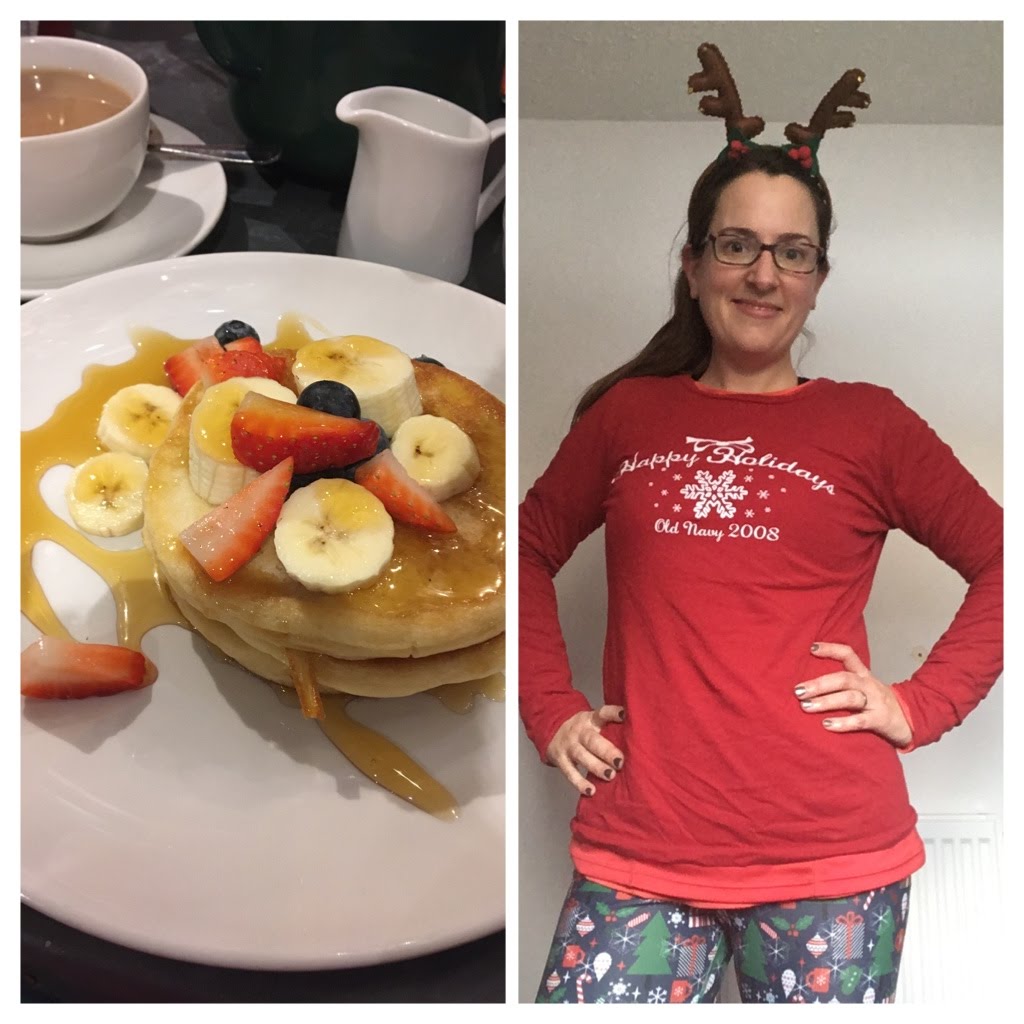 Pancakes were good as always, it was lovely to catch up with everyone as I don't go on the club runs any more, and although I was full I ran home as I was a bit chilly.
In the afternoon we put up our tree, so I had a lovely time sorting through all the decorations.
Reindeer ones.
Disney ones.
New Disney ones- one for our anniversary, and one from the hotel we stayed in when we got married.
And a little cute elf for the top of the tree. We had some hot chocolate too- very festive.
So, December week 1 done! It just gets busier from here it seems!