Herts schools have something called an Occasional Day, which it appears neighbouring counties don't get- basically a day off to be taken when the school wishes (I think historically it was to do with not being at work on Boxing Day so having a day off in lieu of that?)- usually ours gets added onto the summer holidays but this year it was on the final Friday in November (the last time this happened we went to Copenhagen for the weekend)- as we love a Christmas market of course we had to book something. The original plan was Munich, to see the markets there and then to go to Nuremberg on the Saturday, but Easy Jet cancelled our flights so we decided to head to Oslo instead.
Heavy snow and cold temperatures were predicted so my decision was made- snow-boots it was!
Andy picked me up from work and we went straight to Heathrow – we got dinner in Pret (my favourite) after going through security- this was their vegan Christmas sandwich and it was really tasty with roasted butternut squash, stuffing, cranberry sauce and toasted pecans. So good.
Our flight landed fairly late but it was easy to get the train (the normal commuter trains go from the airport and are cheaper than the express trains). There was so much snow as we were coming into land- just seeing the fir trees laden with snow made me feel so excited!
When I was little we lived in Denmark for a bit and made some of these little heart pouches- I saw lots of them in Oslo and have since downloaded a template so I can have a go at making some more.
Our hotel did breakfast (a really lovely one, with so many vegan or gluten free options) so after we had that we headed out for a wander around the city. After walking into the centre, admiring the central Christmas market and walking down to the water, we got a tram out to the sculpture garden- best to enjoy it in the light! (It was only light from 9.30 to around 3). The city centre had only a dusting of snow, but in the park it was proper deep snow. Honestly, we could not have been there on a better day- the low winter sunlight made everything look even more beautiful.
The light, I just love it.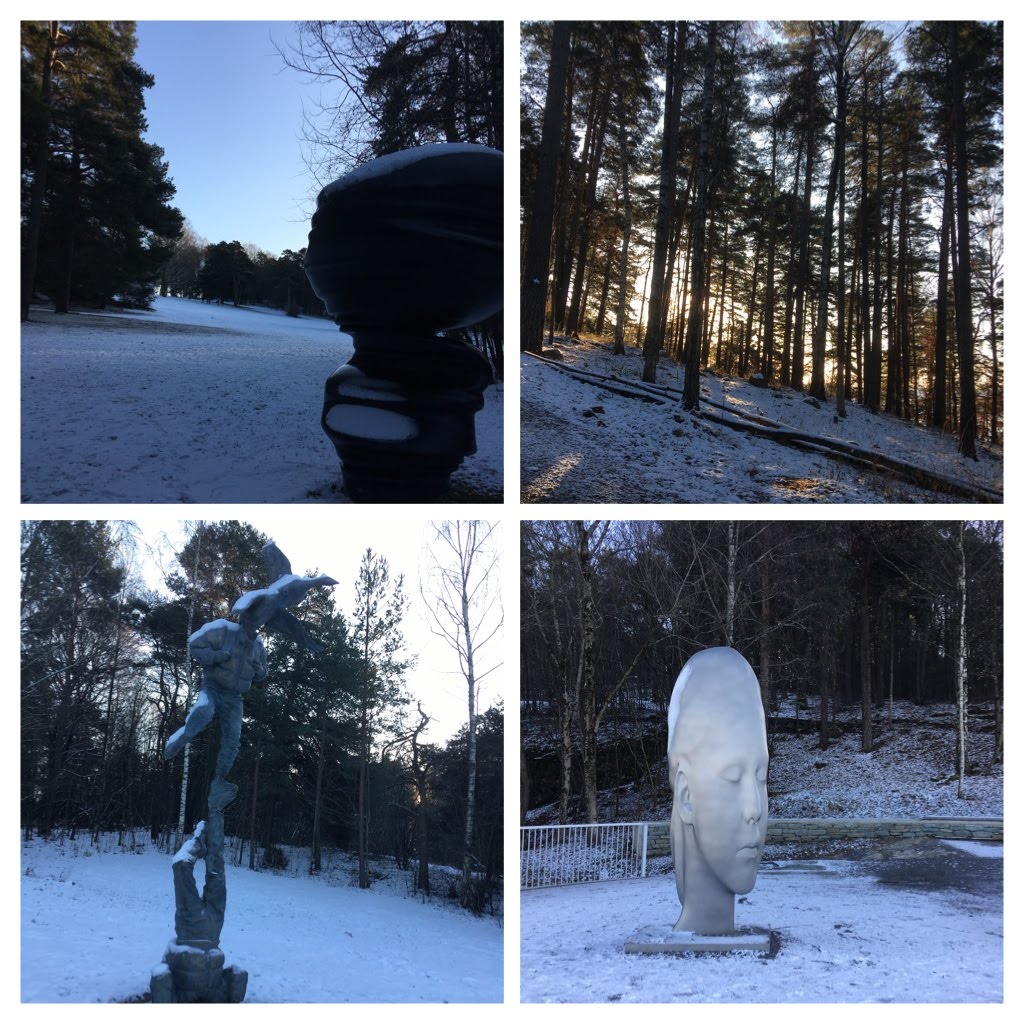 There were some interesting sculptures too, but mainly I just loved seeing all the snow and trees.
Once back in the city we walked to the castle, saw the changing of the guards, then walked back to the water, as there was a fort there.
We'd got an Oslo pass, which included transport and museum entry (we had ordered them online and just collected them from the tourist information centre in the train station), so we went to the Resistance Museum, which was really interesting.  I had heard a podcast recently about the teachers refusing to  teach the Nazi propaganda, so it was interesting to find out a bit more.
After popping back to the hotel for a cup of tea, we headed out to the Christmas markets in the dark. (We tried to buy something with cash, which was left over from a trip several years ago, and it turned out that in October they got new bank notes so we had to visit a bank to have it converted).
There was a central one, and then one run by the people who herd reindeer (Sami ) with lots of things made from bone, fur and so on. All the markets had these fire pits so you could stand by them to warm up a bit.
We ended up going to Leon for dinner, and had bought a delicious school bun from a bakery to share for dessert. (We have only had these before in the Norway pavilion at Epcot- cardamom buns with vanilla custard and toasted coconut).
Pancakes and fruit for breakfast/ cinnamon bun and school bun/ chia fruit pot at breakfast
On the Saturday after breakfast I got the train a few stops along to the parkrun- I will do a separate post on that. I walked it as I didn't have space in my hand luggage for trainers and a load of running gear (layers would be needed), and as our hotel did breakfast and Norway is pretty expensive and parkrun doesn't start until 9.30 if I waited until after running to eat, they wouldn't be serving any more. A few factors! The Munch Museum with lots of Edvard Munch's paintings was in the same park as the parkrun, so Andy met me there after, and we had a wander around. It was fairly small, but they are moving to a bigger site. I had only seen his Scream painting before, so it was good to see some others- there were some beautiful ones of the landscape with huge pine trees.
Then it was time to get properly into the Christmas spirit- we got the train to the centre and then a bus out to the open air museum (Norsk Folkemuseum), as it also hosts a huge Christmas market. There were big crowds there- lots of locals going as well as tourists, which is one of the elements of the Germanic Christmas markets that I really love.
The main church had amazing ornate wood carvings all over it
The main square had a huge Christmas tree and loads of stalls around the edge, and then as you walked around the museum (which was huge) there were loads of stalls, food stalls, children dancing, big fire pits to warm up by and so many pretty decorations.
I bought a couple of decorations, although I couldn't buy marzipan because you had to have an app to buy from that stall.
That pig is made of marzipan- it was huge!
We treated ourselves to a hot chocolate as the temperature was much colder that day.
Near the market were lots of museums, so we visited them afterwards as it was getting dark- the Viking Ship Museum (people had been buried in the ships, a bit like being buried in a pyramid, with lots of artefacts, and they had been discovered 100 or so years ago and preserved), the museum all about Polar Exploration (again, so interesting, and with the actual boat inside the museum as well as lots of exhibits) and a museum about the Kon-Tiki, a raft that crossed the Pacific). We got good value from our Oslo passes, and it was good to have some indoor things to do when it was so cold outside.
By then it was dark so we popped back to the hotel for a tea and to warm up, and then headed out for a final wander around the shops and the Christmas market. There was a big ice skating rink and it seemed everyone there was an expert!
On Sunday we had a fairly early flight so after breakfast we headed straight to the airport. The countryside was covered in snow and as we whizzed past on the train I felt like I was in The Snowman. I'd had a few busy weeks at work and so this just felt like the perfect antidote to all of that- so much fresh air and beautiful scenery. I felt so festive when I got home- time to crack out the Christmas playlist on Spotify!
Have you been to Norway? Do you like going to Christmas markets or museums?