Yoga was on a Monday that week and if it's on a different day it throws me out of routine. I had a bit of a cold after the first week of December, but I was feeling better with just a stuffy head at night so thought it would help (and it did). On the Tuesday my eye was very itchy, and I do get dry eyes a bit, but when I got home and looked one eye was bloodshot and a bit gunky. Conjunctivitis had been going around a bit at work, so I'd clearly caught it. I looked up pharmacy opening times, and the one in town was open later so we walked in-  it was OK but then poured with rain on the way home.
On Wednesday when I got home there was a card saying I'd missed a parcel and a charge was due- this could only mean one thing- my ugly Christmas singlet had arrived!
I listen to the Australian podcast parkrun adventurers, and they have made this so called ugly singlet (I think it's so cute!). I headed out to collect it, doing 5 miles in the end.
It ended up being very late once I'd had a shower, so we had beans on toast for dinner (my favourite) and some stollen afterwards to get all Christmassy. I love stollen- it's something we have always had as my grandma was Austrian, so we just always had those sort of Germanic  Christmas traditions, but I was watching and Aldi documentary the other day and they were saying that no-one had heard of it until a few years ago- this annoyed my mum a lot (and she was my dad's mum…).
On Thursday I had to rush to get home as we were heading into London to see James Acaster. It was this strange venue in Hackney, a sort of wooden indoor amphitheatre where you just sat on the floor.  He was very funny but his tour did link a bit to politics so whereas I was hoping to take my mind off things for a few hours, that didn't work, and of course as soon as it finished the entire audience were checking their phones for the exit polls and any hope for a good future came crashing down. I did not sleep well that night.
One week to go! 
On Friday we were off to Reading after work- we have found that staying that far away from Bath and getting the train in the next morning is better than driving all that way. The M25 had problems though so our journey took loads longer.
We were around 3 miles from Reading parkrun (In the end this one was chosen because the parking seemed easier) so I drove there in the morning. The course description says road shoes are fine, but I would say certainly not at this time of year! My trail shoes were in the car and that was very lucky- some of it was so boggy and even my ankles got wet! I was wearing my cow hat (from the parkrun tourist facebook group) and at the start a guy came over wearing the buff and started chatting to me. We ended up running the whole way together-he was from the Southampton area so I'd been to a few of the ones he had. He was also a keen tourist, hoping to reach 50 events in his first 100 runs (he was only a few away). It was just so lovely to chat all things parkrun, and this is what is magic about parkrun- turn up and end  up having a lovely conversation which would not have happened otherwise.
The route was good- out along the path by the river, two loops of some wetlands, then back along the path to the finish. But very boggy!
Once finished I headed back to the hotel where we had a cup of tea and an almond croissant (and a shower obvs) before going to the train station. Aldi almond croissants are delicious. Also I noticed on Strava that I was on 989 miles for the year- I've only run 1000 miles once in a year before, and that was with a concerted effort in December.
Our train took around an hour, and we listened to a podcast (so behind with Off Menu at the moment) and once in Bath we had lunch in Pret (I love their Christmas sandwich) before wandering around. The markets were so busy (as usual) so we visited all the markets and decided which ones to go back to later once it had quietened down a bit.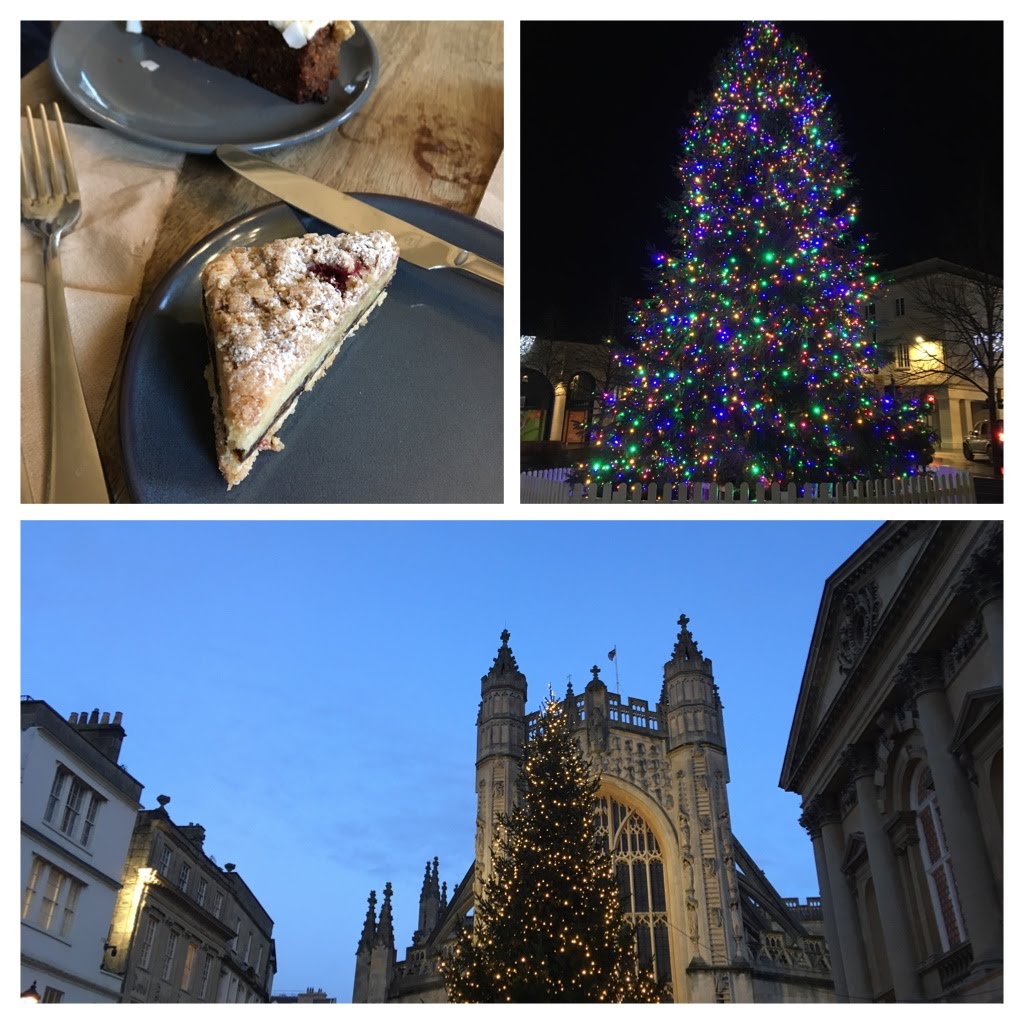 Someone from work was going on the same day and we actually bumped into each other which was a surprise as it was so busy! We stopped for tea and cake in the afternoon (this was a lovely mincemeat frangipane slice) before going back to the markets as they were quieter. It is so lovely there with the buildings all lit up, and carol singers (and rock choirs) dotted around the city. I bought a few gifts, some maple butter from the maple syrup stall (as it was the final week of the market, we got a deal with some maple granola too). It started raining once it was dark which was a shame, but we had booked dinner so didn't have long to wait until then. Getting the train back worked well too, as the drive back from Reading was much easier and quicker- I think we were home at around 11.
On Sunday morning I was off to run the Festive Five, one of my favourite races. I love a 5 mile race, and this one is low key- turn up, get your envelope and leave your bag in the little gazebo, and then off we go. Everyone wears festive gear (I had my Christmas leggings and my not ugly Christmas singlet), some of the girls from my running club had tinsel skirts. We ran around together and it was so enjoyable thanking the marshals- one of them had a child with her who was singing Rudolph at the top of her lungs!
Then I headed to town (around half a mile from the start I think) as I had booked breakfast at Bill's and Andy was meeting me there. We got the timing better this year- last year I left it too long and I got really cold waiting. I had packed a top and jumper to change into as I knew I would get cold otherwise.
Then it was another busy afternoon- I made some chocolate peppermint cookies for work, we went to see Andy's parents, once home I did some work, made some mincemeat and wrote the Christmas cards.
I used this recipe and it is really good.
So there we go, another week of December with more festive activities.
Do you like stollen or mincemeat?  Does your running club do any festive runs? In St Albans someone decorates the postboxes with crochet festive scenes (for a charity) and so the club there does a run to visit lots of them.