I've been lucky enough to be able to run outside, and although I live in a fairly residential area it's not been too bad since the first week. Partly I was still at work so I was running in the late afternoon and everyone seemed to be out then, but also, a bit like a January gym boom, it seemed like more people were out and now the novelty has worn off.
However the 2m distancing has meant a few of my regular routes are off limits. I often run down an old railway line- it's now a foot and bike path- but each time I've run to the start of it, I've seen loads of people heading there; dog walkers, families with kids on scooters and so on. It's quite narrow in places and so I've just avoided it. Sadly this is the way I would run to Panshanger park- it's only 4 miles away so it makes a decent long run usually. I knew that there was a new way into the back of the park. Part of the park is still a quarry and the people who own it have been gradually opening up more and more of the park. I've seen on Strava a few people who live near me heading that way, but looking at maps I just could not work out how to get there. I have a few green spaces near me (and one run I did several laps of playing fields to run away from traffic and pavements) but it isn't the same. I am missing parkrun, but I am also missing running in greener spaces, and Panshanger park  is really very beautiful.
Thankfully a member of my running club came to my rescue by describing the route (she in fact offered to run ahead and chalk directions for me)- and so on Sunday morning I headed out to find the way.
I had to run to the local playing fields, and they are surrounded by woods on one side, and I was so happy to see some bluebells growing there. I got slightly disoriented in the woods, and I think in the end I went off course because I had to run along a road for a bit (a country road where I only saw one car, so it's fine) and I think there are footpaths the whole way, but anyway when I found the entrance to the park I was so pleased! Caroline (the lady who had given me directions) had even sent a photo of her daughter at the entrance, so I had to take a photo to send back to show I had arrived!
This is definitely one of my happy places. Like lots of people I am sure, I have been going OK and then all of a sudden get completely overwhelmed by what is happening, and panic about what would happen if my mum were to become ill. Almost as soon as I set foot in the park, I felt calmer and like I could breathe again.  Some sort of reminder that nature carries on, and although we all feel like we are in a bit of limbo at the moment, the world is still turning and the time still passes.
It's hard to describe but it was probably about the space too. I enjoy my runs around our local streets, but I am always on the lookout for pedestrians and cyclists, whereas in the park I could see all around me and it was so easy to give anyone I saw (a few dog walkers) a wide berth.
Of course I have happy memories here too- of running parkrun with my dad and brother, of running the Panshanger 5 mile race in the middle of summer, of going for a walk with Andy to see the old oak tree, so that helps too.
I saw this lovely rainbow made of pebbles, and some fairy doors, as well as a rather grumpy looking bunny.
This run was not about time at all, it was 100% for the enjoyment of the scenery and being immersed in nature. I stopped so many times for photos, because just when I thought I'd seen the most beautiful carpet of bluebells, I'd go around a corner and see another stunning view.
I was going to do an out and back, but as I passed part of the parkrun course I decided to do a bit of the loop, up the pebble track and around the fields at the back, down through the fields to the cottages and lakes, before heading home. I even saw a deer at one point. I loved it and felt so much happier on my return home. 9.2 miles in the end, so a good long run- and it was certainly a slow one with all the photo stops!
I had promised Andy pancakes for breakfast, so I had a quick snack of dates and nut butter (Mindful Bites do the most amazing flavour combinations, plus their chocolate spread tastes as good as nutella but without the palm oil or milk powder) with coconut water before having a shower, and then make us pancakes.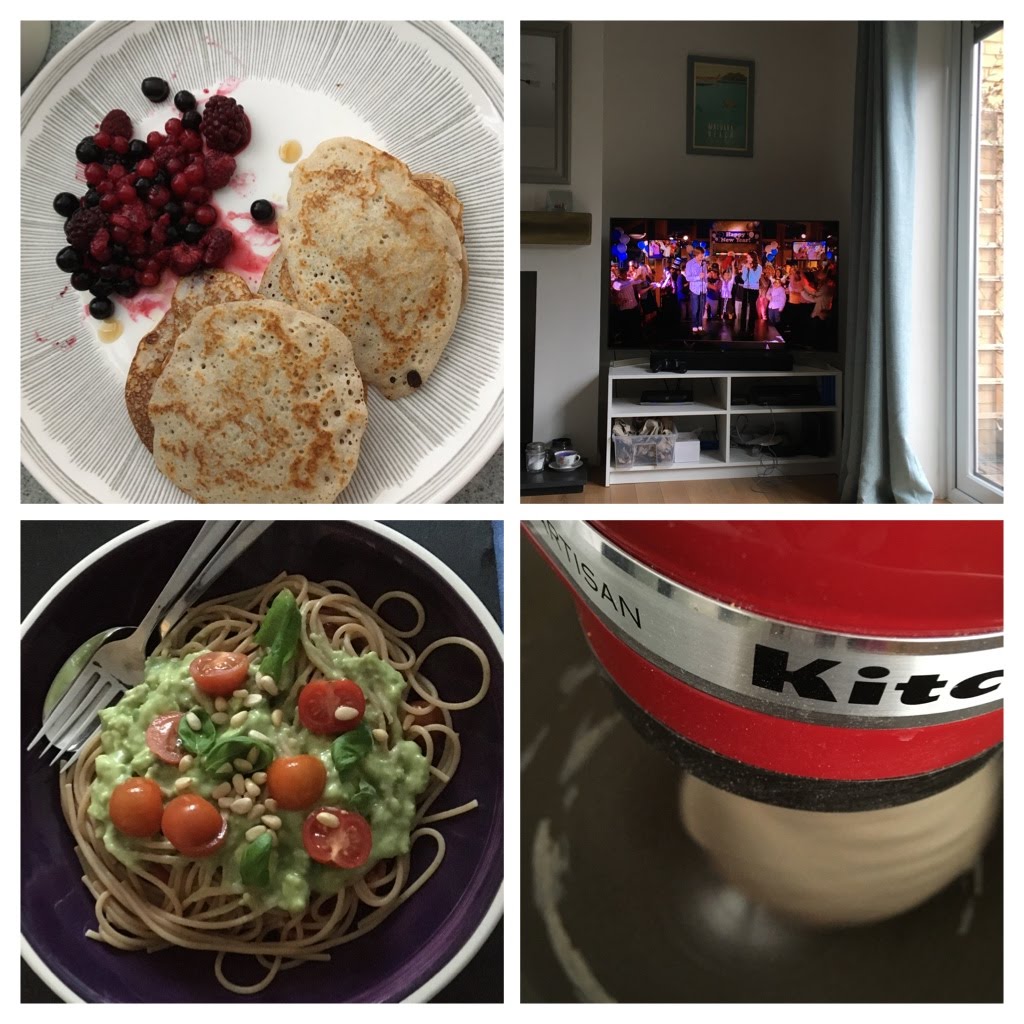 Pancakes/ High School Musical/ Avocado pasta/ Dough being mixed
I then did a bit of sourdough experimenting- I started a sourdough starter in the previous week (literally just water and flour) and it was bubbling all over the place so thought I'd give it a go. I  mis-read the recipe though, and didn't notice how long the second prove was meant to take, which meant we couldn't bake/eat it until Monday. It seemed to make a huge loaf, so I divided it in half, added some spices and dried fruit to one part to make it into hot cross buns, and left the other half plain to be bread.
As a big fan of High School Musical, I had started watching the series on Disney + (which is something like HSM, HSM the series) but it just made me want to watch the actual film. Good Sunday afternoon viewing!
One piece with marmite one with chocolate spread!
On Monday we did more jobs- clearing the old shed (it's been dismantled for a while), clearing away old lumps of concrete and various bits of junk that were in the shed, so after all that, having some freshly baked bread for lunch was such a treat. The hot cross buns were OK, but totally stuck to the tray so it was a bit of a nightmare to scrape them off. I will keep trying with the sourdough as the starter is going pretty well at the moment.
Are there some places that you would usually visit that are off limits at the moment? Do you like sourdough?