I've been walking around my garden and listening to podcasts to try and distract my mind.
After the vague but worrying announcement last Sunday night, I just could not sleep. Partly seeing people out over the weekend had just made me worry more, our neighbours had people over all weekend and we saw so many big groups of people having street parties whilst out on our walk, but mainly the vague promise of schools reopening (when we are in fact still open for key worker and vulnerable children…), particularly with the youngest children, just made my mind and heart race.
Of course it doesn't help having lots of friends who are teachers or who work in schools as things like this get sent around a lot.
A few years ago a child coughed in my face and my mouth was open.. (it was not his fault- I was sat down and he came to ask me something and coughed as he spoke) but I had a cough after that for a good few months, and that wasn't a potentially deadly virus.
Added to that the government yet again announcing something but not having the plan in place (schools had detailed guidance on Thursday night, basically a working week after they announced it…) and I have been really anxious all week.
We've been watching more comedy to take our minds off things. Last week we watched the new Parks and Rec, which I just loved so much (we've been re-watching the old series as well), and this week started to re-watch Flight of the Conchords (which then makes me want to watch Muppets Most Wanted, although I pretty much always want to watch that). It's some nice escapism for half an hour.
On Tuesday morning I did my regular 10k, and totally surprised myself by managing it in just a shade over an hour- recently my runs have been more gentle in pace so I was surprised- this included photo stops and stopping to cross the roads as there was loads of traffic about. To try and cheer myself up I used my fancy candle while working at home, and did get excited when I saw that Hamilton is going to be streaming on Disney+! We're going to have a watch party!
I had a go at drawing Minnie Mouse- this lady on the Disney Parks You Tube channel is my favourite as she gives clear instructions and plenty of time.
On Wednesday it was back to business as usual with my runs- a much more gentle 5 ish miles, and our lovely yoga class in the evening.
My Mum had got me some fresh yeast (delivered by my dad on a bike ride and left on our doorstep) so I had a go at making not cross buns with it- it seemed to work pretty well.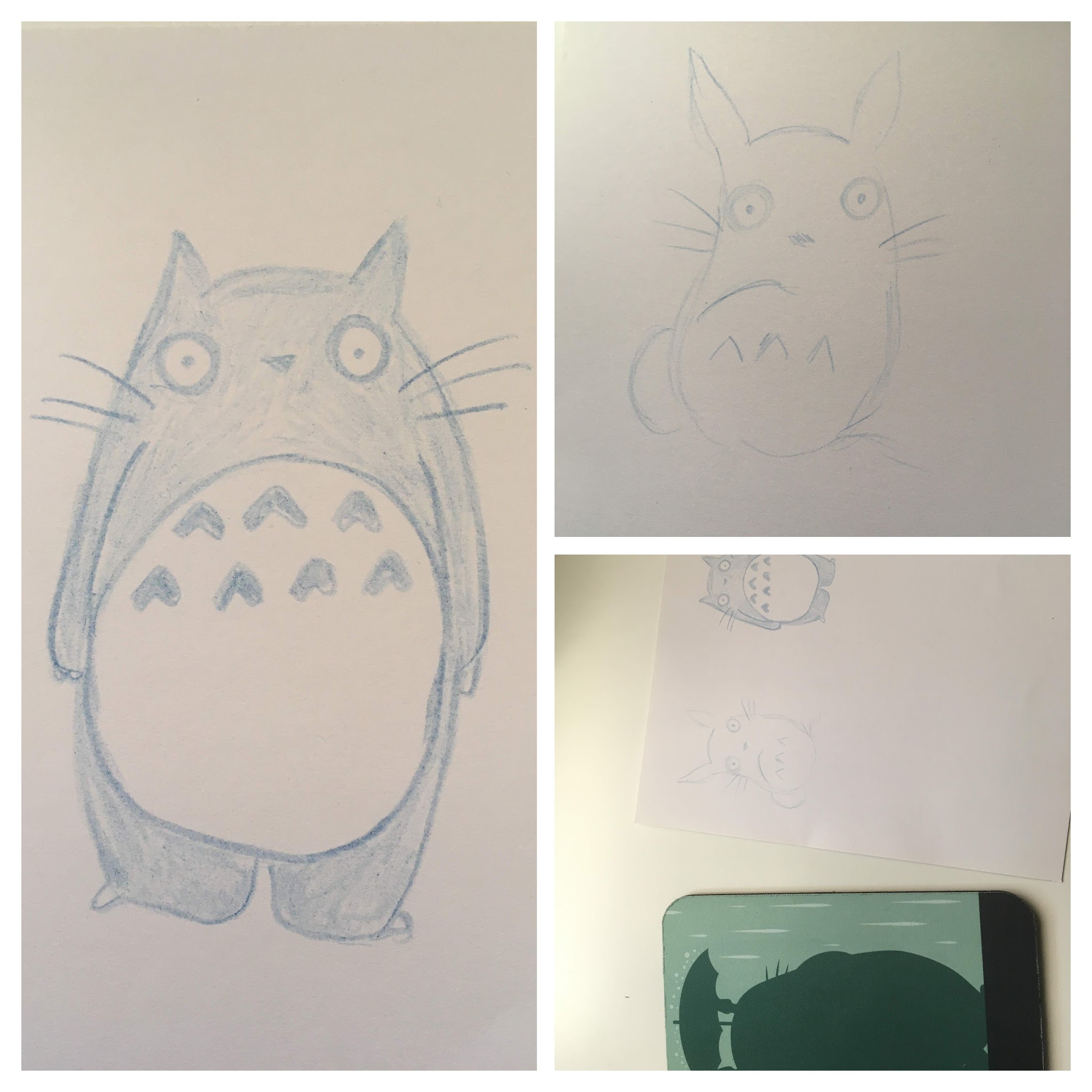 I took a break from Disney to draw Totoro instead- Andy had sent me a tutorial for a stylised version, and then I found a more typical version and had a go. Doing something like this when I finish working does usually help my mind to switch off, but with the documents and guidance (or lack of) constantly coming out, nothing seemed to be helping.
Thursday I had another run- 6 miles. I am really enjoying these slightly longer runs, as often I would do 3 or 4 miles midweek. We actually braved a walk after we finished work but it was so busy, so decided we should maybe wait until after dinner for the pavements to be a bit quieter.
I also popped out into the garden after work and did a bit of pottering, laying some stones around the edge of the pond to cover up the liner. Then, the highlight of the week- watching the choose your own adventure Kimmy on Netflix! I love that show so much (but I think you would have to watch the series before doing this)- it was so much fun, and we are definitely going to do it again and see what other funny bits we missed. We had a hot chocolate as it was rather chilly.
On Friday I had to go in to work to cover for someone else, and although I felt worse about it than I have in a while, actually being in work I felt OK. Speaking to other people in my team about the challenges, and about their concerns made me realise I am not alone in worrying, and that we will do everything we can to reduce the risks for staff and children.
Once home I made some of the Pret cookies. These are my favourite cookies and I would always be tempted to buy one if I was in a Pret, and the recipe is really so good. It takes a bit of time as there are a few  more ingredients, but nothing unusual and they really are delicious.
We had a walk after dinner and it was much better, seeing far fewer people so we will need to remember that from now on.
How do you switch your mind off? What comedy shows do you enjoy?