Monday started with some yoga, and then a walk, before lunch of focaccia (made with the sourdough), and finished with a homemade Pret cookie in front of the TV (finished Bosch so onto Cardinal).
On Tuesday I had a run (6.6 miles- I did wonder why I didn't round it up to 7 as usually if I go over half a mile I'll go to the next one) first thing and a bigger breakfast as I had meetings from 12 in work. I have been looking for the next section of a public footpath, and finally found it, so I headed up there and was rewarded with lovely countryside views. I shall be going a bit further in half term I think.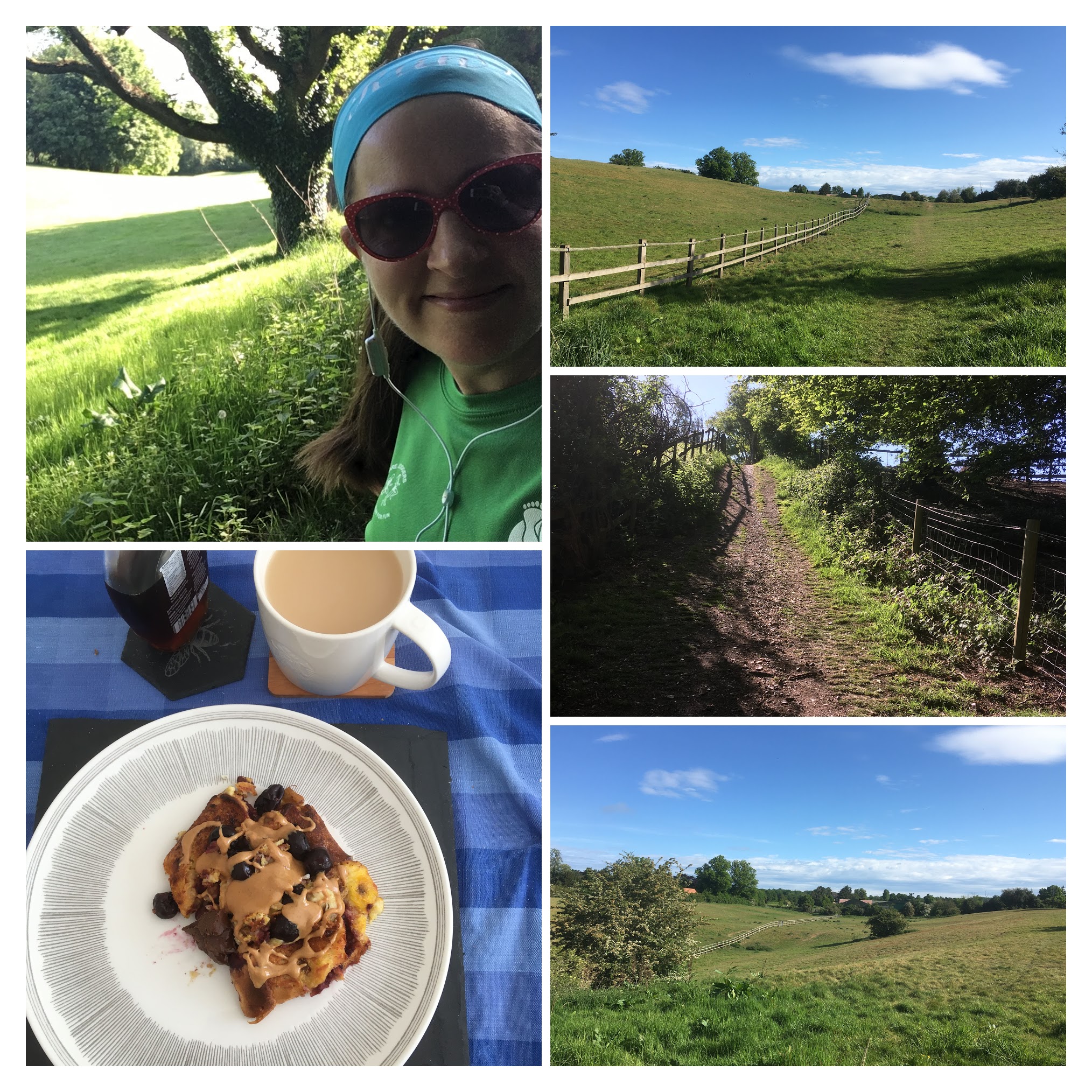 I had a mini pannetone left over from Christmas, so I made that into baked French toast with some cherries and peanut butter. Mmmm so good.
After a bit of a busy (and hot) time at work (moving out all the "unnecessary" furniture, so I decided to do a bit of Disney drawing once home. This time I chose Pascal (from Tangled). I also finally got onto another item on my list- sorting out my recipes. I had a few notebooks with recipes stuck in them, recipe cards from supermarkets tucked on the shelves in between the books and so on. I had bought a big ring binder and a-z files, so went through all the recipe, got rid of any I don't like, and put the rest into the file. I feel so much better and more organised  now.
As it was mental health awareness week I listened to Phone a Friend, which I really enjoy (It's George Ezra and his friend Ollie, and they talk about mental health issues and other things)- I find it very comforting and not too heavy going.
Allison had mentioned this fun website where you can Disney-fy yourself, so I created myself on there.
I went for a Frozen themed one to match our last Disney trip.
Wednesday I had a run (5 miles)- it was very hot, soooo much hotter than Tuesday!
In my new Happy Vegan book there was a recipe for an ultimate sandwich, so I made a version of it for lunch (because I didn't have all the  ingredients)- toasted sourdough, hummus, miso, carrot, beetroot- it was so tasty.
The main colour in our garden right now is this pinky red, but the peonies are on their way out. The final one always makes me think of Beauty and The Beast with the petals falling on the floor one by one.
Yoga on Wednesday was good too, although very warm and there wasn't much airflow in my office even with the window open, plus I felt a bit self conscious as our neighbours can probably see in.
Thursday was exactly 4 years since Ellenbrook Fields parkrun started, and I'd had in the back of my mind an idea to run there and back. It's over 5 miles away, so it is a fair long way, but gentle rain was forecast so I decided to get up early and head over there.
I was looking at the postboxes on the way, and when I stopped to look at one on a post (middle right pic) I noticed one in the wall behind it- I was so excited when I found it was a VR one (bottom left)!!
EF parkrun starts with a little loop and then you do a big lap of the fields, through open fields, woodland, a field of cows (eeek) and finally along the runway, so I decided to do the big loop and miss out the little loop because I had to run home too. Although once I got close to home I was on about 12.5 miles, so I did a run around the block to make it up to 13.1 miles- may as well have a half marathon for May.
EF had asked for photos on their facebook page, so I spent a bit of time looking through, and found one with my dad, brother and mum- I think from my 100th as my mum came along to that and had made piles of cakes. I did get really tearful looking at it, because I find it hard to work out when we will be able to get together like that- not even at parkrun but just seeing my parents and family in general. At least we are all still keeping in touch and have good times to look back on.
I was glad to have been out because I then had a big pile of work to get on with, so I actually appreciated sitting down. My office got very warm though (it gets the sun in the afternoon) so I ended up taking my laptop downstairs and doing some work in front of the TV as it was cooler in there (the battery only lasts a couple of hours though and when I'm accessing the remote stuff the battery icon doesn't show up so it's a bit risky!).
For my birthday I'd been given some vouchers for Patch (they sell lovely house plants)- Andy decided to order a couple too, and they arrived so we had a very big collection of boxes!
I'm pleased with how they look, although we did it across two orders so they haven't all come yet. The red poppy in our garden started to flower and it's enormous!.
On Friday I had to wait in for a delivery (Andy had solid meetings from 7.30) so I felt a bit spaced by the time we went out for a walk (plus my mind was boggling from all the logistics of the potential wider opening at work…). Heading into the garden always helps, and lots of the geraniums have started flowering.
In the evening we decided to rent a film- as we have Vitality we used to get a cinema ticket each fortnight, and they replaced that with a rental, only because we have Netflix and Disney + and Amazon Prime there has always been so much to watch. We'd heard good things about The Assistant, so we watched that. It was good, but quite draining too, so needed Gogglebox after for a little bit of light-heartedness.
Do you round up your runs to the next mile/ km? Have you seen any good films lately? I'm enjoying the new Kermode and Mayo TV show where they talk about film and TV and we have added a few more things to our list after watching that.