On the Friday we drove up to Edinburgh, and had booked a slot at Fountain's Abbey for a walk, but we got stuck in a lot of traffic due to a road closure, so that didn't happen, stopping once at the services and once to stretch our legs, and finally getting to our hotel at around 8.30pm. I wasn't sure how it would feel in the hotel but it felt very safe- you had to wear a mask in the lobby and communal areas, there were hand sanitiser stations everywhere (although I use my own- especially if they are pump ones I always wonder about how many people have touched the pump…) and it was all super clean.
We had brought breakfast with us so we were up early for our drive over to Skye. We chose to take the longer route through the park as it was more scenic.
We had booked an Air BnB (which was wonderful) as we liked the idea of self catering- we took a lot of food with us and only had to stop in a Co-op for a few fresh bits (thankfully small but also very organised with one in, one out and one way policies). The cottage (it was newer build but that's what I am calling it) sat on the hillside with views across a loch, with sheep wandering past and birds flying by.
We had prepared for rain (we packed rain gear, books and games), but in fact were so lucky with the weather that we were either out for the whole day, or would come back for lunch and then head out again in the afternoon.
On the Sunday we drove down to Plockton and met up with my friend who lived in Inverness- we ended up spending the day there, having a walk along the coast to a castle, finding a place by the sea for a picnic and then heading back in the evening.
Holiday essentials of bug spray, hand sanitiser and wind balm.
On the Monday we headed to the fairy pools and had a walk up alongside the river and all the waterfalls (those stepping stones were big steps for someone with little legs!), and then in the afternoon went to Talisker Bay, which has black sand and black rocks and reminded me of a sunnier version of Vik in Iceland (I mean, we did go to Iceland in October but then we had snow and sideways rain…).
Talisker Bay
Tuesday was the only time we had rain (hence the mermaid t-shirt), but by the time we headed out it had cleared up. As we were taking most of our food with us I'd mixed up some oats and seeds so we could soak them overnight- are you even in Scotland if you don't have oats for breakfast?
We drove over to Neist Point Lighthouse- a rather steep path up and down to the end. Once at the lighthouse and looking out to sea we could see movement in the water and realised we could see some whales, so we wandered closer to the shore. We also saw dolphins later on. We heard that other people had seen seals and ferrets (?) but we didn't see those.
We could walk down to the village (Carbost) close to where we stayed and there was a very cute little coffee shop that sold rather nice baked goods, so we shared a few goodies from there (that is half the caramel shortbread as we shared and it was an enormous slice).
Yes we packed a jar of peanut butter.
I was keen to see some otters, so on Wednesday we drove over to an otter hide at Kylerhea (along around a 6 mile road of narrow single track with infrequent passing places- I was glad Andy was driving!). The actual hide was closed but you could still do the walk by the coast and up to the building, and we spotted lots of seals along the shore.
There was a walk fairly close by that ended up in Armadale Castle, so we parked there and paid to go into the grounds and then did the walk from there.
It was really hot so we were glad to walk in the shade of the woods for most of the walk, and the grounds of the castle had really pretty gardens with so many tropical looking flowers.
As we got home in the afternoon we decided to give one of our games a go- this one was a Disney villains game and it seemed rather complicated (it did have cool playing pieces). I chose Ursula from The Little Mermaid, but that turned out to be a mistake because her challenge in the game was harder than the other villains. I think if we play it a few times we will get the hang of it.
On Thursday we drove over to the Old Man of Storr to see the rock formations. The car park was being expanded and the path was being worked on too, so it was closed in places. It was very windy and felt very dramatic as the clouds swirled around the rocks, so you could see them for a moment and then they would disappear. Some of the walk was very steep, and although we could have walked further (the main path was closed but people were scrambling up the side and it seemed to be allowed) I didn't fancy it, plus I wanted to try and see some otters so we headed down to the coast.
At An Corran Beach we looked for (and found) some dinosaur footprints, but sadly no otters.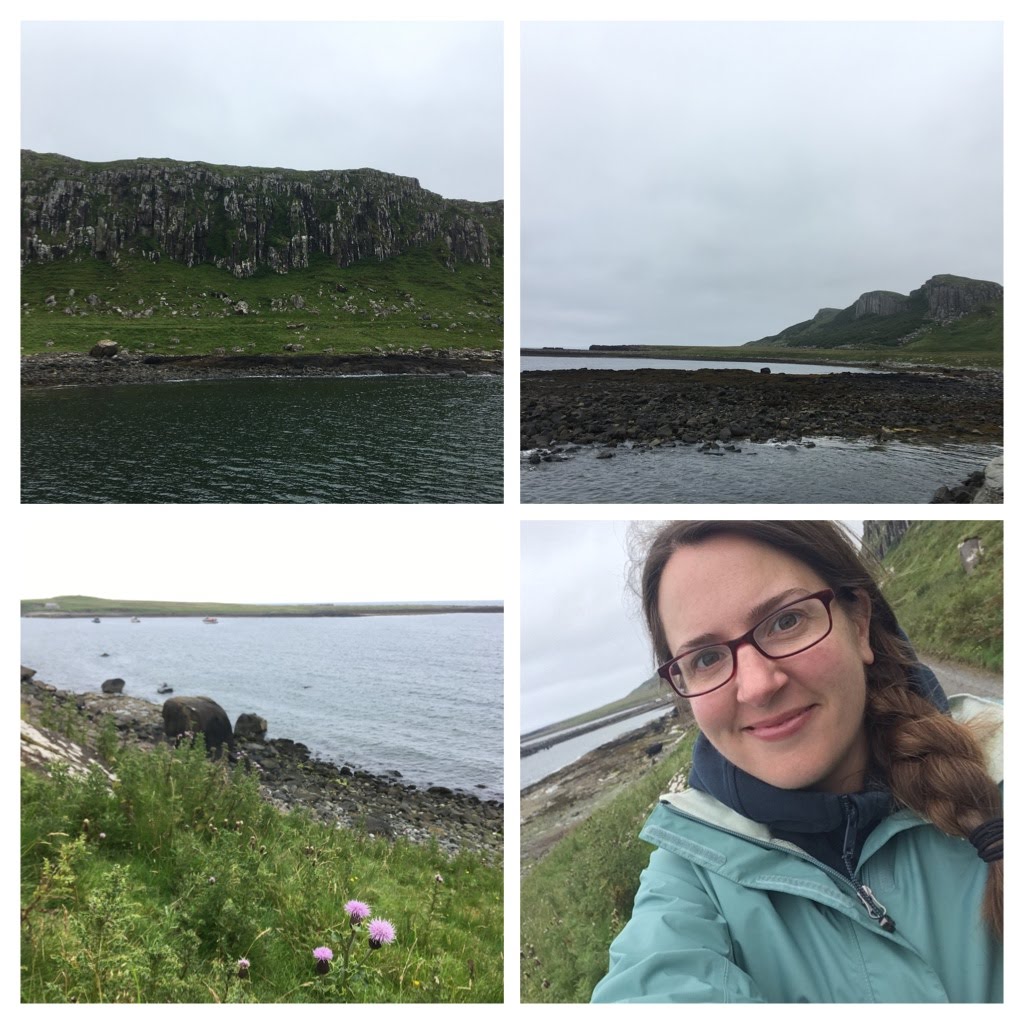 On Friday we drove over to a causeway (well we parked on the island and then walked across to the causeway) via the Tattie Bogle (a sort of friendly scarecrow to welcome people into the village).
The walk was very boggy and there were midgies everywhere. I'd put my lovely Wideye spray on and by the end my legs were covered in bugs that had stuck to the spray (it's a bit oily).  We saw plenty of sheep, and a rabbit, but no otters. Ah well.
I had read about a coral beach and we were not too far (Claigan), so I persuaded Andy to go there before heading back. It was another single track road to get there, and then the car park was totally full and also full of gigantic pot holes. While we were waiting someone was leaving, but I was worried the car would get stuck in one of the holes and the car was making all sorts of banging sounds as it drove into the holes.
Once parked we had a good walk along the path, first next to beaches with black pebbles and finally to the "coral" one (actually made up of fossilised sun-bleached skeletons of seaweed).
Once back we wandered down to the village, because Andy wanted to look in the distillery shop and it had been closed all week, but the queue was so long he couldn't go in.
As we were checking out on the Saturday we had the usual packing and sorting to do. We also had to cancel our Disneyland Paris trip, as they announced a 14 day quarantine (and I would only have 10 days when we got back before starting work), so we decided to add another day in Edinburgh on our way home.
On Saturday morning it was so misty that we could not even see the other side of the loch! It did burn off as we were driving back to the mainland. We stopped at Manuela`s Wee Bakery because they had amazing looking pastries but also the buildings looked like a fairy village! They did a marzipan croissant which was as delicious as it sounds.
The drive to Edinburgh was around 5 hours, so we stopped part of the way to have the croissant. I shall save Edinburgh for a separate post as this is quite long already!
Have you been to Scotland or Skye?