So, the final week of half term arrived, and the plan was to try and just get through it. I'd bought an autumn leaf garland (with fairy lights) from Etsy which arrived, and I was really happy with how it looked on the mantle piece.
Much excitement when my brother added some Leon burger sauce to his online shopping this week- he gets Sainsbury's and that is the only place that stocks it.
I only managed one run in the week- on Tuesday. I could have had one on Thursday but I felt so shattered that I decided a walk would be more sensible. We had parents evening, and although it was way better than usual (it was phone calls instead of meetings, but they could not go on as late as usual) it is still very mentally tiring to teach all day and then work through the phone calls.  Bake Off seemed all I was capable of concentrating on.
The cosy vibes continued with candles and warm drinks. We watched the Adam Buxton podcast on Wednesday night (part of the Unmute podcast festival). My 10,000 steps per day streak scraped by again, and on Friday my work pals gave me some end of half term treats- including vegan marshmallows so I can make some Mickey Mouse chocolate covered apples.
I am trying to have 100 miles each month for the year, as I've already passed 1000 miles (which is usually a good target for me), but as I skipped a run on Thursday I was a bit behind. Often if I run with my dad I will do a warm up run at home first, and so I did a 5k run before heading over to run with him. We did a new route though some woods that I used to cycle through as a child, so it was nice to go back.

After getting some work done (I had got so behind in the week but at least with half term you know you can do it then) we walked into town to get our Vitality drinks and then sat down for another podcast, this time Off Menu. It was really funny to see them instead of just hear them.
My new Disney order arrived (as I had to re-order the PJ's – the size guide was way off because I had chosen a Medium according to the measurements but they were enormous so had to get the small- they are still fairy baggy)- anyway to get the free postage we had added a few more bits for Christmas presents, and I could not resist the candy cane ear decoration- I nearly bought the full size ears in Florida last year and had regret that I didn't, so I thought a mini version was a good compromise. Later I got out the Christmas Disney blanket and enjoyed a hot chocolate while we watched a film. Definitely cosy vibes all round.
Look at the pretty mushrooms I saw on my run!
Sunday was more of the same- a run in the morning trying to avoid all the flooded roads and pavements, a bit of pottering in the garden (sweeping up leaves, scooping them out of the pond and planting some bulbs) and then packing for our half term trip to Cornwall.
While I was out in the garden Andy brought me a cup of tea- in  Disney mug to make me feel better about not being in Disney (not sure it helped?)- I watched one of the new Olaf shorts in the afternoon which was really good.
In the evening it was time for Frozen 2 again, with a Disney inspired candle and my Disney Christmas blanket. All the cosy vibes right there.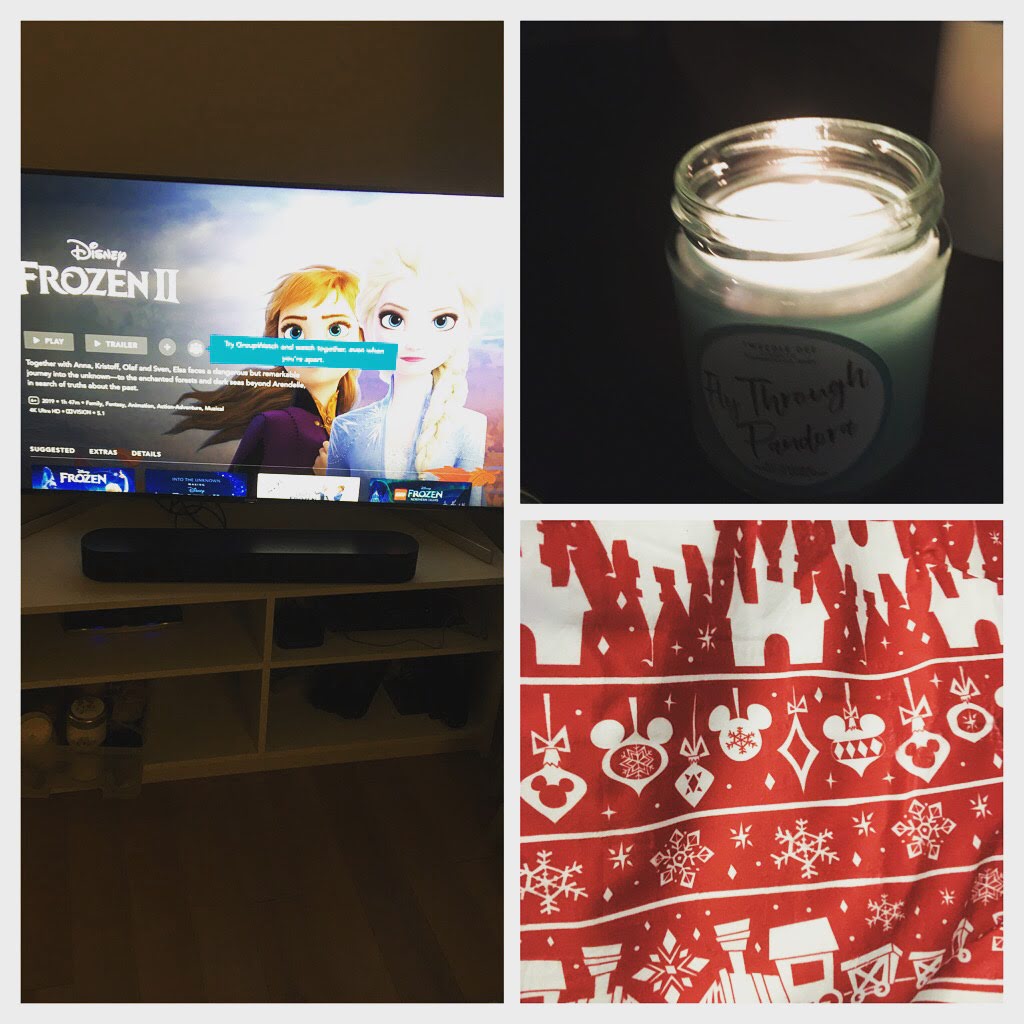 I hope you are doing OK in these strange and tough times?