After the not Brighton half marathon weekend, it was the beginning of March. After January dragged so much, February seemed to fly by. Yes it's only 28 days, but I think the lighter evenings and nicer weather all helped.
Scenes from Monday, Tuesday and Wednesday runs- a misty start to March.
I had to go into work on a few days as well as juggling all the home learning that was still going on, so my runs have started getting shorter to factor in the commute time and prep time. I did 4 miles on Monday, 3 on Tuesday, 5 on Wednesday, a 5k after work on Thursday with Dad, and then 5 miles on Friday. After the beautiful sunrises of the previous weeks, most of the runs were super foggy and misty.
The current garden project is covering up the horrible orange fence with green paint- I managed it on a couple of evenings after work as it's getting lighter so much later now. And a hot cross bun with maple butter.
On Thursday I'd been in work for the morning and Andy suggested getting a Pret lunch (as we don't have one where we live)- he ordered it to be delivered to work, and as I was coming home for the afternoon it worked out perfectly. I had the hummus and veggie wrap which is so good. Andy also got us a cookie each (their dark chocolate almond butter cookies are the best).  On Thursday Dad drove over and we went for a (not)parkrun together. It was so enjoyable- we ran through the fields and just chatted.  Once home and showered it was time for the Pret cookie. Oh it was as good as I remembered!
B&B tea club arrived with an add on of peach cobbler matcha- you can now add in other items to the delivery which I love.
On Friday, after a week of mist and fog, I was finally treated to a gorgeous sunrise. I just love these fields- at that time in the morning there is no-one around. Sometimes when I head back I see someone walking a dog, but it's usually just me, the sky, the birds, and the occasional fox or rabbit. So peaceful and such a wonderful start to the day.
On Friday evening we watched Moxie (anything involving Amy Poehler will be good)- about some USA high school girls standing up for women's rights. It was very fitting that close to International Women's Day.
I finished the fence at the weekend (although we are having fencing panels along the back, so once they are in there will be more painting to do).
Saturday was a day off running- started with painting the radiator, pancakes, a walk into town and then helping Andy with the wardrobe (the on-going spare room project was taking longer than we anticipated).
We had got a Hello Fresh box to try, and so our Saturday meal was vegan cottage pie, but after doing garden jobs and wardrobe building, it was not the best timing to try a new recipe. It was tasty, the roasted broccoli and flaked almonds was a good side, but our kitchen was such a mess after as we used so many pans and chopping boards and bowls!
On Sunday I wore my purple parkrun top, as someone had suggested wearing purple for IWD (I think the With Me Now group again).
I had an enjoyable run to Panshanger and back (just over 8 miles)- seeing the spring flowers popping up everywhere. At one point I saw about 4 buzzards circling overhead, and could hear woodpeckers drumming away again.
Although I did have not a nice experience- I got a bit cross and was annoyed at myself for my reaction. Coming out of the park is a fenced in sloped path, that is probably 1m wide. I was at the top, where it meets the road, as a group of 5 male cyclists turned into the park. I stopped and moved to the side (ignoring the fact that it's meet one person for exercise, not 4 others…) and one of them went to the left of me while the others went to the right. I tried to move out of their way (maybe some people think this is a bit extreme, but I take the 2m seriously), but they kept moving and meant they were even closer. I'm not sure why they didn't all go to one side. Anyway, as I tried to move out of their way again (I was stopping for them, not the other way around) one of them shouted at me "what's up? We don't bite, you can come closer". I was just a bit taken aback, and said something like "I know you don't, but I'm trying to give you some space".  Then the next bit of my run was spoilt while I thought about it over and over and wished I'd said something about them being inconsiderate. Grrrr.
My faith was restored not long after- I was trying to get a photo of the back of my top for the photo collage, and in the end sat down, put my phone on the slope behind me and then set the timer. As I was doing this, a guy ran past, and asked me if I was OK. I suppose he'd seen me running and suddenly stop and sit down, but even so it was very kind of him to check.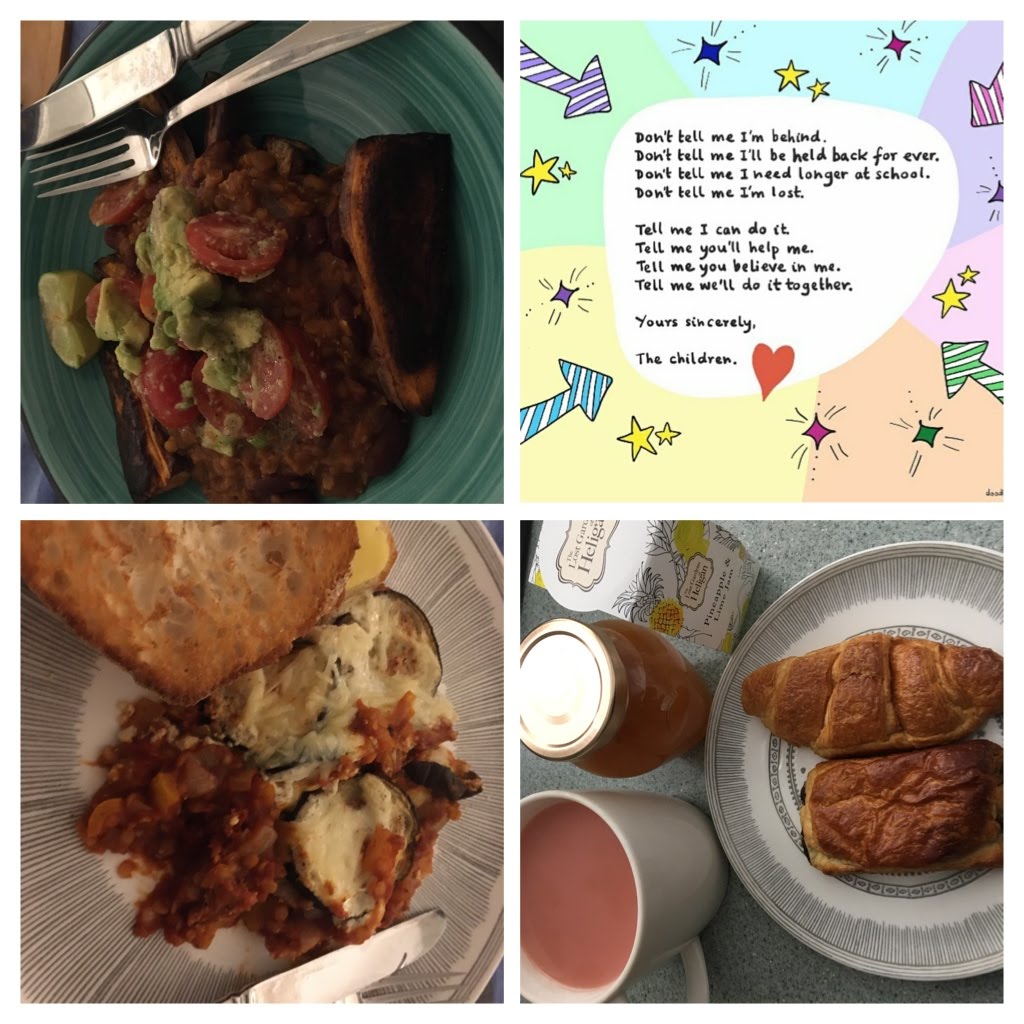 Our Hello Fresh meals and delicious croissants
Once home it was time for croissants for breakfast (the La Boulangere vegan ones are so good) and yet more wardrobe building, sorting of clothes, and trying to get the things out of our offices and back into the spare room. Plus a bit of prep for all of the children being back in school (and that's another mini rant- please do not refer to schools reopening, because they were never closed… and here's a poor headteacher appealing to parents to not use the key worker spaces unless they have no other choice…).
We had another Hello Fresh meal- this time moussaka. The recipe was actually a veggie one, but we thought we could easily veganise it by swapping the cheese for vegan cheese, and getting the Oatly crème fraiche replacement, only we forgot to order one. On Saturday we had walked past Waitrose and thought we could "pop in"- not something we relish, as neither of us had been to a shop since perhaps December or maybe even October. Anyway, the queue was around the carpark so we decided to leave it, as I knew I could make it from silken tofu which we had at home. Again, the meal was tasty, but it took ages. I think new recipes always take longer, but after being so busy with jobs around the house, neither of us were really in the mood for yet more pans and bowls.
Monday night was our final one- veggie chilli with sweet potato wedges and avocado and tomato salsa. It was tasty and probably the easiest one so far, but I am not sure we will hurry to order more- the kits seem quite wasteful (yes, the veggies come in a brown paper bag, but you also get loads of little plastic pots with spices and stock powder etc), and they seem quite expensive. We treated ourselves to some Cook meals in the freezer, and a vegan shepherds pie is £8, whereas the Hello Fresh kit was £9, and we had to make it!
Do you ever use meal kits? Do you like cooking? I enjoy it when there is no pressure, which is partly why I prefer baking. How has March started for you?