I do like a routine, but equally in the holidays it's nice to change things up a bit. I'd usually run for longer on a Sunday morning, but as I'd arranged to meet my dad on the Monday, it meant that the week was a bit off kilter as then Tuesday was a rest day.
Monday- holiday half marathon
Tuesday- rest (long walk)
Wednesday- 4 miles plus a walk
Thursday- 3 miles
Friday- rest day- long walk
Saturday- warm up run on my own then (not)parkrun with my dad and brother
Sunday-8.5 miles to Panshanger and home
I had fancied doing a longer run, and so mentioned before to my dad about meeting me in Ellenbrook on Monday for a run- he would cycle or drive over, and I would run there and back.
The weather had said sleet, but when I left, although it was cold, there were patches of blue sky and the wind didn't seem too cold.  I'd worn an extra jacket tied around my waist in case I was cold for the run home. My brother also met us there, so the three of us did the classic Ellenbrook Fields parkrun course. Half way around, we thought blossom was blowing from the trees, and then realised that it was snow! It was coming down fairly steadily, so we didn't chat at all when we finished, I just put my jacket on (I was so glad I'd taken it with me) and headed home. I was running into the wind on the way home so it was much colder. I was so glad of a hot shower and then hot tea and croissants warmed in the oven.  It's a little over 4 miles there (nearly 5, depending on the route that I take) so that plus a parkrun meant I needed to do a little loop of a road near me to make it up to a half marathon. I quite like doing a slightly longer distance every now and then. We'd originally arranged to pop over in the afternoon to see my parents in their garden, but with the weather being so cold, I said we would just deliver them their cake and then head off (we arranged to meet for a walk later in the week instead), but actually the sun came out and it wasn't too bad, so we probably stood in their garden for about an hour in the end.
Hot cross bun with marmalade and tea is a standard afternoon snack in the holidays/ new Baby Yoda cup cosy is the best!/ Sunglasses and penguin jumper because it was sunny and cold/ our garden about 20 minutes before it snowed!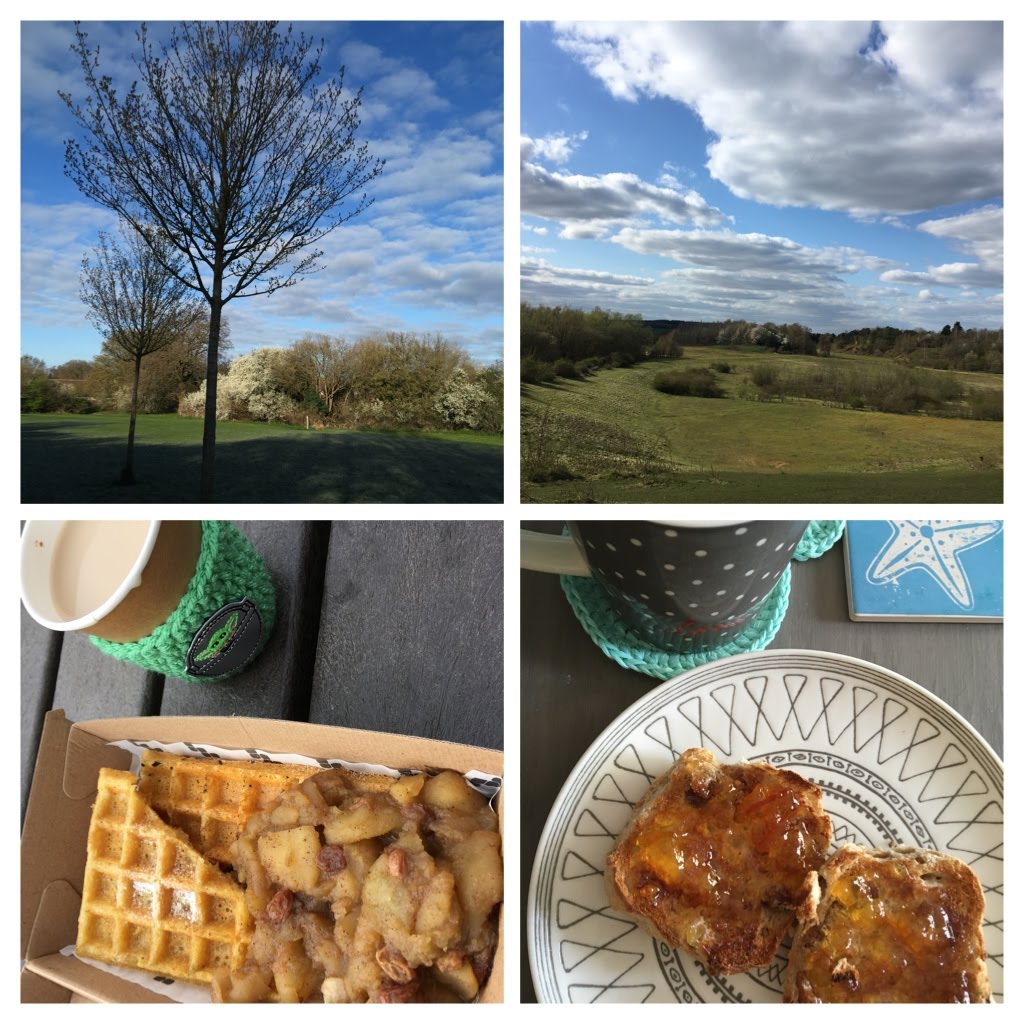 Waffle, another hot cross bun and walk/run scenes
On Wednesday one of my work friends suggested meeting for a waffle- The Waffle House were doing drive through, so we collected our orders and then went to sit in the park. I had wrapped up warm (thermal top, jumper, thick coat, hat, fingerless gloves so I could wear gloves while eating) but it was still so cold! I'd been for a run first and it was very frosty, but with blue skies so I thought it would warm up. However, the clouds just rolled over when we were outside so I was frozen to the bone when I got home. A lovely catch up, but not the most relaxing! They do vegan waffles so I'd had a delicious hot Dutch apple waffle (apple cooked in spices and with sultanas). Very warming but not quite enough to combat the  elements!
Once home I baked a birthday cake for Andy (which helped to warm me up a bit) and did a bit of work, and then we drove to a quiet spot nearby for a walk with my parents. I'd never been there before, and it was a lovely quiet wildlife area with lots of options for different walks (managed by Herts and Middlesex Wildlife Trust) so I am sure we'll go there again.
Chocolate peanut butter cake from the Virtual Vegan cookbook
We've been watching a few series (Your Honour and The Flight Attendant) but I am finding them so full of tension that we've been having a bit of a break from them. We'd saved up Unforgotten and watched that over a few evenings (Andy's mum had warned us to have enough time to watch the last 2 episodes in one go which I was thankful of), and then we started a documentary called Collective where a reporter investigates why the majority of victims of a nightclub fire died because of health-care fraud. it is totally shocking but worth watching. Not really an escape from the tension though!
I had a nice reminder from Sugar and Sloth that self-care is essential. I was worrying about not making the most of my time off- in Feb half term we decorated the spare room, and so it was good to achieve that, but although we've done lots of little jobs in the garden, there's nothing big to write home about. I sometimes get stuck into a bit of a cycle feeling that I have to be super productive at the weekends because when I am at work it's all so busy I don't have time to do things. So it came at the right time as I was starting to worry again about not doing anything useful in the holidays. I then sat and watched the birds in the garden for ages, and caught up on some TV that I'd taped but not got around to watching. I did also divide some house plants that were bursting out of their pots- from 2 plants I managed to create 6, so I need to get some more pots because I didn't have enough! Hopefully they will all live- I've only ever done this with spider plants before but they are super hardy so it has always gone well.
Before bed I sorted out Andy's birthday presents, only I could not find the card I'd ordered. It had only come on Wednesday, and I remembered opening it downstairs, bringing the card upstairs and then putting it in a drawer with his presents. Only it wasn't there. Since then I'd done some tidying, so I was worried I'd put it with the cardboard recycling instead. I searched everywhere, all through the cardboard boxes and even in the recycling bin outside, but it was nowhere to be found!
Yummy lunch/ potting on house plants/ walking in the park
The next morning I had another search and in the end had to confess to him that I'd ordered it but could not find it. Thankfully he didn't mind. As a birthday treat he decided to have Wagamama's for lunch- they don't deliver to us but you could do click and collect from the next town over. The katsu is tasty but so filling! After lunch I had another quick look in my office for his card, and randomly checked a bag-for-life on a shelf. Yes, the card was in there so it turns out I didn't actually put it in the drawer, I just thought about it, and then remembered thinking about it instead of actually doing it. (This happens to me a lot- first as a child when I had medicine to take to school, and vividly remembered putting it in my bag, only it wasn't there, and when I got home it was on the side- I'd thought about it so clearly and then had remembered the thought as if it had actually happened…). At least he could have it still on his birthday!
We'd arranged to meet his parents at Panshanger for a walk in the afternoon, and ended up walking for about 2 and a half hours around the lake, up to the old oak tree and then through the new path. I definitely needed that walk after such a big lunch! We hardly saw anyone else there- it's such a big park and with so many paths and options.
Everyone was getting news alerts as it was the day that Prince Phillip died. I am not a royal fan (I do like The Crown though) but it is sad when someone dies, especially when they have been married for so long. However, did BBC1, BBC2 and BBC news channel all need to show the same thing? Did they need to cancel everything else that was on? It seemed a bit OTT. I was also so angry with Mr Johnson- lots of journalists before have commented on how he purposefully ruffles his hair before going on TV to keep up his "loveable" (not by me) character, but to go on TV and announce the death like that was just embarrassing and so disrespectful.  I also got so annoyed with how hypocritical the BBC were- on the one hand they were telling people not to leave flowers outside Windsor and to donate to charity instead, and then they were reading out the cards left by people- pick a side please!!!
In the evening we finished another documentary (Storyville- Out of Thin Air- Murder in Iceland) about a huge miscarriage of justice from 40 years ago. It was a bit like The Central Park 5 with the suspects being coerced or confused into confessing/ giving information. At least we had Gogglebox afterwards to lighten the mood a bit.
Chocolate croissants that look like sausage rolls but are definitely chocolate
On Saturday I did a warm up run at home (I was awake early) and then headed to my parents as I was meeting my dad and brother for a (not)parkrun. We ran the "classic" (to Jersey Farm, a loop and then home) 5k route, and then sat under blankets in their garden. I'd made myself tea in my insulated mug, and they made coffee to try and warm up a bit! We didn't last that long though!
I tried a different chocolate croissant when I got home (very tasty but I prefer the other ones I think) and then did some jobs in the garden before it got too cold.
My vegan box for April came with so many tasty treats including NOMO chocolate and Candy Kittens.
On Sunday I headed over to Panshanger for 8.5 miles. It was such beautiful weather- cold but so sunny. There were huge fluffy clouds being blown across the sky as I was out.
My new book- looking forward to reading it, and a latte for the podcast
It was time for more garden jobs, a bit of work and then trying to relax ahead of the back to work vibe that Sunday night can bring. We'd bought a ticket to the live Off Menu (which ended up being even more hilarious than we expected) so had made sure everything was ready- bags packed, clothes out, so that once it was finished it was straight to bed. While we watched it I made myself a fancy tea latte, topping it with some marshmallows (that's what the recipe says), so it was a good way to spend the last evening of the holidays.
Do you like watching podcasts? I'm not sure if there are more around in lockdown as the comedians aren't doing live gigs, but we seem to have watched loads. Although we did have tickets for some before lockdown, and have been to see other ones before this. It just seems there are more now.