I am now having trouble working out the month or the year. In some ways, time seems to drag, but in other ways, March 2020 seems so recent, because so little has changed in day to day life since then. Finding small things to celebrate and make the week different seem even more important and needed.
So, last week was a standard week. 4 mile runs on Tuesday, Wednesday and Thursday mornings, yoga on Wednesday night and a Sunday morning long run. I also met my dad for a (not)parkrun on Friday after work- we've not managed this for a few weeks so that was nice to add in and make the week feel different.
As we had been in town for my mum's birthday treasure hunt, we had popped into The Pudding Stop (it's rude not to) as I had seen that their latest cookie cup, the pb&j cup, was vegan! Cue a lot of excitement from me- they do a few vegan goodies (bake at home biscoff cookie dough pudding being the absolute best) but not that many, and of course anything with peanut butter wins! I got out in the garden after work, planting a few more seeds and finishing up some of the weekend jobs. It's all really coming to life now.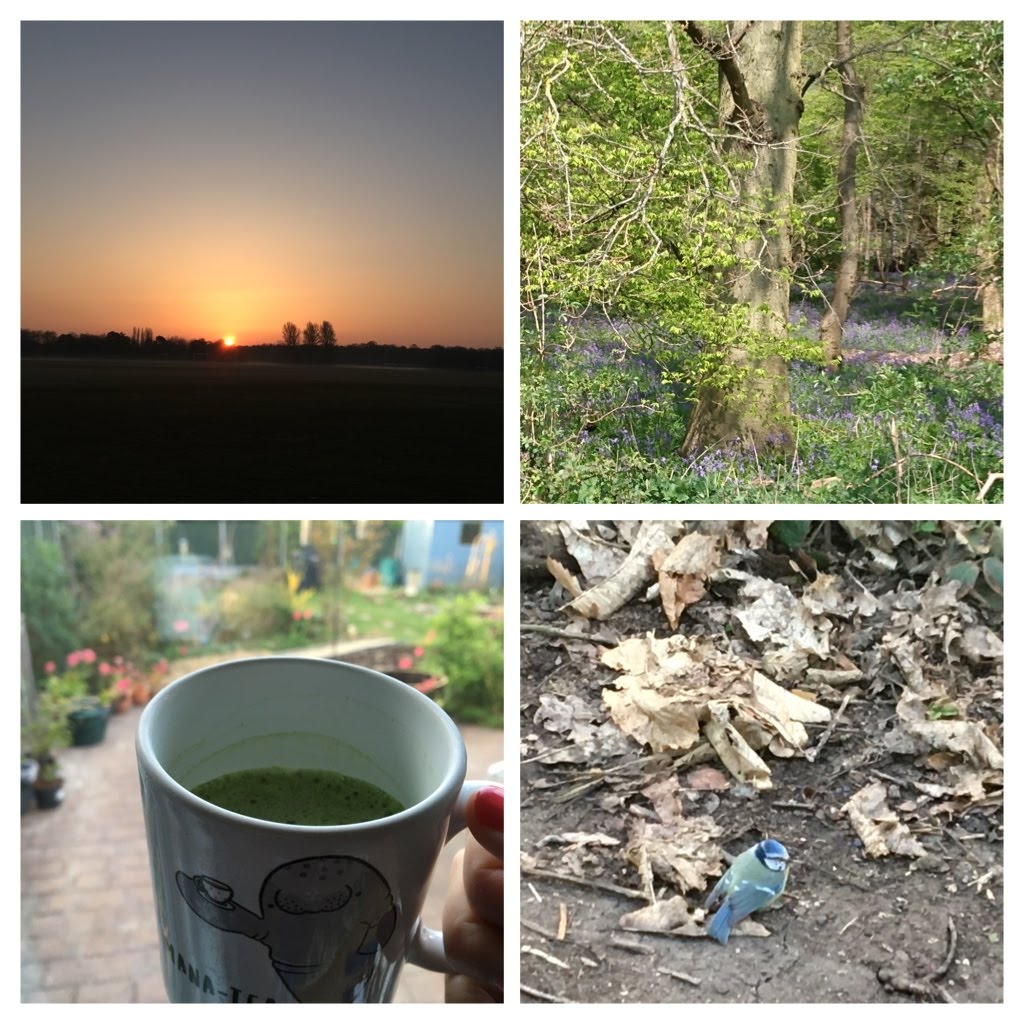 I saw a baby bluetit on my Tuesday morning run. I watched it (from a distance) for a minute- it was on the path as I ran past. I remembered reading that if birds on the ground don't seem distressed then they probably have a parent nearby, and as I walked away I saw the parent fly down and then they flew off together.
More gorgeous sunrises on Wednesday- it was so frosty and misty and the glow from the sun looked amazing.
As it was National Tea day of course the old tea colour indicator was going around social media. D2 is the correct answer- any paler and where even is the tea, and the darker ones have been brewed for way too long! Bird & Blend also released some Butter Brew tea (black tea with caramel) and I was very pleased that Andy managed to order some for us.
Thursday treated me to more sunrises. My legs felt quite heavy after yoga- we had worked a lot on holding poses (chair pose especially) so they did feel quite sluggish after that. After work I had a doctor's appointment which I was totally dreading. Andy had to drive me (as I had to take some medication which meant I couldn't drive) and I was so relieved when it was over as I hadn't slept well all week. I'd ordered some leggings- Sugar and Sloth (my newfound fave cute shop) had partnered with Lucy Lockett leggings, and they were my treat for the appointment, so they arrived just in time. They are "loungewear" and not "active" leggings, so perfect for wearing with a hoodie when watching TV.
After work on Friday I drove over to my parents and had a (not)parkrun with Dad. I didn't see my mum as she was having a nap- they'd both had their second vaccine the day before and she was feeling a bit tired (but fine). I had a good catch up with Dad and also we managed one of our fastest times for a while. Not too shabby for the end of a busy week.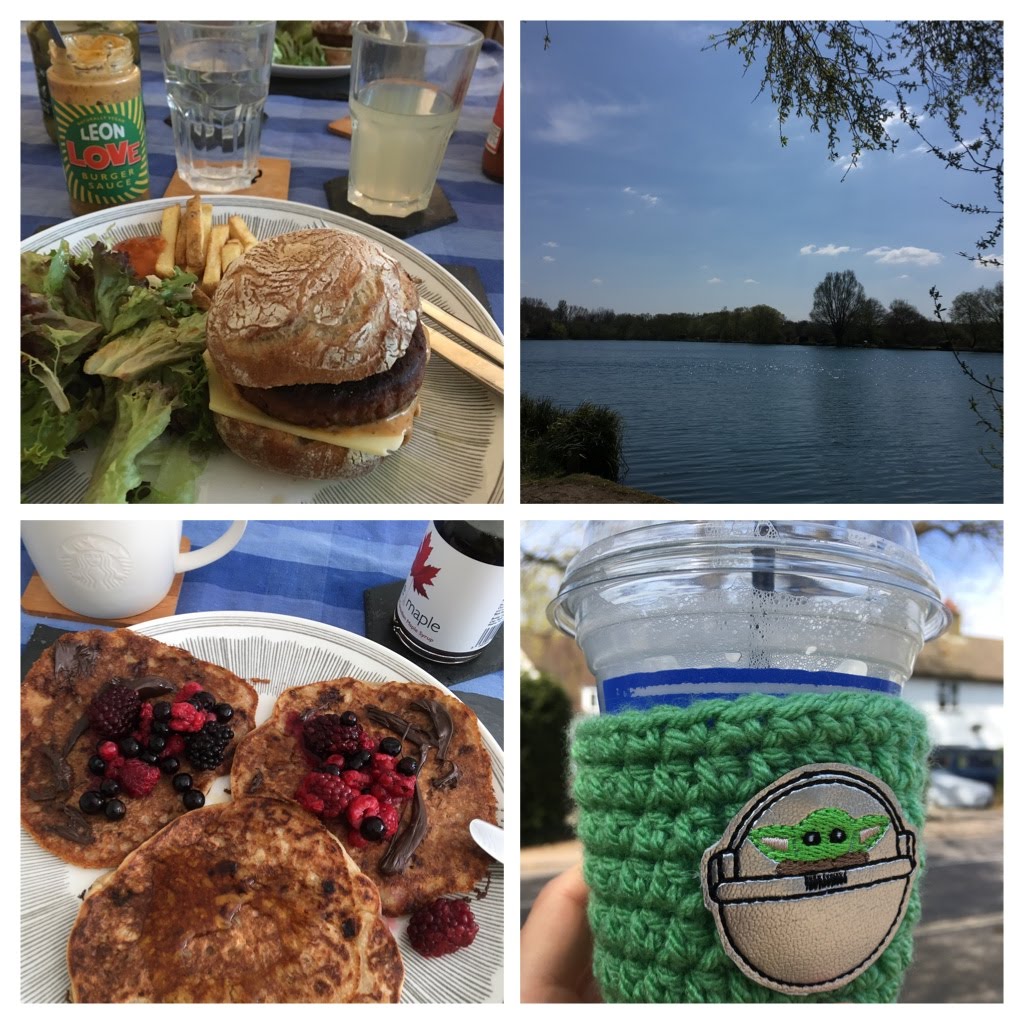 Standard not-parkrun Saturday- pancakes, walk, burgers.
We watched A Promising Young Woman ahead of the Oscars, and I really enjoyed it. Andy found the ending very frustrating (but he still really enjoyed it), but I really liked the ending too, and thought it explored so many relevant issues and topics. One to seek out.
My run on Sunday was mostly enjoyable apart from an encounter with an aggressive dog owner as I was running back through the woods. I always stop if I see dogs off their leads, and hope that the owners will call them.  Usually dog owners are great and call their dogs back or put them on leads, but these owners let their dogs race over, run around me, jump up at me while growling and barking. The lady eventually got them to come away and said " don't worry they're fine". I hate this reply because maybe the dogs are fine but I'm not happy with dogs behaving like this, so I said that to her. Also, if a dog is jumping up at someone, surely they aren't fine and they surely are not under control.  The guy then shouted at me so aggressively, saying if I didn't like dogs I shouldn't be running there. What gives them the right? I do avoid some parks due to the vans full of dog walkers, but these woods are quiet – sometimes I won't meet anyone else and most dog walkers are good and call their dogs over when they see me. I personally think that if your dog won't come when you call it then no matter where you are they should be on a lead. Rant over, those people give dog owners a bad name.
I'd made some chocolate almond butter cookies (from the Pret recipe)- I'd not made them for ages and they are so good- they didn't last that long into the week.
In the afternoon it was lovely weather for pottering around in the garden. Andy had created a new path and the beds next to it needed plants- they have been gradually arriving over the previous week so the time was to plant them out. I even saw a frog in our pond!
How do you take your tea?