The lead up to the glorious 3 day weekend felt very busy- partly because I had a few extra bits to do from work, but also I didn't want to save any work for the weekend so I had to work quite late into the evenings on most days to make the weekend clear. It is worth it in the end but meant that I got to the weekend more tired than usual.
Matcha to help me wake up in the morning, then zonking out in front of Taskmaster when I got home on Friday evening. I am loving this series- anyone else?
I had my usual morning runs- I've got a nice 4 mile route that isn't too hilly or muddy, so I can be fairly consistent with time and get back with enough time to get sorted before work.
The skies were again amazing on my run- I am pretty much past sunrise time now, heading out in daylight. We managed to save a few of the homemade Pret cookies so enjoyed those in the evenings.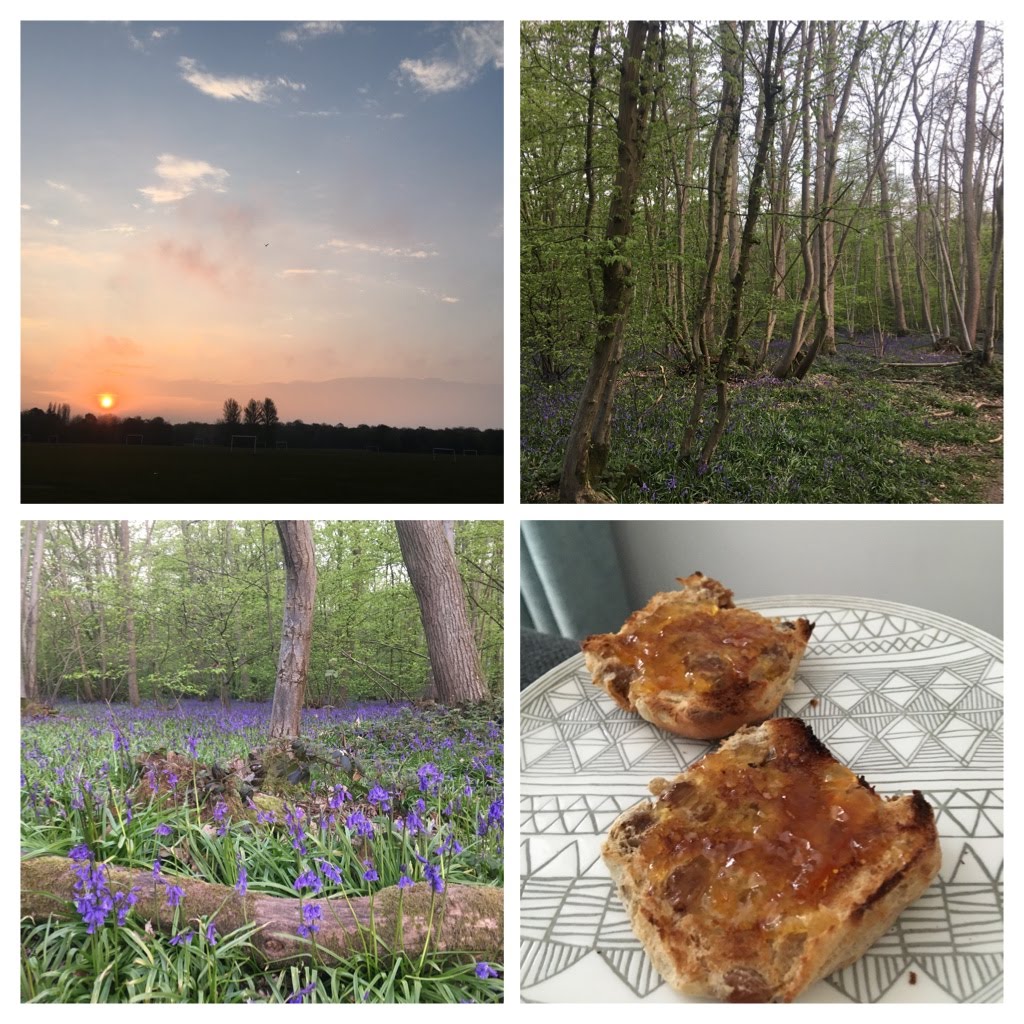 The bluebells are still looking beautiful too, and of course on a couple of days we had a hot cross bun with our pot of tea.
So, onto the weekend. It was my birthday on the Sunday, but I'd had some lovely things sent in the post so it felt like the celebrations lasted all weekend. One of my friends at work has a side business of balloon decorating, so she made me a lovely balloon posy (collection?)- she was at great pains to tell me that it was special recyclable balloon material too- she knows me so well!
Andy's parents sent me (vegan) afternoon cream tea in the post, and one of my friends sent me a cake card, which opened up to reveal two slices of (vegan) cake. Such a treat.
We had originally hoped to head to Brighton for the weekend, but as only self-catering accommodation was open (no hotels) it was all rather expensive, so we opted to stay at home instead.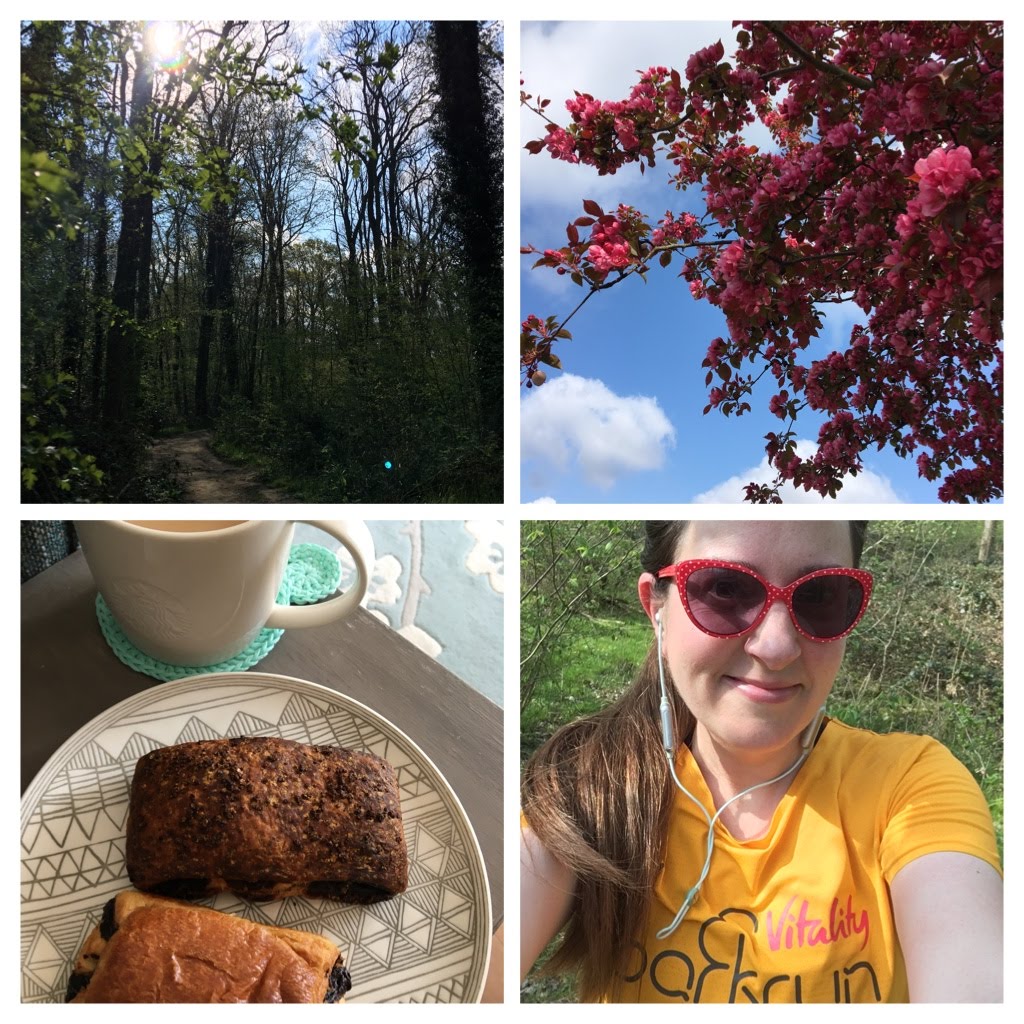 It meant I did a (not)parkrun- often Saturday is a walk instead of run day, but as we were going to be busy on Sunday I opted to run then instead- I was so lucky with the weather, as later in the day it got cloudy and rainy, but the morning was beautiful.
Andy had booked us afternoon tea in a local hotel (it's an old farm that has been converted into hotel rooms, restaurant, farm shop and cafe). We'd walked past it lots as it is on the 20/20 route, but never been to it.
We walked there and back as it's a couple of miles, and it was again perfect weather.
He'd opted for the vegan option too, and it was delicious. A good selection of sandwiches (being vegan is better than being veggie as no risk of egg sandwiches, or worse, when they give you salmon because they forget that veggies don't eat fish- it's happened to me several times…), a vegan sausage roll and a delicious baked tomato filled with artichoke and pecans, plus really fluffy scones and a selection of cakes. The tea menu was long (always good), plus you could have a different type of tea instead of just getting a refill of the same one. Always an extra point in my book- I had an Earl grey one to begin with, then a peppermint tea later on. While we were sat there we realised it was our first meal out since February 2020 when we were in Brighton! In the summer we had a few takeaways but didn't ever go to a restaurant/café for a meal as it didn't seem like a good idea.  Here we were sat outside, all very spaced apart and not that many tables so it felt quite relaxing and safe.
Andy had also ordered a birthday cake from Cutter and Squidge- it was an amazing chocolate cake with raspberries on the top. We were both pretty full following the afternoon tea, but managed a tiny slice in the evening while we watched Nomadland. I did enjoy the scenery, and it was a thought provoking film, but on balance I much preferred A Promising Young Woman as my Oscar top film.
New trees and the cute fairy flowerpot from my niece and nephew
Over the weekend we had a few visitors to our garden- luckily in between rain showers. My niece and nephew had chosen this fairy flower pot, and as I had some bedding plants I could put in some flowers straight away. Andy's parents, my parents and my brother all got me trees (I had asked for them), his brothers gave me a rose plant and the sister in laws gave me a gorgeous hoodie. It did mean we had rather a lot of jobs in the garden to be getting on with.
The weather on Monday was OK first thing, and I went out for a run, but after that it went downhill and wasn't really weather for planting trees!
Monday breakfast after a run to see the bluebells
 We were hoping that the rain would help to soften the ground a bit to help with the digging for later in the week.
This pic was for Star Wars day which was technically after the Bank Holiday but it matches the Disney theme!
As well as a garden theme, my gifts were Disney-themed! Andy got me this wonderful book filled with information about the holiday celebrations at the Disney parks- I honestly think I am going to cry when I finally get to go to even Disneyland Paris let alone Disney World! Some of my friends got me some Disney socks (Stitch and Baby Yoda) and even a hairbrush with mouse ears!
So, a slightly different birthday weekend, but really enjoyable, and at least better than last year because back then we were not even allowed visitors to the garden.
How have you celebrated things differently this year? Have you seen any good films lately?