The end of term and the start of the summer holidays was finally here!
The end of term is always a bit frantic, with so many things needing doing and less and less time to fit them in, and this year has been filled with extra challenges (hello online learning), and that coupled with more and more bubbles "bursting" meant the sense of relief at reaching the finish line unscathed and un-pinged was just huge.
I was given some gorgeous gifts from colleagues and from the children- including a selection of penguin themed things. (The top right is a badge with a penguin having a cup of tea- there is not anything more perfect for me than that!)
I had a lovely run on Tuesday morning with the sun looking beautiful across the fields, but the brambles were so overgrown and I ended up with loads of scratches all over my legs.
On Wednesday I did a similar run- out and back so avoiding the worst of the brambles, and in the evening we had our final yoga session of the term. It was super warm and so we did lots of slower poses, focusing on hips (always needed).
On Thursday I did my regular Saturday route- 5 miles through the woods- although I won't be running it on Saturdays any more (as parkrun is back, hooray!). Later in the morning I parked outside town and walked in, as I'd booked a massage. I was going to go to Pret to get a drink (and maybe sandwiches for the Friday) but they were closed (due to the "pingdemic"- although in fact we should not be blaming the app but blaming this government for letting the virus get out of control….) so Starbucks it was for the walk back.
Friday was another run in the woods (a different route and more overgrown brambles) and then time to pack as we were off to Suffolk for the weekend. We drove up to where our hotel was, dropped off our bags and then headed to Latitude festival.
We were hoping to see Adam Buxton, but by the time we got in (the walk from the car parking to the site was longer than we had anticipated) they were not letting anyone else in. Never mind- there was loads to see. We went to the comedy tent and watched Simon Amstell, saw The Staves in the BBC Sounds (baby sea clowns) tent, went to the Waterstones tent to watch a talk on films by Mark Kermode, got some dinner (there were so many good vegan options- we had a peanut butter burger each) and then watched Wolf Alice headline on the main stage- they were brilliant.  At first I was a bit apprehensive about being with lots of people, but you had to show your vaccine passport or a recent negative test, and it was all very spread out. I've not been to that festival before, but it had lots of tents and stages all spread out, and everyone seemed very respectful of giving each other space.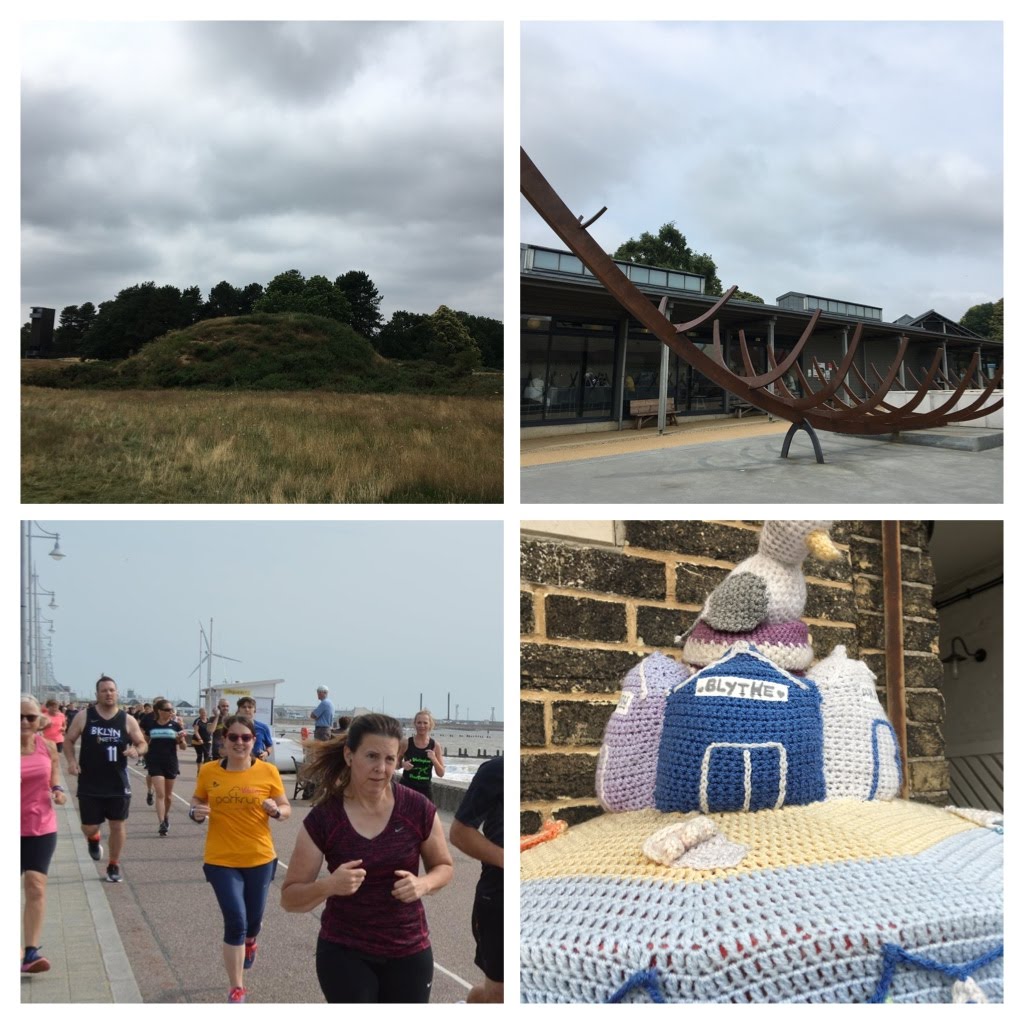 On the Saturday I was off to parkrun (hooray), and as we hadn't bought Saturday tickets, we had a day pottering around Suffolk. We drove down to Sutton Hoo (made famous in the film The Dig), and then went to Southwold (via a short stop to charge up the car a bit).
We sat by the sea for a bit and realised that we'd not seen the sea since October last year, when we went to Cornwall. There is something so refreshing about the sea air- it properly clears away the cobwebs.
The Sunday was another festival day- we got there much earlier (as we had to check out by 11am anyway), and managed to see loads of comedy- Joel Dommett, Reginal D Hunter and Jo Brand, plus lots of music (Tim Burgess regretting his choice of wearing a jumper)- the day was forecast to have thundery showers, but somehow we totally escaped. At around 8pm there were a few spots of rain, but that was all (unlike Standon Calling which was called off due to the site flooding).  We had to find places in the shade (I watched some of the comedy from the shade of a big oak tree nearby) and were both very glad we'd put on suncream. We'd brought along a blanket so spent some time sitting in the shade near a tent, listening to the music and relaxing, and then later on wandering through the woods and finding some of the smaller stages  (one stage was like an open air hipster coffee shop with random sofas strewn about in a clearing in the trees). The night ended with Bastille in their Re-Orchestrated show, playing music alongside an orchestra and amazing singers.  It was a brilliant weekend and I am so glad that we decided to go. We didn't get home until 2am and I don't know the last time that I've been awake at that time!
Do you like going to festivals?