My week had runs on different days, due to me getting my second vaccine on the Wednesday (after the stress of my appointment being cancelled and then having to try and find a centre to rebook). I actually felt OK, but after I felt so bad last time I decided to set my alarm a little later on the Thursday, and run on Friday morning instead.
Those last few minutes of the match were super stressful and my Garmin agreed!
Back to the start though- it began with Wimbledon, as well as continuing with the Euros- lots of sport to keep us entertained. I always look out for my dad at the tennis (as he does the line judging), plus I find it quite soothing to watch.
I had a 4 mile run on Tuesday, and was super pleased that our site manager wanted to get home to watch the football (England playing Germany in the next round), because it meant we had to leave earlier than 5pm so I was just home in time for the kick off. We kept up the tradition of having some nuts as a football snack, which worked (as we won). We had to have a packet of Christmas nuts though as that was all we had!
I listened to the Tape Notes podcast with Adam Buxton and it made me sooo happy. I watched The Adam and Joe show when I used to babysit, and then listened to their radio shows and podcasts (I had the royal wedding song stuck in my head as an earworm when I did the Stockholm marathon)- it was such an in depth look at how he creates jingles and songs and was just such an enjoyable listen. 
On Wednesday I had to get to a vaccine centre after work. I was really nervous as I don't like injections (I know that they don't hurt, but I think as I have fainted in the past I get a bit worked up about it happening again). Also, as after my first jab I felt quite under the weather, I wasn't looking forward to that potentially happening again. I went to a different centre this time, and it was much easier. There were no queues, and I was seen really quickly which was good as then the nerves could not build up too much. The person administering it said that probably my side effects would be far less this time, but I'd still have the sore arm. She was sort of right, although my arm was way better (it felt more like a muscle pain last time). I was relieved to get it done (particularly as we keep having kids at work being tested, and if they come back positive and we all have to self isolate it would have meant cancelling the appointment). The best bit? I got a sticker! I didn't get one last time.
On the Thursday Andy was off to pick up our new car while I was at work, and the garage gave him a cake with my name (the car was in my name) and the new reg number. That was a very kind gesture, although sadly not vegan so I had something from my Vegan Kind subscription box instead. I wasn't brave enough to drive the new car to work on Friday though!
Friday started with a gentle out and back run to the fields- I was feeling OK after my jab but I didn't want to push it in case I felt worse later. all was good though. Annoyingly when I checked on Strava, June was the first month this year where I didn't run over 100 miles- it was only 97! If only I had noticed sooner then I could have gone out on extra bits here and there. Although I missed one Sunday long run due to not feeling well, and of course the Brighton half was cancelled so I didn't run a half marathon.
Pancakes an Red Velvet tea for breakfast = good start to Saturday 
Saturday started with a run, and then time to get more car bits sorted. I was selling my car to my brother, so I sorted out the paperwork, took it to the car wash and then took it over to him.  Andy drove over later and then I had to drive home. It's going to take some getting used to, as there are no gears (and not even an ignition switch, you just unlock it, get in and then somehow it's ready to drive).  It's also way bigger than my old car (which was a little i-10)- I have never needed a big car and really like the flexibility of being able to squeeze into a small parking space and so on. Anyway, as we are down to one car now, it needed to be a bit bigger for weeks away.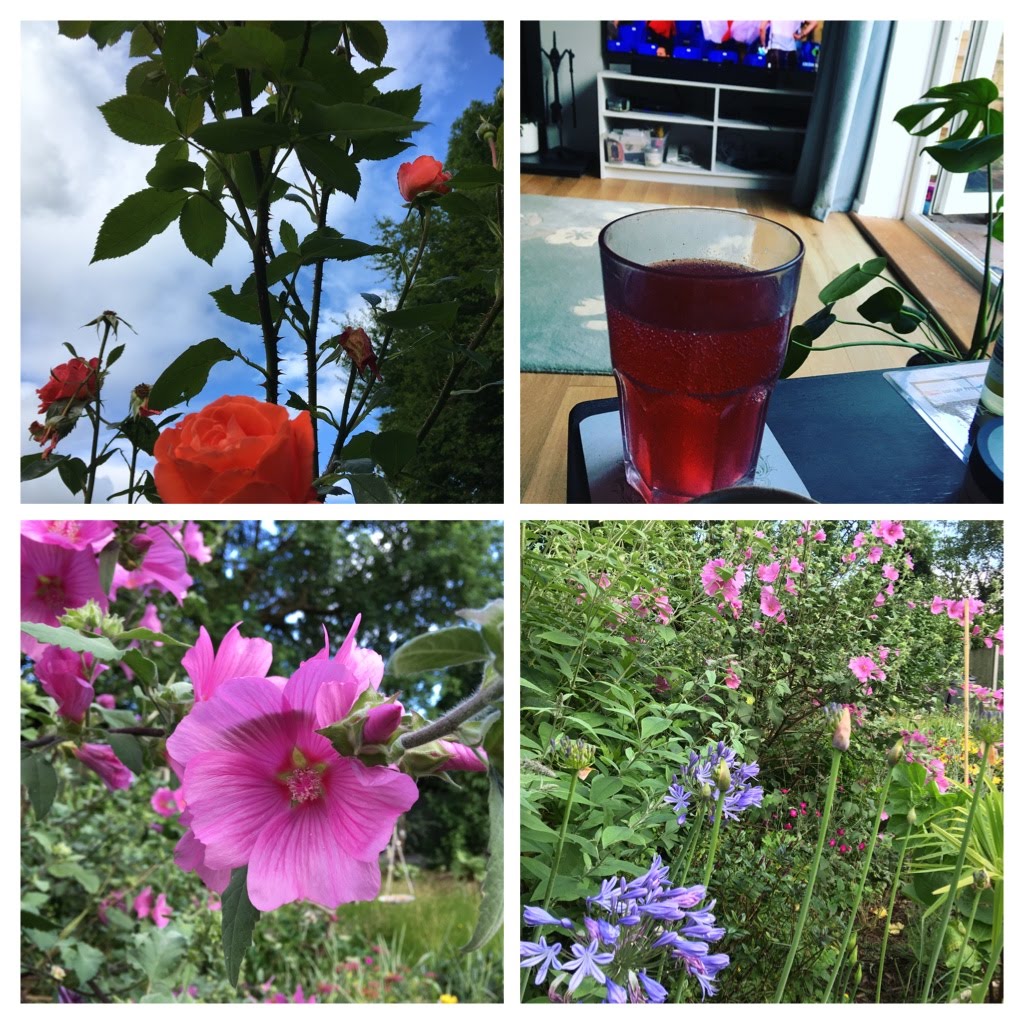 I did a bit of pottering in the garden (including the third and hopefully final coat of paint on the gate), but we made sure we had eaten dinner before kick off of The Big Match (England playing Ukraine). As previously mentioned, nuts had been our lucky snack, so we opted for salt and vinegar peanuts this time. I'd made some cold brew tea (fruity tea in water in the fridge) and topped that up with lemonade. The match turned out to be much more enjoyable (usually it is so tense that you can't enjoy it) and even relaxing- how novel!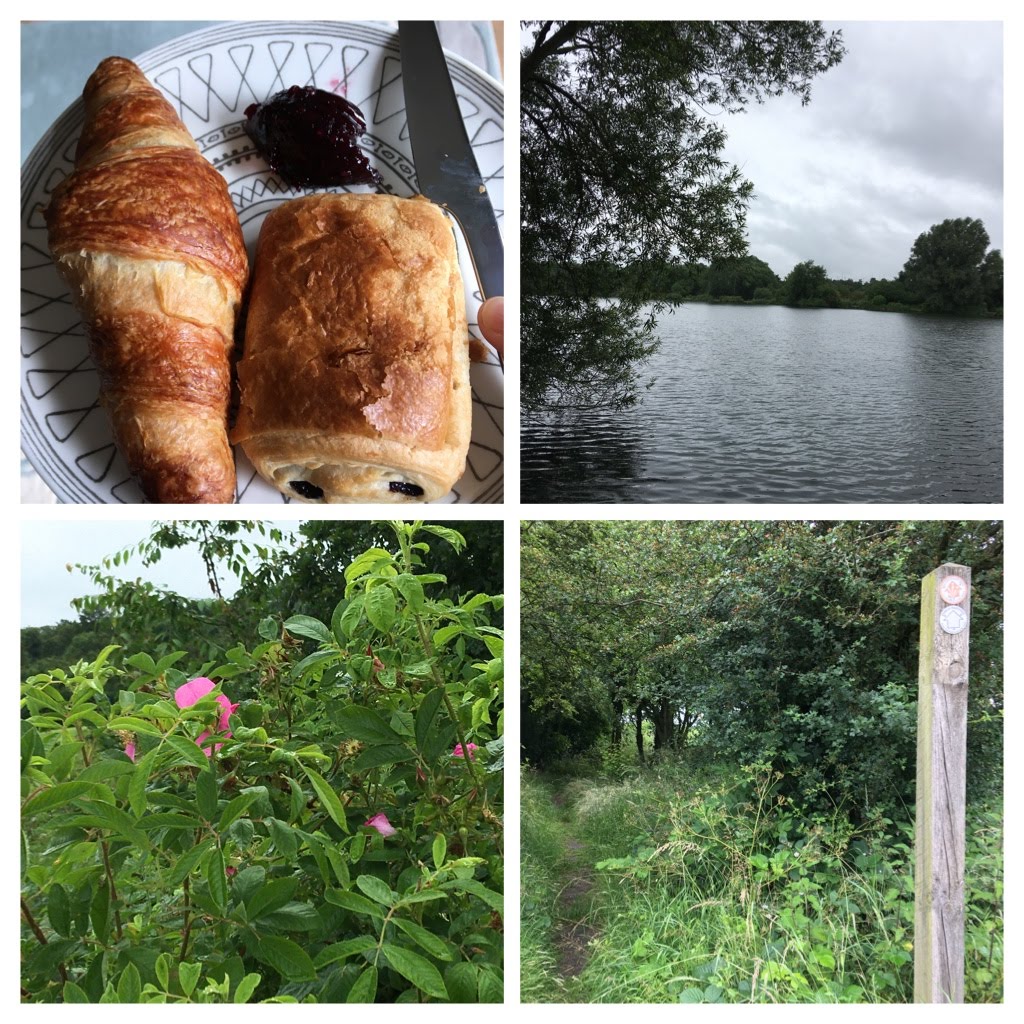 On Sunday I headed out on a shorter run (7 miles) as we had planned a walk but Andy wanted to be back for the Grand Prix. I met some of the OH ladies out on their run (going in the opposite direction) so we had a nice catch up mid-run. Croissants for breakfast (one vegan Pret bake at home, and one of the nice La Boulangerie ones) and then we were off to Panshanger. I drove the car part of the way, partly to get the hang of driving it, but also as it's 4 miles away so it would have been a super long walk and we would not have been home in time.
The cows were in the field we walked through and they were all over the path! I don't mind them but I still prefer them further away. Of course we could not resist stopping at the Planted Coffee Co trailer- it was super warm despite being cloudy, so an iced tea was perfect for the walk back. I also bought a lemon muffin to have while Andy had more of the car cake.
I caught up on some TV, did a bit of work and pottered in the garden (in between rain showers). I was so excited to see a flower appearing in the lily in our pond!
Have you ever driven an electric car? How many miles do you tend to run in each month? Are you enjoying the Euros/ Wimbledon?